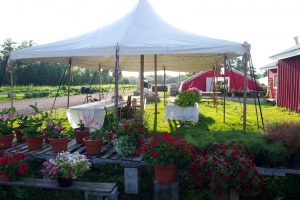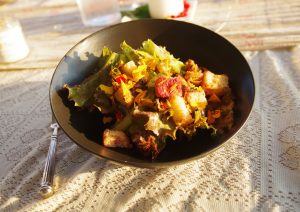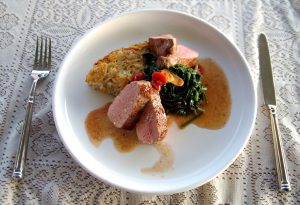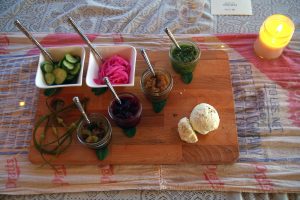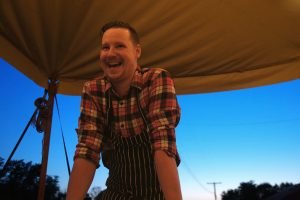 Had I wanted more food, I probably could have strolled into the fields just beyond the dining area and helped myself. But that would have meant bypassing the creative, harmonious transformations effected by chefs Joan Porambo and Kyle MacPherson. They're offering brunches and dinners (they call their farm to table meals Field Notes) at the Lansing Farm on Lishakill Road in Colonie (Albany County) in upstate New York.
The farm market on the premises has been a longtime reason for visiting; picking up your CSA shares is another. Al Lansing is an eighth-generation farmer, and his kids are extending that statistic – which dates back to the original settlers of the once-rural area, but now leaves him running the only remaining farm in this much-transformed suburban town.
It was Al's idea to do these dinners, says Joan, who speaks with an eagerness that reveals her own enthusiasm but also is a reminder that she's still got dinners to prepare and serve. Thanks to some family connections, Lansing met with the chefs and persuaded them to relocate from the Stowe, Vermont, restaurants where they were working and create an event that would feature dining on Lansing Farm's produce, a short walk from the fields and greenhouses where it was grown.
It's the first dinner of the season, and we visit on a perfect summer evening, with the sun easing behind a greenhouse throughout the course of our meal. The farm greets its visitors with a market building, while the dinner tent sits off to one side. A refectory table salvaged from the historic Yorktowne Hotel (York, PA) is draped in linen and burlap, the latter a series of repurposed bags offering a decorative highlight. It's set for six, but Joan shrugs off the disappointment. The first time we did this –  which took place last summer – only two people showed up. But the table accommodates twenty, and last year that number was reached.
Iced tea – courtesy Divinitea in Halfmoon (Saratoga County, NY) – is available at a pour-it-yourself station. Sinatra sings uptempo standards in the background. Both chefs welcome the arriving guests, taking turns keeping what's happening in the kitchen underway.
What's happening is an amuse-bouche platter, a ritual that kicks off each such meal. Today it's fried brioche with onion jam and a note of plums; alongside it, tempura of squash blossoms with a dab of aioli and decor of chive blossoms.
This is walking-around food, toothsome morsels that help break the ice as you prepare to share what's to come. We work with what's coming in, Joan says. Right now, the greenhouse tomatoes are ripe, so we picked the freshest and newest ones and roasted them with garlic and cream. It's the first course, a rich soup served in small, handsome bowls, each pumpkin-colored serving topped with a dollop of garlic scape pistou.
Scapes are one of the high points of the early-summer harvest, plucked from the garlic plant before it can flower, a string bean-like item with built-in seasoning. As a tomato accompaniment, it's perfect. And it soon will reappear in another guise.
Joan is the Sinatra fan. She grew up in Jim Thorpe, PA, and discovered her passion for cooking while preparing meals and desserts for her family – and sharing the enjoyment of the music they like. After graduating from the Culinary Institute of America in 2012, she went to work for Ric Orlando at New World Bistro Bar in Albany, making her way from there to Prohibition Pig in Waterbury, VT, before returning to the Capital Region of upstate New York.
Kyle, meanwhile, grew up in New Hampshire and graduated from the New England Culinary Institute in 2005, after which he worked in Boston before becoming executive chef of the Cliff House at Stowe Resort. But working at Lansing Farm allows him to see, touch, interact and appreciate the produce in real time as it's grown, which only increases the creative potential of these items.
Greens are at a peak, and they look beautiful, says Joan, introducing the next course, which features red leaf lettuce with grilled peaches and focaccia croutons, tossed in a blueberry vinaigrette for balanced acidity. I love making focaccia, so that's fun to use for the salad, and it also has a sprinkling of marigold petals to add a slight bitterness. Eating a delicious salad while gazing at its fields of origin feels right – indulgently right, making peace with Nature right. And, of course, it tastes fresher than anything from the market.
One of the guests brought a bottle of wine – that's the only way to enjoy strong waters at these events for now – and we sipped in anticipation of the entrée. Our salad plates were cleared and the silver was reset. No need to save your fork, and the reset ritual, as Joan observes, acts as a buffer between courses and makes a formal dinner seem less intimidating.
Kyle presented the next course, and it was impressive. The pork, while not from Lansing Farm, was close enough: it's one of the hormone-free meats raised and sold by Smith's Orchard in Ballston Spa (Saratoga County, NY). It was cooked sous vide, which is the process of simmering an item (which is sealed in a bag) in a liquid at the desired finish temperature for the time it takes to reach that temperature. It guarantees no loss of flavor or moisture, and the pork's robust sweetness practically leaped to the palate, helped along by a sauce of cherries in brown butter. Whatever your feeling about spinach, when it's freshly harvested and sautéed with almonds, it's like dessert. And it's a traditional accompaniment to the Swiss dish rösti, so it was appropriate to see that green, leafy (and nutritious) vegetable alongside the coarsely grated potatoes, parboiled and then sautéed – in cast iron, Kyle explained, with pork fat. Any questions? Not from this diner, just culinary satisfaction.
A cheese course always follows the entrée, and this evening's farm cheese was made from Battenkill Valley Creamery's milk. [Battenkill Valley Creamery is a dairy business founded by Donald and Seth McEachron, 4th and 5th generation farmers, respectively, who began processing and bottling milk on their family farm in Salem (Washington County), NY in 2008.] The result is a fresh, pleasant confection that begs for strong-flavored accompaniment, and that's exactly what it got. Scapes returned to the table, now pickled, alongside pickled red onion and traditional cucumber pickles. And four small jars of a wonderful variety of piquant concoctions: basil pesto with walnuts, a chutney of pickled green tomato, a currant-cherry IPA jelly with robust sweetness, and an onion jam that's the result of two hours of cooking the stuff in maple syrup. Served with a generous mound of baguette slices, we passed the board around the table trying to pace our caloric intake.
The cheese board stays on the table through dessert, so you can get back to the delicious onion jam (I certainly did), but we paused to make short work of a strawberry pot de crème that boasted just enough tartness to be a good companion to a sweet almond lace cookie. Someone nearby began setting off fireworks, a perfect way to celebrate a meal like this.
Field Notes has added a brunch to the proceedings this summer, and you can view menus and make reservations through their website. And don't be dismayed if the weather looks lousy: the tent already has withstood inclemency, though in this hot, dry summer, rain seems unlikely though much needed by farmers and gardeners.
Dinners are one seating at 7 PM Saturdays for $65 per person; brunch is a la carte Sundays and runs from 11 to 3. You can also sample chefs Joan Porambo and Kyle Macpherson's cooking at the Troy Farmer's Market Saturdays from 9 AM-2 PM, and Tuesdays from 6-9 PM at Rare Form Brewing Company, also in Troy (Rensselaer County), NY. Field Notes at Lansing Farm, 204 Lisha Kill Road, Colonie (Albany County), 802.503.9670, Dinner: one seating at 7 PM Saturdays for $65 per person, Brunch is a la carte Sundays and runs from 11:00AM-3:00PM, www.fieldnotes-ny.com.
(B.A. Nilsson, 7/16/18)
[Editor's Note (FWB): Field Notes at Lansing Farm is one of 75 listings included in this website's very special directory for dining on the farm or in the garden, with listings in the United States, Canada, Australia, Denmark, England, Ireland, Sweden & Wales!]