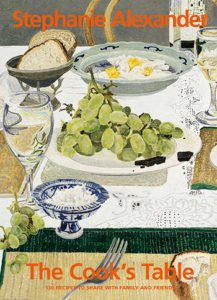 With the proliferation of cooking websites and blogs, a cookbook these days needs to be something special to justify the expenditure of one's hard-earned cash. The Cook's Table by Stephanie Alexander (Lantern, an imprint of Penguin Books Australia, May 2016, distributed by Independent Publishers Group in the United States) is one such book.
Alexander is an Australian cook, restauranteur, writer and food educator; doyenne of the Australian food scene. As the title of this – her most recent – book suggests, it is inspired by her joy in gathering friends around a table to share a home-cooked meal. Her philosophy can be summarized by a statement in her entertaining preface when, having expressed puzzlement at those who reserve treasured tableware for special occasions, she simply states her opinion that any meal with friends is a special occasion, one to be enjoyed as often as possible.
The book is set out in 25 chapters. Some are devoted to a specific celebration, such as Mother's Day, a teenager's birthday, Valentine's Day or Christmas. Several other chapters are inspired by memories of food experienced in particular parts of the world. In the latter category Alexander ranges widely, from Istanbul (Mezze in Istanbul) to America (A Weekend At Cape Cod), France (Classically French-Paris Toujours) to Jamaica (Jamaican Jerk Party), and for each location she provides a wealth of memories and colorful anecdotes. She has obvious respect for the traditions that imagined the featured cuisines, the hands that cultivated the produce and the skills that brought each dish to the table.
One chapter honors famed British food writer and cook Elizabeth David, the queen of food writers and includes some of her classic recipes; another is inspired by novelist Sybille Bedford and a particular meal recalled in her semi-autobiographical novel Jigsaw. Finally, there is a chapter playfully entitled A tour de force: a menu for show-off cooks!
Each section provides a suggested menu, from appetizers to dessert, but obviously dishes can be selected to suit individual tastes and purposes. Ever practical, Alexander extols the rewards of simple organization and provides a shopping list and timeline for each menu. The timelines range from preparations best begun as much as a week in advance right down to tasks that lead to service of the meal on the table. The detailed lists include a sly reminder an hour before the arrival of guests to get changed: the frazzled cook can never be too careful! Noting that there is no fun to be had in slaving away in the kitchen and missing the freshest news and best stories, last-minute stovetop procedures are kept to a minimum so that the cook is away from the table as little as possible and can enjoy the company of her guests.
At 500 plus pages, weighing in at over 3 lbs. and containing over 120 recipes, The Cook's Table is a formidable book but is far from intimidating. Alexander claims that every recipe can be made by a careful home cook and to this end she delivers practical advice in a user-friendly format. Her language is refreshingly unstuffy: raspberries are whizzed to a puree and classic Spanish alioli is described as containing a frightening amount of garlic – she suggests the toned-down French version instead. The book is generously and beautifully illustrated with photographs by Mark Chew. Apart from anything else, with its wealth of anecdotes, observations and backstories, it is an entertaining read. And how many other cookbooks are bound with a ribbon bookmarker to avoid a maddening rummage with sticky fingers through a book that has fallen shut?
One gets the feeling that Alexander had great enjoyment writing the book. This is not to trivialize its value as a very useful addition to any cook's library. The author's depth of knowledge and practical approach allows the reader to have complete confidence in her. Anyone looking for a fresh perspective and an authoritative manual could not do better than The Cook's Table.
(Eidin Beirne, 11/7/17)
[Editor's note (FWB): We have listings of over thirty farm to table dining destinations throughout Australia. For a special meal downunder, check our dining listings as well as three Australian listings in our Dine on the Farm directory; we're pleased also to include a listing for Ewingsdale Coffee (100% Australian grown coffee beans) in Byron Bay, New South Wales, in our coffee directory]