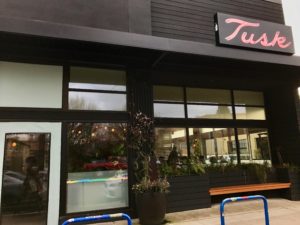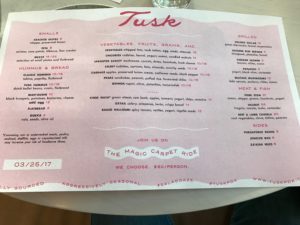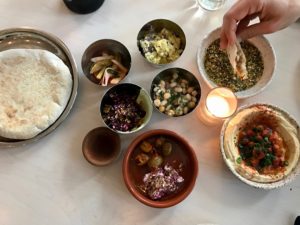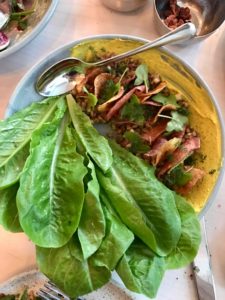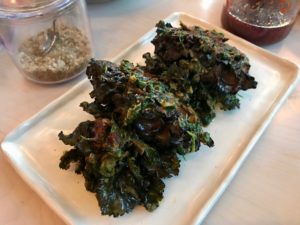 Tusk, a new dining option in Portland, Oregon, opened last fall to the delight of diners looking for flavorful Middle Eastern food at a restaurant with a commitment to sourcing its food aggressively and seasonally from local sources (as emphasized on its website's homepage). With more than 30 food sources, including small farmers and artisans, listed prominently at a tab on Tusk's website for producers, a delicious dinner becomes something more: support for the good food movement and appreciation of how eating local bolsters community and the local economy. Much of Tusk's produce comes from Groundwork Organics, as well as an extensive list of rotating local farmers. With reservations booked out days in advance, the restaurant's popularity is heartening for the small farm and local economy.
You won't find pomegranates, dates, or chickpeas growing in the soggy U.S. Pacific Northwest, with a climate not comparable to the temperate region of the Eastern Mediterranean. But the verdant Oregon hills are home to not only grapes in abundance, but olives, figs, almonds, pine nuts, and even saffron and nigella can thrive here. And sweeping valleys nestled in between rocky buttes provide the ideal landscape for pastured lamb, sheep, and cattle. Magnificent root vegetables grow fat from the mineral-rich soil, and some of America's last dense wild forests nurse mushrooms of all shapes, colors, and sizes.
Tusk makes use of all the region's bounty from its various microclimates to create Mediterranean small plates. The tapas-style servings were perfectly portioned to share, and we would have had a difficult time deciding what to try without the experience of our knowledgeable servers, who encouraged us with stories of the staff's hummus obsession.
First, they helped us choose a beer that even your hops-averse reviewer could enjoy: the De Garde Petit Blanc Saison from Tillamook, Oregon was a limited edition offering that tasted more like wine than beer. This made sense when we learned that it's aged in oak barrels with Riesling grapes. Sour and fruity, it immediately made the list of my favorite libations.
We began our dinner with the recommended Mezze Plate and sampled classic Mediterranean delights: beet and honey brittle, hummus, potatoes with tahina [tahini is the pureed raw sesame seeds, while tehina is the prepared sauce with lemon juice] and nigella seed (crunchy with a flavor like toasted onion), house pickles, feta and olives, and white beans with red onion. All arrived in speckled clay bowls that were thrown by the chef himself, cleverly matching the larger plates created for them by Alexandria Cummings of Portland.  They were accompanied by warm flat bread, made in-house with a blend of spelt and red wheat flours from Camus Country Mill.
The fluffy flatbread pillowed every delectable bite. We dipped it in olive oil blended with pistachio and hazelnut before loading them up with Mezze items and topping them with condiments prepared in-house; Aleppo pepper sauce, cumin salt, and za'atar (a generic name for a family of related Middle Eastern herbs, oregano, basil, thyme and savory).
From their "Vegetables, Fruits, Grains, And…" selection we sampled the chicories, pears, and kibbe naya. The tangy, pleasantly bitter chicories (a local spring green sourced from both Ayers Creek and Black Locust farms) starred in a stunning salad featuring radishes, fennel, Ellenos yogurt, sumac, and candied walnut. The dish was vibrant and refreshing, reminding us that spring was just beginning to bloom.
Pears from Kiyakowa Family Orchards in Hood River, Oregon were accompanied by sunchokes, peanuts, puffed rice, and fermented chiles. Surprisingly bland compared to the bright flavors in our other dishes, the quinoa with rapini, citrus, pistachio, and horseradish would have been a spicier option. (Tusk sources their quinoa from Willamette Valley Quinoa Company, which is proving that this protein-rich seed need not be imported from its South American origin to be enjoyed by North Americans.)
We relished with intense pleasure the kibbeh nayyeh, a traditional Lebanese dish. Raw lamb sourced from Cattail Creek in Junction City, Oregon was marinated in spices and combined with green wheat, apples, turmeric yogurt, chips, and pieces of romaine lettuce perfect for creating lamb lettuce wraps. It was light and balanced, with a plethora of herbs and just the right amount of grain to lamb. Bits of local wood sorrel added beautiful sour notes to the dish.
Our last selection was the grilled maitake mushrooms. This was my favorite of everything we tried: when maitake mushrooms are grilled their umami flavor heightens and they taste very much like scallops. What a treat and surprise! With a hint of peanut, and garnished with crispy kale leaves, anchovy, chiles, and lemon, the maitake mushrooms were culinary perfection. Tusk's supply were cultured in Northern California by an anonymous source, as many mushroom varieties are brought to restaurants from preciously secret locations.
While we ate until we could eat no more, we still felt relatively light, happy to be unperturbed by heavy grease or excessive carbohydrates. With its invitingly bright lighting and sleek interior (all designed by locals including Jessica Helgerson Interior Design), Tusk is sure to remain a popular hub for the neighborhood and very likely a destination for visitors too. Reservations are recommended.
As a closing note, why the name Tusk? The dictionary definition does not provide any clue: "In certain animals, a tooth developed to great length, usually one of a pair, as in the elephant, walrus, etc., but single in the narwhal." According to reporter Samantha Bakall of The Oregonian/Oregon Live, the restaurant Tusk is a much-anticipated follow-up restaurant to chef Joshua McFadden's Ava Gene's, and Fleetwood Mac's Tusk was a much-anticipated follow-up to their album Rumours.
 
[Tusk, 2448 East Burnside Street (between NE 24th & NE 26th Avenues), 503.894.8082, Brunch: Sat & Sun 10:00AM-2:00PM, Dinner: Mon-Sat 5:00PM-midnight, Sun 5:00PM-10:00PM]
(Lucas Knapp, 4/24/17)
[Editor's note (FWB)- After the posting of this review, we obtained further information that the source of the flours used to make Tusk's delicious warm flat bread was Camas Country Mill and that Jessica Helgerson Interior Design was responsible for the design of Tusk's sleek interior and lighting. Typos were also corrected when the review was updated on  5/3/17.]