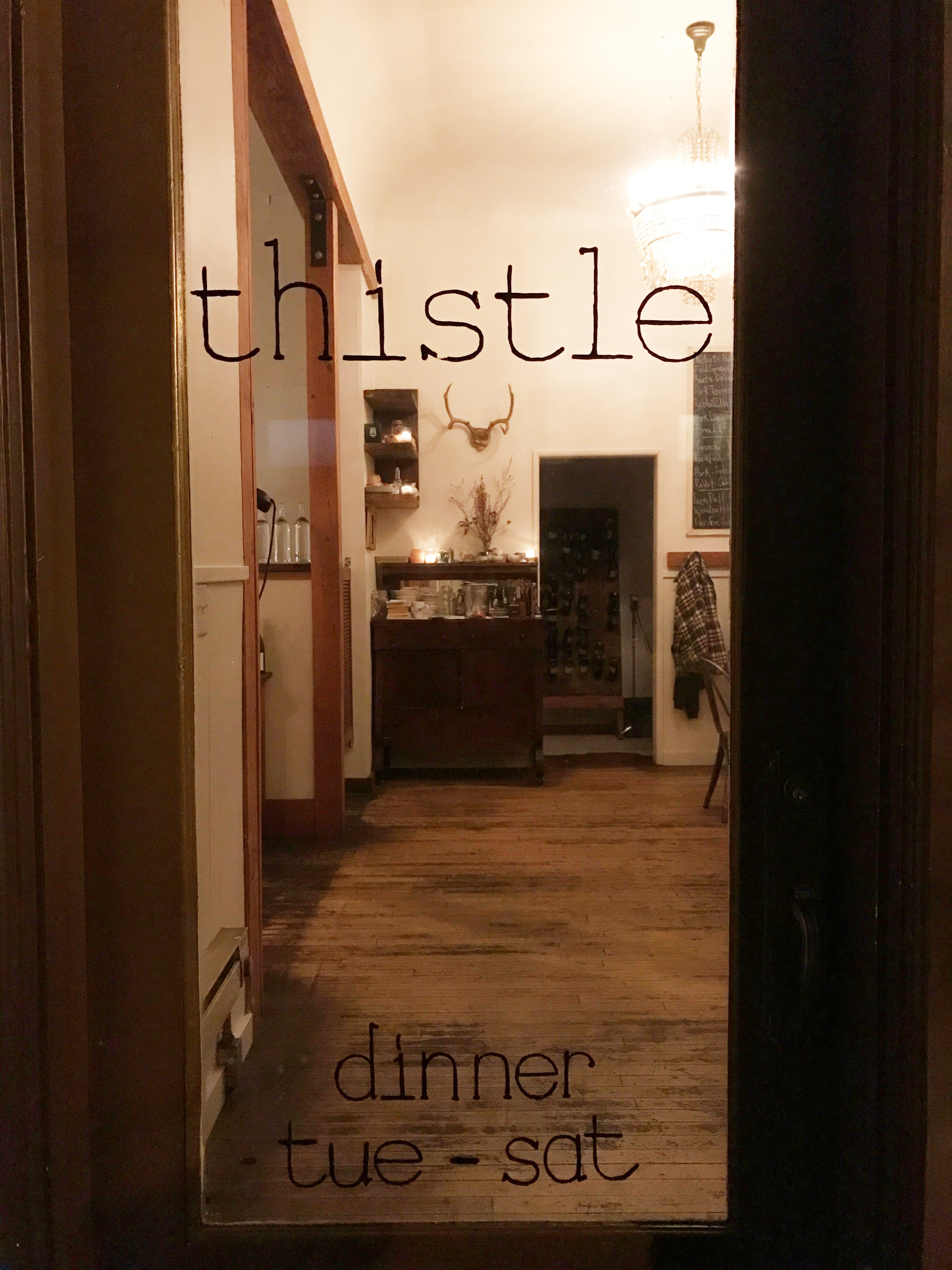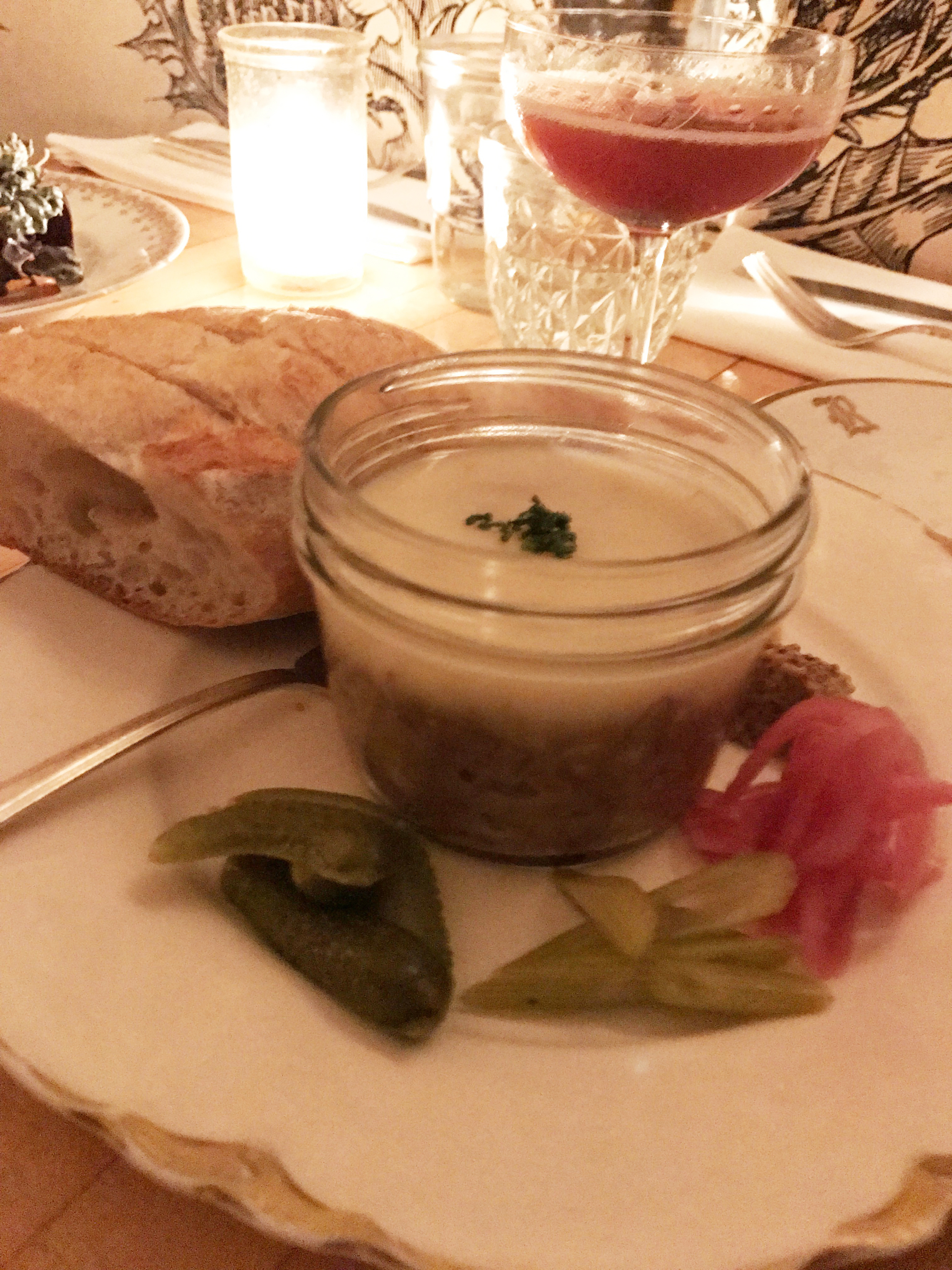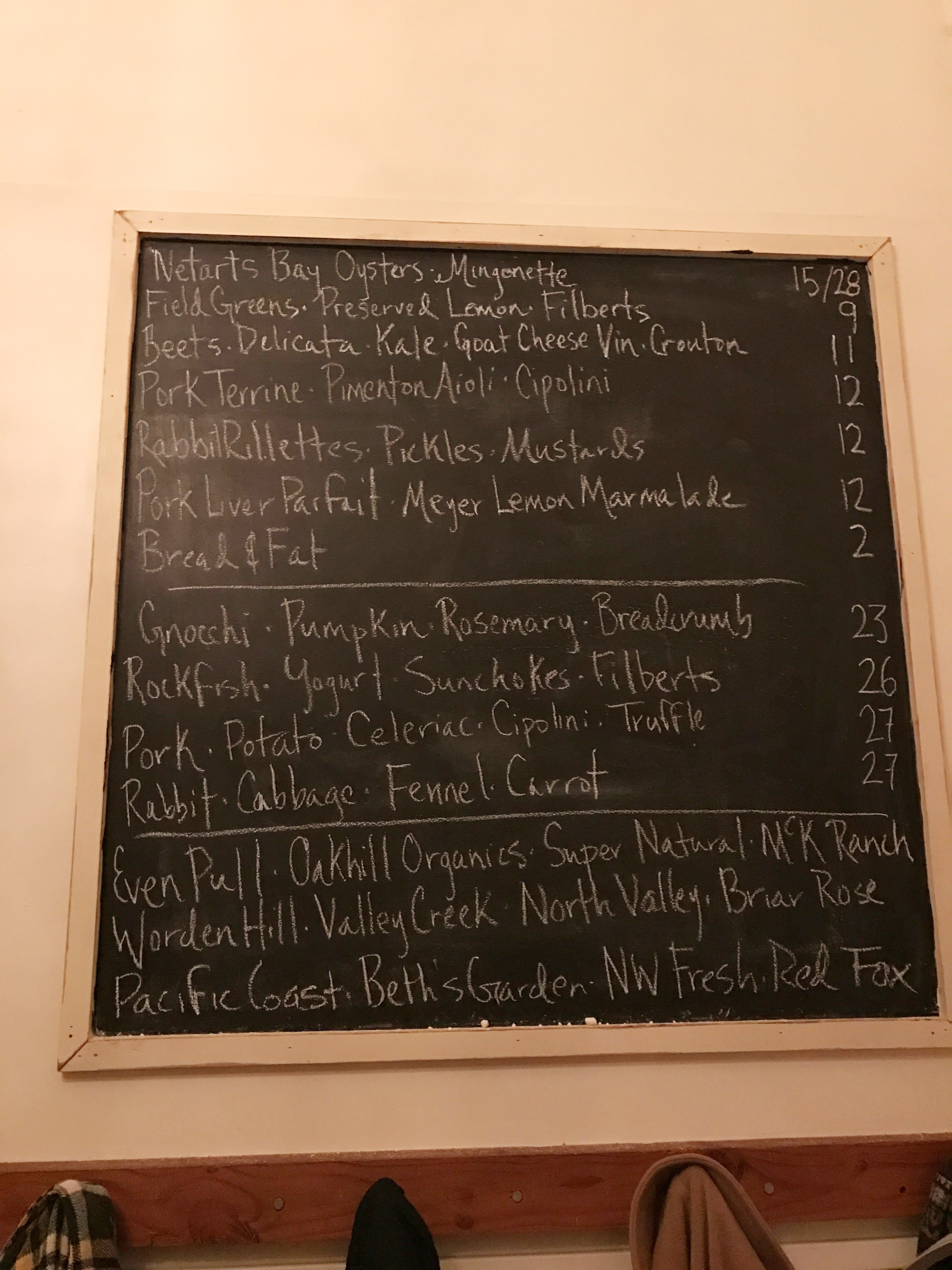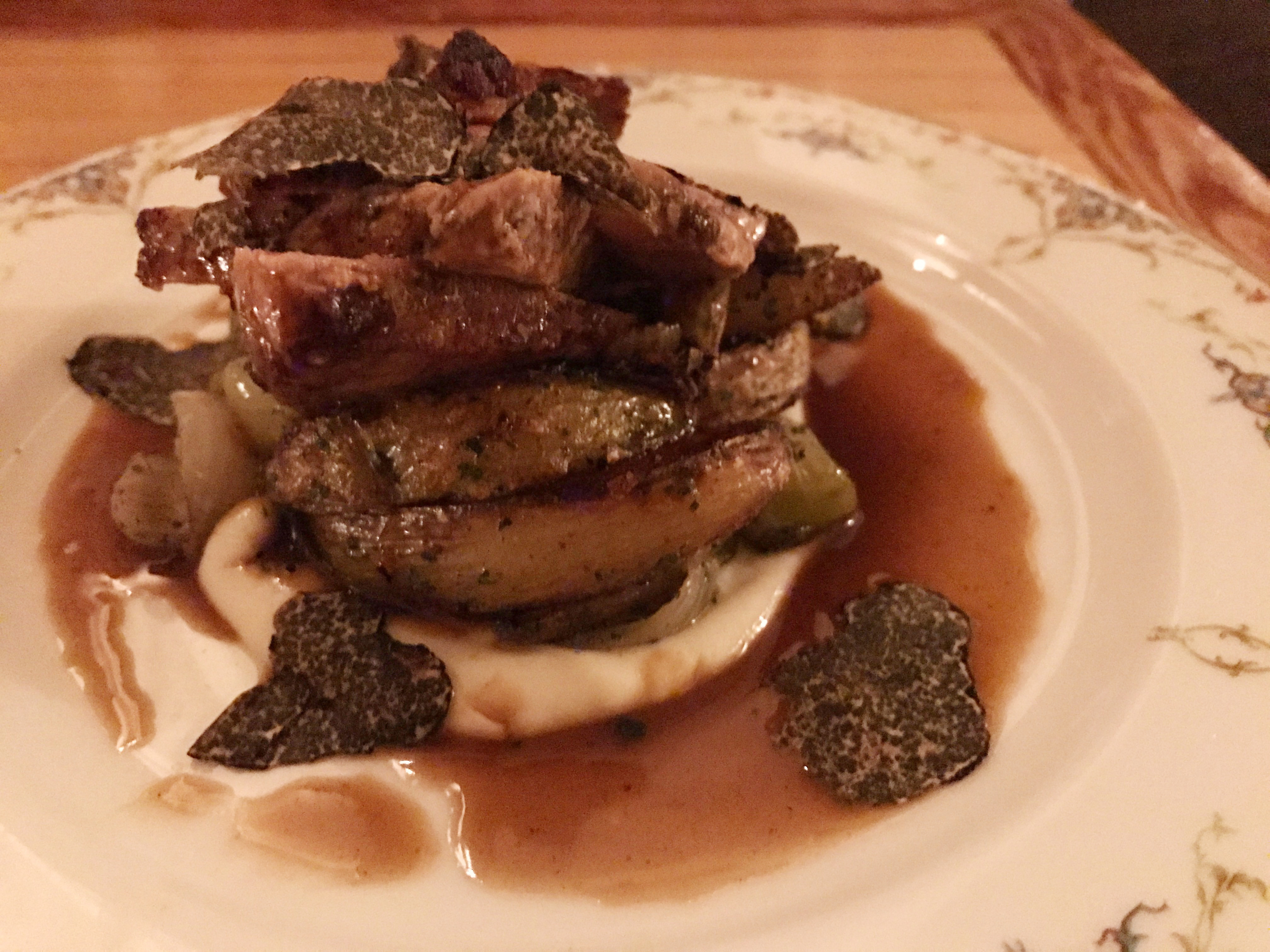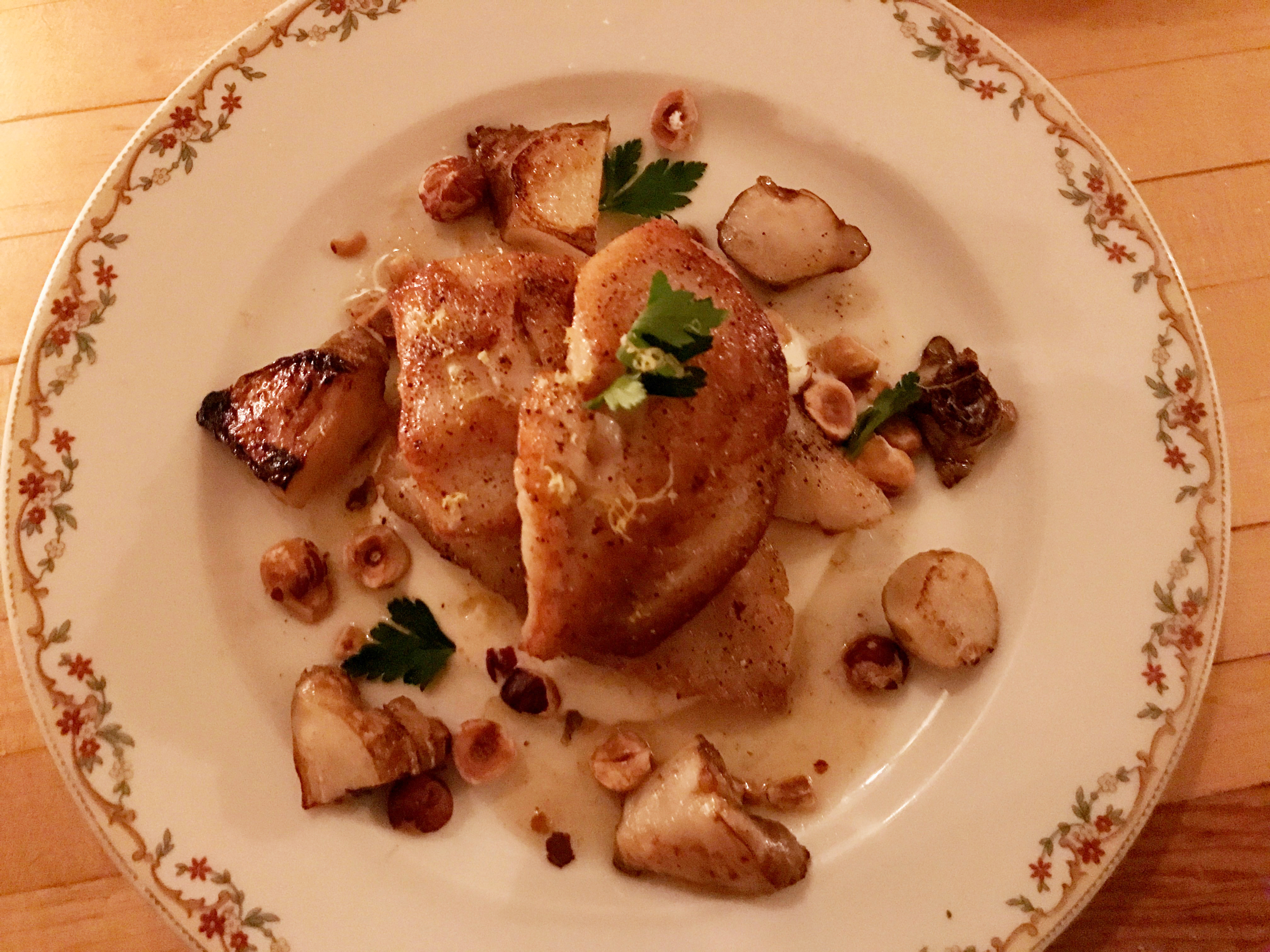 Heavy rain pelted the window pane behind us, but inside Thistle it was warm and cozy. Outside, a blustery late winter downpour drenched downtown McMinnville. Tucked just off the small city's famous 3rd Street, this farm-to-table dining destination attracts locals and tourists alike who appreciate its impressive dedication to local farms. With a menu that changes every week, there's always something new to enjoy.
On its website, the restaurant, which serves only dinner, emphasizes that its goal is "to create a true Oregon dining experience and showcase the region's bounty." Moreover, it also notes that "We have a hand in all aspects of the farming process, from choosing the heirloom seeds for the upcoming seasons to inspiring our farmers to raise heritage breed animals." Wow. Kudos for a restaurant that believes that "becoming closer to our food source is an imperative part of developing sustainable agriculture."
And Thistle's cocktails aren't too shabby, either. There are also many local beer and cider options include Heater Allen's pilsner (currently tied as the #1 Pilsener in the world on RateBeer.com),  and Wandering Aengus's Bloom cider. Many Willamette Valley (home to more than 500 wineries) wines are also included on the restaurant's impressive wine list.
A small venue comprised of three conjoined rooms, Thistle is the perfect spot for date night. Warm lighting, candles on the tables, and a quaint country-vintage aesthetic all combine to create an atmosphere of calm, whimsy, and romance.
Our server, who also hosted the 24-table dining room, was genuinely informative, giving us ample time to choose our courses. The menu may be short, but the options all vied for our attention. Pumpkin gnocchi or truffled pork? Rabbit rillettes or pork liver parfait?
Our attentive server easily helped us choose a few appetizers that didn't disappoint. We began with bread and fat, a simple dish featuring. Red Fox Bakery's French loaf, a pad of alderwood smoked salt butter and a quenelle of whipped pork lardo. Red Fox Bakery is McMinnville's first independent bakery, sourcing their flour solely from Washington and Oregon and utilizing local farmers and producers for all their ingredient needs. Their light and fluffy bread provided the perfect platform for both the butter and the lardo. The latter's whipped airiness complimented the former's heavier, creamy texture.
The beginning bites were devoured, signaling the arrival of a pair of delicious appetizers we had settled on. The rabbit rillettes was rich and satisfying. Rillettes—a preparation where meat is poached in fragrant stock, shredded and then packed in fat—is a delicious technique used to tenderize tougher, gamier cuts of meat. When paired with pickles, mustard, and more fresh bread a heartier snack cannot be found.
We also ordered the kale and beet salad to balance the richness of the rabbit, and what a perfect choice it was! Massaged kale accompanied sweet red beets, delicata squash, and house made croutons all tossed together in a creamy goat cheese vinaigrette. Together, these two petit appetizers showcased a large variety of local farms: Pacific Coast Farms in Rickreall, OR provided the rabbit; Briar Rose Creamery the goat cheese for the vinaigrette; and vegetables came from a variety of sources including Super Natural Farm and Oakhill Organics.
Our dinner courses featured even more farms to add to Thistle's long list of local partners. Rockfish from Northwest Fresh Seafood Company was pan-seared to bring out its light fresh flavor and supported by the satisfying crunch of gently roasted sunchokes and filberts from Even Pull Farm and Valley Creek Farm. Worden Hill Farm pork shoulder stacked with potato, celeriac, and cipolini onions was reminiscent of a smoky meal straight from grandma's crockpot.
After a satiating experience, my only regret was missing out on McK Ranch's grass-fed beef tartare. A popular menu item was not available this evening, but for another day when we can stay and enjoy Thistle's stylish bar room, which is modeled with polished wood and a classic 1920's aesthetic. It seems a natural spot to spend an evening sampling Oregon wines and oysters fresh from the coast.
We can expect McMinnville's reputation for outstanding farm-to-table cuisine to flourish with the bounty of what can be produced in this rich agricultural region, as well as its growing prestige as a destination for Oregon wines.
[Thistle, 228 N Evans Street, 503.472.9623, Dinner: Tues-Thurs 5:30PM-10:00PM, Fri-Sat 5:30PM-11:00PM, www.thistlerestaurant.com]
(Lucas Knapp 2/16/17)
[Editor's Note (FWB): After the original posting of this review, we were informed that Thistle's original owner and chef Eric Bechard turned over ownership to Emily Howard, who (as noted in our review) has maintained Thistle's high standards and commitment to local food sourcing. Further, Bechard's other McMinnville based projects  (Community Plate and The Oak) were handed off to local entrepreneurs when he decided to open Albatross & Co in Astoria 50 miles to the west on the Pacific coast.]