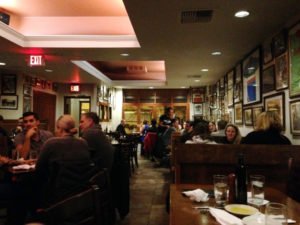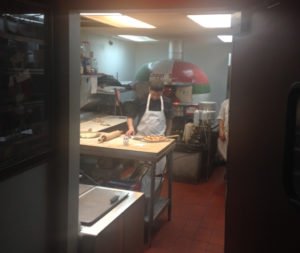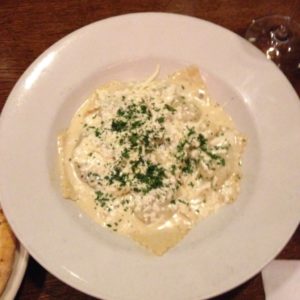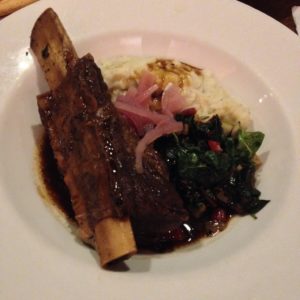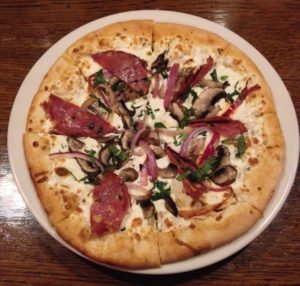 It's often said that being committed to a fully organic and local ingredient-based menu takes dedication. To do it for 23 consecutive years is another thing entirely.
One of the first fully organic restaurants in Washington, D.C., Coppi's Organic has remained steadfast in its commitment to organic local sourcing, despite a number of ups and downs since it first opened its doors in 1993.
While D.C. has never been particularly known for Italian food, the restaurant has always been popular in large part due to it's sourcing program. But as many chefs will tell you, local sourcing can have some practical downsides. Running a menu based solely off of seasonal ingredients can take a lot of extra procurement time and can make planning difficult, which could put you at a disadvantage in a crowded, diverse and ever changing restaurant scene like DC's — especially in off-peak dining seasons when seasonal produce is even less plentiful. When you add to that a change in ownership, a move from your original, high-foot traffic location and then, in the case of Coppi's, the tragic death of a co-founder, many owners might understandably throw in the towel.
But executive chef, and current owner, Carlos Amaya has kept going through it all. He clearly believes in his mission and knows that getting the freshest ingredients is worth it for him and his customers — even if it can make running the business a bit more unpredictable. But that's where one of Coppi's secrets to success comes in — a long-running partnership with central Pennsylvania-based Tuscarora Organic Growers Cooperative.
Tuscarora is one of the biggest food hubs in the country and it's one of the longest-running examples of a model that's gaining increased popularity (The National Good Food Network maintains a directory of over three hundred local and regional food hubs).
Founded in 1988, Tuscarora, which currently lists 52 members farms and 10 partners, is a fantastic example of how farm-to-table can work for both growers and consumers. By providing an efficient storage, ordering and distribution system that gives growers top dollar, they let farmers focus on what they do best: growing healthy organic produce.
And it's an almost even better arrangement for restaurateurs like Amaya.
Where relying on farmer's market or a relationship with one or two farms might leave his kitchen staff shorthanded from time to time if a crop fails, the cooperative's 52 member farms help keep Amaya's orders filled year round. And by sourcing from such a large number of farms with different specialties, Tuscarora also offers an exciting diversity of produce for chefs as creative as Carlos Amaya.
Because of this mutually beneficial arrangement, Amaya's dishes serve as a canvas for expressing the best seasonal produce from the Mid-Atlantic while also showcasing the cuisine of the Northern Italian region of the Ligurian Riviera.
The first things you notice when you enter Coppi's are the large bar, the wood-fired pizza oven visible through a window to the kitchen and the walls covered in Italian cycling memorabilia. The original owner was apparently a big cycling fan (and of Italy's legendary mid-century, two-time Tour de France winner Fausto Coppi, in particular). Evidence of his fandom in the form of signed jerseys, posters and photos adorns near every square inch of the restaurant's walls.
I started my meal under a large framed photo of Coppi's smiling mug with two antipasti: Bietole al Forno — a glorious mess of oven-seared dark green baby chard leaves, garlic, pine nuts and raisins served over a creamy and fresh housemade ricotta — and Calamari al Forno, a salad of extremely tender seared Rhode Island squid elevated with a subtle blend of garlic, parsley, balsamic and bright lemon flavors, all served on a bed of spinach. Overall, the Bietole was good but may have actually suffered a little too much wilting in the restaurant's powerful Neapolitan-style pizza oven. On the other hand, I had no complaints about the Calamari. It was perfect: succulent, not over seasoned and not even close to overcooked.
Next up, I choose one of the restaurant's daily specials that sounded too good to be true: a plate of house made ravioli served in a white wine and red pepper cream sauce and filled with a pesto puree of ricotta and pecorino cheeses, Swiss chard and a trio of wild oyster, crimini and shiitake mushrooms from one of Tuscarora's Pennsylvania farmers. This was hands down the best dish of the night. The large pieces of ravioli swam in a lightly piquant and buttery cream that exalted and paired perfectly with the large chunks of fresh mushrooms inside.
After that, it was time to pull out all the stops with Coppi's Stracotto di Manzo, a hearty dish of oven-braised, fall-off-the-bone pot-roasted beef short ribs christened with a savory reduction of red wine jus, garlic and a kiss of rosemary. Served with tasty parsnip and potato mash and even more seared chard, the plate could have been a fine dinner unto itself that would happily warm up the coldest of late-fall days.
To round out what had turned into an immensely satisfying meal, I then tried a small soppressata, ricotta, mozzarella, parsley, crimini mushroom, red onion and mint pizza baked in the aforementioned wood-fired oven (that, according to some reports, is also at least occasionally fueled with firewood sourced from one of Tuscarora's organic farms). Since I am an unrepentant lover of all pizzas and because the Marra Forni oven (adorably tiled with the Italian national colors and the restaurant's name) had been staring at me all night, I couldn't pass up the chance to try one of its creations. Unfortunately, the salami's strong pungent flavor masked most of the other ingredients, making the pie more one-dimensional than I'd hoped.
A couple of medium bodied selections from Coppi's well-curated Italian red wine list helped smooth the transitions from course to course — not that that was particularly needed. Following the meal, one of the very friendly bartenders came over to tempt me with a tasting selection of after-dinner amaros (Italy's potent herb-infused and somewhat bitter digestif liqueurs, originally concocted in the middle ages for medicinal purposes but that are now finding their way into many a modern craft cocktail).
Besides the tremendous dedication to organic and local sourcing for everything from the flours that make the pasta and pizza to the seasonal herbs and vegetables that accompany them, what really stood out to me about Coppi's is it's extremely humble and friendly atmosphere. And while it serves fantastically hearty late-season fare, it's undoubtedly the perfect place to enjoy expertly prepared organic food any time of the year.
[Coppi's Organic Restaurant, 3321 Connecticut Avenue NW (near Cleveland Park Metro), 202.966.0770, Dinner: Mon-Thurs 5:00PM-11:00PM, Fri & Sat 5:00PM-12:00AM, Sun 5:00PM-10:00PM. In the past, Coppi's has also served an eclectic brunch but times are not currently listed on their website.]
(Matt Bierce 1/10/17)
[Editor's Note: We were advised by Tuscarora Organic Growers Cooperative, after publication of Matt Bierce's review, that Coppi's has not been its customer for over a year. The PA food hub did note other restaurants in Washington, DC that it works "regularly with…even during the winter months" including Tail Up Goat, Timber Pizza, Mintwood Place, Estadio, Bar Pilar, Hank's Oyster Bar, Garrison, Bucks Fishing and Camping, The Bird, and The Pig. Kudos to these restaurateurs! (FWB 1/13/17)]