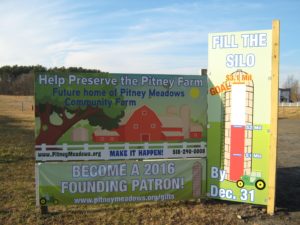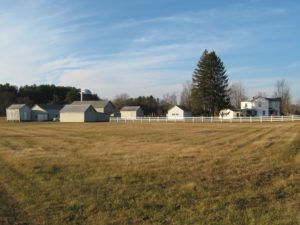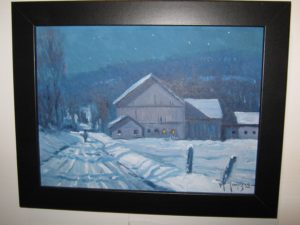 Upstate New York has struggled against economic decline as its rust belt cities have lost manufacturing jobs. But a bright spot of economic news in upstate is the thriving small city of Saratoga Springs, which has brought back to life its historic downtown and now has acted to preserve its last remaining farmland.
Developers have been eyeing the 168-acre Pitney Farm in operation for 154 years in Saratoga Spring's southwest corner. William Pitney, whose family has owned the farm since its founding in 1862, as reported by Wendy Liberatore in the Albany Times Union, noted that "he and his sisters promised their parents they would never sell to developers."
After a fundraising campaign that lasted five years and authorization by the unanimous vote by the Saratoga Springs City Council last month to expend nearly $1.2 million in open-space funds to support a "conservation easement," the non-profit Pitney Meadows Community Farm, Inc. will purchase the 168-acre farm from the Pitney family for $1.78 million, "a fraction of its $3.1 million worth" as noted by Times Union reporter Wendy Liberatore. The city's contribution comes from "a 2002 $5 million bond for the Open Space Advisory Committee, which was intended to purchase land for conservation or use as a network of parks and trails."
The community-supported farm has a goal of raising sufficient monies to also fund first-phase improvements to the property and a required stewardship fund in the amount of $600,000. A special Founding Patron  program seeks donations of $2500 per founding share and may be done "in honor or in memory of someone special." The tax deductible gift will be acknowledged by having the donor's or honoree's name "mounted on the silo at the farm."
The vision for the future of Pitney Meadows Community Farm is spirit-raising and includes community gardens with "access to communal equipment and coaching from experts," a farming school to "train the next generation of stewards of the earth," community education focused on teaching "all ages of youth about food and sustainable agriculture," and the creation of a year-round farm hub "that shares the bounty of the upstate agricultural community."
The community farm's Board of Directors includes Sandy Arnold, who has been active in managing a network of "sustainable farmers," and her husband, Paul Arnold, who is the founder and president of the Federation of Farmers' Markets of New York State. Together they run Pleasant Valley Farm, a diversified fruit and vegetable family farm in Argyle (Washington County, NY) which markets its bounty at year-round farmers markets in Glens Falls (Warren County, NY) and Saratoga Springs. Also part of the team planning for the future is Dr. John Sconzo, who is the co-founder/treasurer of Slow Food Saratoga Region and Michael Kilpatrick, a farmer who gained experience working on Joel Salatin's Polyface Farms in Virginia and who has managed a large certified organic farm for over a decade.
It's wonderful synergy that American Farmland Trust (AFT), which has protected more than 100,000 acres of farmland in New York State (a state that has "lost almost half a million acres of farmland to subdivisions, strip malls and scattered development in the past 25 years" according to information on AFT's website) maintains its New York office in Saratoga Springs. And also spirit-raising is the success of the Agricultural Stewardship Association (ASA) in protecting farms in neighboring Washington and Rensselaer counties in upstate New York (due east of Saratoga County). ASA recently received state grants of $2.4 million from the New York State Farmland Protection Program to preserve 1,543 acres at three farms in Rensselaer County and one farm in Washington County
For the last 15 years, a significant source of funding for the ASA's mission to protect farmland has also come from its Landscapes for Landsake Art Sale and Exhibition, a celebration of the land by the community of local artists. Over the years, $625,000 in artwork has been sold at the Landscapes Art Show, with the artists generously donating $312,500, 50% of the proceeds, to farmland conservation. This year's 15th anniversary exhibition was ASA's most successful, selling nearly $95,000 of artwork, a creative complement to state grants, municipal dollars, and donors' contributions. Artist applications for the 16th annual Art Sale and Exhibition (to be held October 7-9, 2017) will be available March 2017.
(Frank W. Barrie, 12/15/16)