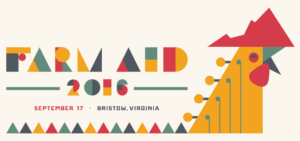 Thirty-one years after the first Farm Aid concert in 1985, this inspirational day of music and praise for the American family farm will be taking place on Saturday, September 17, 2016 at the Jiffy Lube Live amphitheater in Bristow (formerly known as Nissan Pavilion at Stone Ridge), near Manassas, in northern Virginia. The amphitheater can seat 25,0000, with 15,000 on the lawn and 10,000 in reserve seats.
Forty miles west of Washington, DC, this year's concert has an awesome lineup including Willie Nelson, Neil Young, John Mellencamp, Dave Matthews & Tim Reynolds, Alabama Shakes, Sturgill Simpson, Nathaniel Ratliff & the Night Sweats, Jamey Johnson, Margo Price, Lukas Nelson & Promise of the Real, Insects vs. Robots, and Ian Mellencamp.
Since 1985, Farm Aid has raised more than $50 million to help family farmers thrive all over the country as well as energizing the good food movement with an annual concert, a day of music and support for family farms. In addition, at this year's concert, from noon to 5:30PM, the Homegrown Village will be offering "a space for concertgoers to mingle with farmers, engage in hands-on food and farm activities and learn about the ways family farmers are enriching our soil, protecting our water and growing our economy."
The Skills Tent at the Homegrown Village will include workshops and demonstrations including (i) wild-gathered cocktails and medicine: digestive bitters making 101 presented by McNeill Mann from Earth Village Education; (ii) tree-free paper: hemp paper making 101 presented by Elishewa Shalom from Artisan Hemp; (iii) selecting the best: seed saving 101 presented by Paul Blundell from Southern Exposure Seed Exchange; (iv) encouraging good bacteria: fermentation 101 presented by Rachel Armistead from The Sweet Farm; and (v) Farm Aid 2016 seed swap presented by farmer Amy Talarico.
Tickets range in price from $49.50 to $189.50 and to encourage and help more families to enjoy Farm Aid 2016, a 4-pack of lawn tickets for $149 may still be available.
The Wikipedia article on Farm Aid lists all of the concert venues and performers in Farm Aid's illustrious history.
(Frank W. Barrie, 8/24/16)