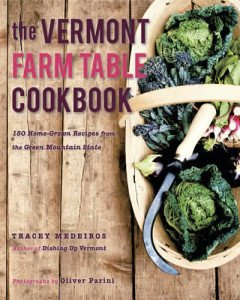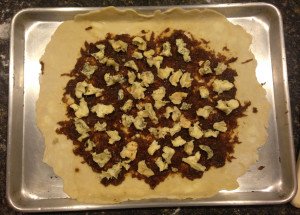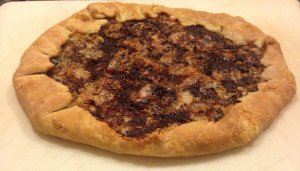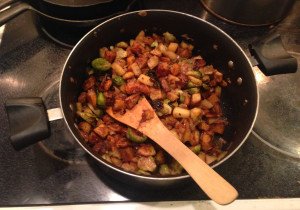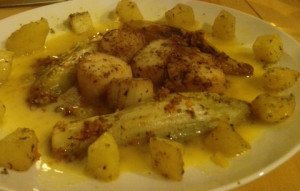 Vermont may be a small state size-wise, both in area and population (sixth smallest in area with less than 10,000 square miles, and 49th in population with 626,042), but it looms large in the local, farm-to-table, good food movement.  This year, Vermont topped the Locavore Index (a measure of the strength of a state local food economy) for the fourth straight year in a row. [Editor's note: Our Vermont dining directory lists an extraordinary 63 farm to table dining options; the Vermont directory of CSA farms, community supported agriculture farms, has listings of nearly 60 farms, worthy of a hallelujah!; and the listing of farmers markets on this website lists a dozen markets and includes a link to NOFA Vermont, the Northeast Organic Farming Association Vermont, with its directory of over 60 farmers markets. FWB]
Capturing the essence of this state's good food movement in a book is a tall order, but one that Tracey Medeiros tackles again with gusto in The Vermont Farm Table Cookbook, 150 Home-Grown Recipes from the Green Mountain State (The Countryman Press, Woodstock, VT, Distributed by W.W.Norton & Co., New York, NY, 2013). The cookbook's table of contents organizes the recipes under a dozen, well-chosen headings at the very start of the book: Breakfast; Breads; Soups & Salads; Vegetables; Sandwiches, Pizza & Savory Pies; Pasta & Polenta; Poultry; Fish & Seafood; Meat; Condiments & Sauces; Drinks & Desserts. In Tracey Medeiros's earlier cookbook Dishing Up Vermont, 145 Authentic Recipes from the Green Mountain State (Storey Publishing, North Adams, MA, 2008), the recipes were organized in eleven categories appearing at the end of the book, and simply moving the categorization of recipes to the front of the book makes it easier to plan a meal of farm to table dishes. The earlier book did not have a separate category of recipes for Fish & Seafood, and it should be noted that the later book does not duplicate the earlier Vermont inspired recipes.
In her earlier cookbook, Dishing Up Vermont, emphasizing Vermont grown ingredients, Medeiros sung the praises of the Vermont Fresh Network, the first statewide farm-to-restaurant program and included the introductory words of Vermont Fresh Network's Molly Stevens in a Foreword, A Taste of Place, at the start of the cookbook. Ms. Stevens summed up the history of her inspirational organization: "In the mid-1990s, a number of dedicated Vermont citizens recognized that the best way to counteract the devastating effects of the modern commodity-driven food system on small-scale farming was to develop local markets for Vermont-grown goods. These visionary individuals coordinated a series of events to bring together Vermont farmers, producers, and growers with their neighboring chefs to explore how the two groups could work in partnership to support local agriculture. The result of these dynamic conversations was the creation of the Vermont Fresh network. . .."  And as noted in the Editor's Note above, the extraordinary farm to table dining options in the small state of Vermont were another consequence of this creative networking of farmers and chefs.
The later Vermont Farm Table Cookbook is a collection of 150 carefully curated recipes from some of the best farmers, restauranteurs, chefs, and purveyors in the state.  It features a wide range of styles, ingredients, and influences that give the reader a deep sense of what makes Vermont such a wonderful food state. Vignettes generously sprinkled throughout the book add texture and insight into the people behind the food.  As Ms. Medeiros states in the introduction, each recipe is "an edible story." The recipes are illustrated with beautiful photos by Oliver Parini, who is based in Burlington in the green state of Vermont.
Beyond being delicious in concept, the recipes are perfectly written. The consistency across recipes from the numerous different kitchens is a credit to Ms. Medeiros' recipe testers.  I followed each recipe I made exactingly, and the dishes came out perfectly, a rare thing, particularly when multiple recipe authors are involved.   Cooks using this book can cook confidently without the need to modify or interpret the recipes.
Choosing a few test recipes from the long list of appetizing dishes was not easy.  I selected three: the Harvest Hash; Caramelized Onion and Bayley Hazen Blue Galette; and the Seared Day Boat Scallops, Braised Endive, Confit Potato, and Shaved Prosciutto with Orange Beurre Blanc.
Harvest Hash was an obvious choice for a cold weather meal.  Brussels sprouts, butternut squash, sweet potatoes, red potatoes, apples, cheddar cheese, and bacon…how could this not be delicious?  This recipe is listed in the Breakfast chapter, but, as the recipe notes, this dish would be equally at home on the dinner table.  Like many recipes in the book, Harvest Hash can easily become vegetarian, without losing its character, by simply omitting the meat. Backed up with shallot, garlic, fresh thyme, and apple cider, this recipe is a wonderful addition to my repertoire of hearty dishes and is extremely versatile. This would go nicely inside an omelet, a wonderful side dish to any dinner, and I even bet that if it was puréed it would make a sublime dip for your next party.
After a late fall apple picking trip (which means it is apple galette time), the Caramelized Onion and Bayley Hazen Blue Galette was also a no-brainer. I wasn't able to source the Bayley Hazen Blue from the award-winning Jasper Hill Farm, but any great blue cheese can be substituted (all the better if it is local). The dough came out beautifully and with added richness thanks to the crème fraiche, something I plan on using in galette doughs in the future, including a sweet apple galette with some of my remaining fall apples. It was hard to stop myself from eating the cheesy, onion galette from this wonderful cookbook in one sitting.
Finally, I prepared the Seared Day Boat Scallops, Braised Endive, Confit Potato, and Shaved Prosciutto with Orange Beurre Blanc. At first glance, this dish sounds intimidating, but it is not difficult and the results are superb. Using dayboat scallops shows a praiseworthy mindfulness about food ingredients. As noted by Ms. Medeiros, "Day boat scallops are harvested by hand and are untreated, or 'dry.' They are strongly preferred over 'wet' scallops, or those treated with a chemical preservative." The recipe is so well-written that all the elements came together at the same time, a difficult task given the different cooking methods. Breaking down the components reveals why I found this dish to be outstanding. Braised endive is an ethereal addition to any dish and it paired perfectly with the citrus in the beurre blanc twisted with orange. Seared scallops made it easy to create a beautiful presentation and an amazing plate. Add duck fat and potatoes and…need I say more?
I was so impressed by the dishes I prepared that they have entered my go-to repertoire of recipes…and I am still at the beginning of what this cookbook has to offer! Ms. Medeiros undertook the challenging task of cataloging the bounty of Vermont, and did so with great finesse.
(Mark von Topel, 1/6/16)