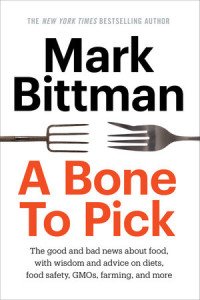 The insightful New York Times food writer, recipe guru, and activist Mark Bittman, as part of the Writers Institute's speakers series (founded by William Kennedy, Albany's famed novelist in 1983), spent an afternoon last week at a recital hall on the campus of the State University of Albany and explained how he "accidentally" became a food writer. He also gave generously of his time and voice to answer, sometimes acerbically, questions from an eager audience of students, faculty, and fans of his cookbooks and newspaper columns, who all seemed to share his strong opinion that Americans need to "eat more food from the plant kingdom." According to Mr. Bittman, success for him would be to "get every American to eat rice and beans" at least once a week.
Later on the same day, Mr. Bittman appeared at a downtown Albany auditorium before another friendly crowd at a "conversation" about cooking, recipes, food policy and his books (including his latest, A Bone to Pick, The good and bad news about food, with wisdom and advice on diets, food safety, GMOs, farming, and more (Pam Krauss Books, imprint of Crown Publishing Froup, a Division of Penguin Random House, New York, NY, 2015)  with Steve Barnes, a popular local reporter, restaurant and theater reviewer, and blogger for the Albany Times Union.
The Vegan Before 6:00PM (VB6) advocate came to Albany as a result of his long friendship with Donald Faulkner, the Director of the New York State Writers Institute. Faulkner and Bittman, as writers (post-college), shared an office in the late 1970s at Yale New Haven Hospital, and under the guidance of Eugene Cooney, a newspaper man, wrote hospital stories for modest compensation, in an attempt to reinvent the hospital's in-house magazine. Bittman's appearance in Albany represented a "reunion" with Faulkner to celebrate the spirit of Eugene Cooney with a memorial lecture, which turned out to be more of a probing Q and A session on food topics and the unexpected path Mr. Bittman took in becoming a well-compensated and popular food writer.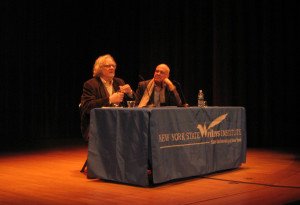 Some luck and good timing had much to do with Mark Bittman (whose first freelance piece was on the subject of glue for Popular Mechanics) becoming the well-regarded food writer. During a karate class in 1979 at the ripe age of 29, Mr. Bittman learned of the opportunity to earn $50 for writing theater and restaurant reviews for the New Haven newspaper. With these writing clips, Bittman could call himself a "writer." After tiring of writing restaurant reviews in the New Haven area, he found satisfaction in the late 80s "teaching people how to cook" through his now proven, and compensated, writing ability.  This eventually led to his becoming editor of Cook's Magazine and subsequently a food writer for the New York Times. When the Times started its Dining section, a relaunching of an earlier Living section, Bittman's weekly column, The Minimalist, in the new section of the newspaper became very popular with readers.
Mr. Bittman's succinct answer on the best way to improve America's food system consisted of three excellent points: (1) control the marketing of food to children; (2) eliminate antibiotics from the food supply; and (3) cook for yourself.  According to the Public Health Law Center at the William Mitchell College of Law, the Federal Trade Commission (FTC) reported that in 2009, food and beverage companies spent $1.79 billion to market their products to kids.  Seventy-two percent of this total was spent to market just three types of products—breakfast cereals, fast foods, and carbonated drinks. We have previously reported on actions taken by the Federal Drug Administration (FDA) to control the unsafe use of antibiotics in animal feed. Bittman's third point to "cook for yourself" has also been vigorously made by Michael Pollan in his Food Rules: Rule 82, "Cook," is short and sweet.  According to Pollan, "Cooking just might be the single most important thing you can do for your dietary health . . . Cooking for yourself is the only sure way to take back control of your diet from the food scientists and food processors, and to guarantee you're eating real food rather than edible foodlike substances, with their unhealthy oils, high-fructose corn syrup, and surfeit of salt."
Later in the evening, a challenging question was posed by Robert Jones, the President of SUNY-Albany, who holds a doctorate in crop physiology. Although unable to be present at Mr. Bittman's conversation with Steve Barnes, the university president's question was relayed to Mr. Bittman for his response: "What is the best way to end world hunger?"  In this era when companies like Monsanto and Cargill contend that only industrial agriculture practices can "feed the growing world's population," Mr. Bittman's answer was appreciated: "End world hunger, by ending world poverty." He elaborated further by pointing out that small scale farming uses 30% of the world's agricultural resources to feed 70% of the world's population while industrial agriculture uses 70% of the world's agricultural resources to feed 30% of the world's population. His column in the New York Times from a couple of years ago, How to Feed the World (10/14/13), elaborates further on this important point. Mr. Bittman shares a similar position articulated by Maria Rodale in her Organic Manifesto (Rodale, Inc. [distributed to the trade by Macmillan], New York, New York, 2010), reviewed earlier on this website.
One question Mr. Bittman did not answer, which was posed twice in the course of his day in Albany, was the name of his new employer. In his "last regular opinion column on food" for the New York Times,  A Farewell, he explained he wanted "to try to change the world, not just write about it" and was taking "a central role in a year-old food company . . . to make it easier for people to eat more plants." Mr. Bittman's fans and readers will have to wait a bit longer for this information.
Frank W. Barrie, 10/27/15
[Editor's note: A week or so after Mark Bittman's appearance at the Writer's Institute in Albany, the New York Times reported that he "is joining the Purple Carrot, one of the many new meal kit delivery services that have sprung up over the last several years." Reporter Stephanie Strom noted that "The Purple Carrot is a vegan version of subscription meal kit services like Plated, Blue Apron, Green Chef and HelloFresh."