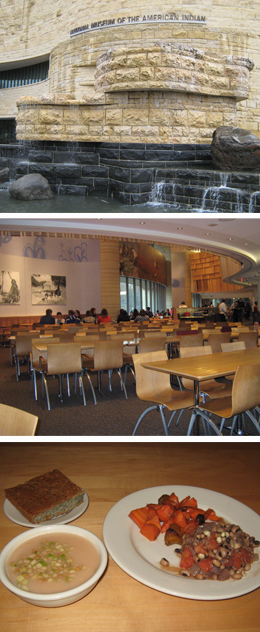 Since the opening of the Smithsonian National Museum of the American Indian ten years ago in 2004, the museum's unique cafe, the Mitsitam Native Foods Cafe, has become a popular destination for lunch on the historic National Mall in Washington, DC.   "Mitsitam," in the Piscataway and Delaware (tribes local to the Washington, DC area) languages, means "let's eat".  This singular dining experience draws upon culinary traditions from five Native culture areas in the Americas (not just within the boundaries of the United States): Northeast Woodlands and Great Lakes ("Northern Woodlands"); South America; North Pacific Coast and Columbia Plateau ("Northwest Coast"); Mesoamerica; and Great Plains.
The cafe's menu includes foods that are not only local but also have been grown and harvested in the Americas for centuries including indigenous American foods such as tomatoes, potatoes, wild rice, salmon, buffalo, blueberries, corn, pumpkin, peanuts, chocolate, vanilla and chiles.  In addition to a flavorful and pleasurable lunch, dining at the cafe is a learning experience.  As noted by Kevin Gover, the Director of the Museum, we commonly think of tomatoes as an Italian staple, of potatoes as Irish or northern European, and peanuts as native to Africa, but "native American farmers cultivated and developed these foods . . . long before Europeans exported them throughout the world."
The architecturally striking museum, with its distinctive curvilinear form, evoking a wind-sculpted rock formation, has a comfortable and well-designed modern cafeteria setting (with seating capacity of nearly 400) for its Mitsitam Cafe.  (If possible, a seat by the window overlooking the waterfall fountain is a fine spot to enjoy lunch.)  The five distinct food preparation areas  (corresponding to the "culture areas" noted above) have separate cafeteria lines, but they all share common check-out lines.  It was a stimulating experience for this diner to mosey along the separate "serving stations" to determine what to select for lunch. Dishes are carefully described and ingredients noted, with a range of options from pricier entrees to reasonably priced side dishes.  Diners can see tamales being made by hand and salmon roasting on an open fire pit.
On a chilly and rainy day in DC,  I decided to lunch on a bowl of soup and two hot side dishes from the Northern Woodlands serving station.   A bowl of "cherry wood smoked" apple and celery root (celeriac) soup ($6.85) was a sweet and sour treat with the distinctive flavor of celeriac, a somewhat unfamiliar root vegetable which I first enjoyed only a couple of years ago as a part of  a weekly CSA (community supported agriculture) share from Roxbury Farm in Kinderhook (Columbia County) NY.   The puréed soup also had fresh niblets of white corn which added texture to its smoothness.   Two hot side dishes of yellow eyed beans and white corn succotash ($3.15), perfectly flavored with wild onions and tomatoes,  and a hearty portion of honey-roasted local carrots ($3.15) made for a tasty lunch.
The sweetness of the local carrots was not only due to honey-roasting.   One of  this nation's most famous gardeners, First Lady Michelle Obama, whose White House kitchen garden is not much more than a stone's throw from Mitsitam Cafe, provides a simple explanation for the sweetness of late fall carrots.  In her informative and readable American Grow, the Story of the White House Kitchen Garden, she notes that since sugars don't freeze, plants produce a lot of sugar to protect themselves from the cold.  Ergo, carrots harvested late in the fall are especially sweet.
A deliciously grainy and chewy, but not too sweet, slice of blue corn bread ($2.69) from the South America serving station was a dessert-like complement to the soup and two hot side dishes.  (So delicious, a second slice was purchased for later sustenance as a reward for a long hike from the cafe to the National Academy of Science to view the small, but excellent and stimulating exhibit on Imagining Deep Time , which displays the visions of a dozen artists (painting, sound work, lights, hardware, mirrors, photography.)
Other dishes caught my eye and also would have made for a perfect lunch: braised cabbage and spiced pepitas ($3.59) from the Great Plains serving station; quinoa and grilled corn, queso fresco, mint aji vinaigrette ($3.59) from the South America serving station, and two other offerings from the Northern Woodlands serving station, roasted butternut squash & turnip frisee and sunflower seed vinaigrette ($3.59) and a bowl of chowder with wild rice, acorn squash, pork sausage, and rosemary bannock crisp ($6.85).  More substantial dishes, perhaps in lieu of a later dinner, cedar planked wild salmon, wild basil & preserved lemon ($14.65) or grilled bison skirt steak with huckleberry glaze ($16.75) sounded appealing.
The museum's bookstore and gift shop (the Roanoke Museum Store) on Level 2 has available for purchase The Mitsitam Cafe Cookbook by Richard Hetzler (Smithsonian, Washington, D.C., and New York, 2014, in association with Fulcrum Publishing, Golden, Colorado) which was the winner of the "Best in the World" cookbook award from Gourmand International.  Beautifully illustrated with food photographs as well as Smithsonian archival photographs of Native life and artifacts, the cookbook includes ninety recipes adapted for home cooks and showcases indigenous American foods used at the cafe.   The recipes are conveniently arranged in nine categories: appetizers, soups, salads, main courses, side dishes, sauces and salsas, breads, desserts and drinks, and they are also listed by Native American Culture Area in a table in the back of the cookbook.
Mitsitam Native Foods Café, At the Smithsonian National Museum of the American Indian, 4th Street and Independence Avenue (National Mall), Washington, DC, 202.633.7044, Café Menu: Daily 11:00AM-5:00PM, www.mitsitamcafe.com
(L'Enfant Plaza [Blue/Orange/Green/Yellow lines] is the nearest Metro station; Take the Maryland Avenue exit)
(Frank W. Barrie, 12/16/14)