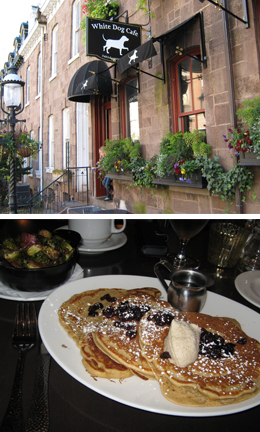 The website of the White Dog Café (with two locations, one in the University City section of Philadelphia and the other in Wayne on the Philadelphia Main Line), has a unique home page with a colorful map showing a dozen red barns and images of farm animals, cheese, fruits and vegetables.   The visitor is invited, by rolling over the map, to find out where the café sources its "environmentally sustainable ingredients," including the local farms that pasture feed livestock and practice sustainable farming methods.
For example, rolling over one of the barns brings up a box with information on Green Meadow Farm in Gap, PA and notes that it produces, beef, turkey, peaches, raspberries, zucchini, and squash for the café.  To this list should be added "pork" or "bacon" since the brunch menu from which I recently ordered the scrumptious side dish of roasted, maple glazed brussel sprouts with smoked thick cut bacon identified Green Meadow Farm as the source of the tasty bacon which gave real pizazz to this delectable dish.  This is a mere technicality, since White Dog Café deserves kudos for taking pride in showing the farm sources for its food in such a clever fashion.
Huzzahs also to the White Dog Café  for sourcing its grains, polenta, and cornmeal from Cayuga Pure Organics, a small farm near Ithaca, New York, which grows and supplies organic, non-GMO dry beans and grains to restaurants, farmers markets and CSAs throughout New York and the Northeast.  To the best of my knowledge, Cayuga Pure Organics is the only major supplier of locally grown organic dried beans in the Northeast region.   On May 30, 2013, a devastating fire, started accidentally by a child, destroyed this small farm's barn that housed all of its cleaning and packaging equipment and a considerable amount of inventory.  A successful Indiegogo campaign raised funds which has resulted in the construction of "a new net-zero beanery."  This super-insulated building is a passive geo-thermal building that uses no outside sources of energy for either heating or cooling, with the inherent ground temperature of around 50 degrees F year-round as the source of both the heating and cooling of the building.  Another mere technicality but rolling over the barn on the colorful map on White Dog Café's home page, which brings up the box with information for Cayuga Pure Organics shows its location as Brooktondale, PA rather than its location in Brooktondale in upstate NY near Ithaca.
Bah humbug to this nit-picking and on to praising the most delicious pancakes this diner has ever eaten.  I am not exaggerating.  This is what you should look for on the Fall 2014 Brunch Menu of the White Dog Café:  "PUMPKIN PANCAKES, Spiced Mascarpone, Brandied Cranberries, Pennsylvania Dutch Maple Syrup" ($13).  This brunch treat was delectable with a dollop of  creamy Mascarpone, easily spreadable on the pancakes and bringing out the flavorful contrast of the brandied cranberries.  The delicious maple syrup added sweet touches to the slightly acidic flavor of the Mascarpone.  Who knew a plate of pancakes could be so rich in contrasting flavors?
A generous side dish of maple glazed, roasted brussel sprouts with Green Meadow bacon ($5) added a green touch to brunch and the sweet and salty flavors of the maple glaze and bacon were well-balanced.  Brunching on a hearty helping of brussel sprouts eased somewhat the guilty feelings about the richness of the extraordinary pumpkin pancakes.  (This health-nut usually has a bowl of steel-cut oatmeal for breakfast every morning.)  A couple of cups of smooth and caramelly Burlap & Bean Coffee, which is served at the White Dog Café, also got the wheels turning for this picky coffee drinker.  After this wonderful brunch, I was well-fortified for an afternoon's Culinary Expedition (no food consumption involved) at the nearby U Penn Museum.
A final note: from the outside, the White Dog Café appears to be a small, cozy spot.  It is a surprise to enter and discover the large number of dining rooms (completely renovated in August, 2014).  I brunched in a comfortable space decorated with colorful paintings of dogs, and not only white ones.  Service was friendly and efficient despite the popularity of this very special restaurant.  Don't miss out on brunch at the White Dog Café if you have the good fortune to be in Philadelphia this autumn.
[White Dog Cafe. 3420 Sansom Street, 215.386.9224, Lunch: Mon-Fri 11:30AM-2:30PM, Brunch: Sat-Sun 10:30AM-2:30PM, Dinner: Mon-Thurs 5:30PM-9:15PM, Fri-Sat 5:30PM-10:00PM, Sun 5:00PM-9:00PM, Grill: Sun-Mon 2:30Pm-10:00PM, Tues-Sat 2:30PM-Midnight, www.whitedog.com]
The White Dog Café also operates a café in Wayne on the Philadelphia Main Line (the western suburbs of Philadelphia).
[Frank W. Barrie 11/20/14]