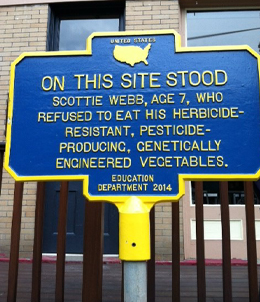 Sharon Springs (a small village with a population of 547 at the 2000 census) in upstate New York's rural Schoharie County is the home of a terrific farm-to-table restaurant, 204 Main Bar & Bistro.  As starters, my dining companions shared pot stickers ($8.00), local pork and shrimp, house made noodles, Asian slaw, spicy soy dipping sauce, which a dining companion said was "better than what you get in NYC's Chinatown," and of course the ingredients were of first-rate quality at this wonderful bistro.  I enjoyed a beet and goat cheese salad ($7.00), perfectly balanced with roasted beets, goat cheese chèvre, walnuts over mixed salad greens and lightly dressed with orange soy vinaigrette.  After satisfying entreés of pan-roasted chicken ($19.00) in a delicious lemon butter sauce, with sides of potato pavé (a scalloped potato dish) and asparagus, and perfectly prepared pork schnitzel ($19.00), breaded and pan fried, served over mixed greens and topped with a fried egg (the choice of each of my three dining companions), we decided to share a dessert.  A perfectly prepared lemon semifreddo ($7.00), a frozen mousse made with egg yolks and heavy whipping cream topped with blackberries and raspberries, was a wise choice for sharing given its extraordinary richness.
Appetites tamed, as we left the bistro, we were stopped in our tracks after noticing the "historic" marker outside 204 Main Bar & Bistro. With humor, the marker confirmed our decision to dine in this wonderful Sharon Springs bistro that features food sourced locally and grown with care.  The humorous "historical" marker was the perfect touch to lift the spirits after a delicious meal.
An easy half-hour drive from Cooperstown, the famous home of the Baseball Hall of Fame and the Glimmerglass Opera (which this summer is staging a powerful production of Madame Butterfly among other rich programming), Sharon Springs is beckoning visitors with its terrific farm to table dining, and a visitor can see and feel the signs of renewal.  And with the village's own special festivals, it's becoming a destination in its own right: the Garden Party Festival in May, Father's Day Tractor and Antique Power Show in June, the Wee Wheels Tiny Car Show in August, the Harvest Festival in September, and the Victorian Festival in December.
[204 Main Bar & Bistro, 204 Main Street, Sharon Springs (Schoharie County), NY, 518.284.2540, Lunch: Daily (but closed Tuesdays) 11:30AM-2:30PM, Dinner: Daily (but closed Tuesdays) 5:00PM-10:00PM http://204mainbistro.com]
(Frank Barrie 7/14/14)