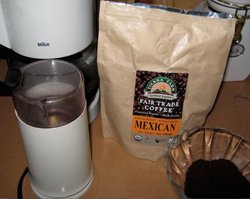 Fair Trade USA [fairtradeusa.org/] has resigned its membership in the Fairtrade International system [www.fairtrade.net/], a group of 25 organizations which "work to secure a better deal for producers," and which owns "the FAIRTRADE Mark – the product label that certifies international Fairtrade standards have been met."  A carefully worded statement on the website of Fairtrade International notes that it and Fair Trade USA "have different perspectives" on how best to achieve the common mission "of empowering producers and workers around the world to improve their lives through better terms of trade."
The organizations' divergent perspectives evolved out of a disagreement related to the meaning of "fair trade" as applied to the production and distribution of coffee to consumers.  The New York Times has reported that Fair Trade USA "angered critics by saying it would cut its ties [with Fairtrade International] and make far-reaching changes in the sorts of products that get its seal of approval" [A Question of Fairness As a Trade Movement Expands, A Dispute Over Its Direction by William Neuman (November 23, 2011).]  At the heart of the "divergent perspectives" is the meaning of fair traded coffee.
After oil, coffee is the most traded commodity in the world.  "Coffee is produced from an evergreen shrub thought to have originated in Ethiopia…" (Edible, An Illustrated Guide to the World's Food Plants, Washington, D.C.: National Geographic Society, 2008, www.nationalgeographic.com/books).  This informative National Geographic guide to edible foods elaborates on the two species, Coffea arabica and Coffea robusta, which are used to produce coffee beans:
"Arabica coffee is named for the Arabs who were the first to cultivate it commercially.  Beans from C. arabica contain less caffeine than beans from the C. robusta plant, and are considered to have more expressive, subtle aromas.  About 70 percent of the beans grown for the coffee market are C. arabica.  C. robusta makes up the remaining 30 percent.  With their higher caffeine level and harsher, more bitter flavor, Robusta beans fetch a lower price than Arabica beans, and are often blended with them.  In cultivation, Robusta has two advantages over Arabica: It grows well at lower altitudes and warmer temperatures, and tends to be more resistant to disease."
Rowan Jacobsen's informative and entertaining American Terroir [knowwhereyourfoodcomesfrom.com/2010/12/13/american-terroir-savoring-the-flavors-of-our-woods-waters-and-fields/], in a chapter on Geisha coffee grown in the highlands of Panama, notes that up until the 1990's, the coffee industry was "an old-fashioned commodity industry, built on the backs of third world farmers" and "dominated by importers who kept prices extraordinarily low, abetted by governments."  Jacobsen writes about the development of "coffee tastings and auctions" by George Howell, who developed "a taste for good coffee in the 1960s in Berkeley, California, where Alfred Peet was roasting some of the first good coffee beans in the United States."  Howell "had seen too many coffee farmers give up on quality" since there was no reward for quality resulting in farmers concentrating "on producing higher quantities by growing disease-resistant, high-yield varieties, and they often picked many green, unripe [coffee] cherries."
Initially, Howell "focused on getting coffee farmers a decent price for their crop,"  and he worked "with the United Nations, the International Coffee Association, and the U.S. Agency for International Development" to help introduce "fair-trade practices"  to ensure a better price for farmers, but "it did nothing to improve the quality of the beans."  Howell then had the brilliant idea "to set up a series of blind cuppings to find the best coffees in Latin America and then auction off the winners to the burgeoning specialty market."  American Terroir describes the 2007 Best of Panama specialty coffee auction where 500 pounds of Esmeralda Special which "comes from high atop the Hacienda la Esmeralda estate in Panama's lush Jaramillo region" sold at auction to a group of coffee roasters for the eye-popping price of $130.00 per pound.
Still, Mr. Howell, as quoted by Rowan Jacobsen in American Terroir, notes that "an average bottle of wine costs $10.00, and that for an equal amount of coffee to sell for the same price, the beans would have to cost $125 per pound.  Although coffee has not reached, in Mr. Howell's words, "the noble-beverage stage of wine and tea," it has become a beverage much more appreciated for its taste and terroir.  Mr. Howell's new coffee business, George Howell Terroir Coffee Company [www.terroircoffee.com/], located in Acton, Massachusetts, is included in the directory of fair-trade coffee businesses on this website [knowwhereyourfoodcomesfrom.com/farm-to-table-dining/tropical-foods/coffee/].  At the same time,  a consciousness of fair-trade has blossomed among many coffee consumers.
The Honest Weight Food Co-op [www.hwfc.com/] sells 24 different types of roasted coffee beans at its store in Albany, New York.  This sign greets the shopper in the store's coffee section: "All Of Our Coffee Is Fair Trade and Organic."  Eleven of the 24 coffees on sale are "fairly traded from small farmers" coffees of Equal Exchange [www.equalexchange.coop/], and Equal Exchange's "coffee chain" is displayed over the coffee bins at my local food co-op: "(1) Small Farmer to (2) Farmer Cooperative to (3) Equal Exchange to (4) Store or Cafe to (5) Consumer.  The following contrasting "conventional" coffee chain is also displayed in the coffee section of the Honest Weight Food Co-op: (1) Small Farmer to (2) Middleman to (3) Processor to (4) Exporter to (5) U.S. broker to (6) Coffee company to (7) Food Distributor to (8) Store or Cafe to (9) Consumer.  Equal Exhange's president, Rink Dickinson, is leading the charge [www.equalexchange.coop/fair-trade-campaign] against Fair Trade USA, which he asserts has "lost their integrity" as he is quoted by reporter William Neuman in the New York Times story.
The logo of Fair Trade USA's a black and white "roboman" holding two baskets, with an earth-like shape in the background, is perhaps the most recognized fair-trade label.  The "certified organic, fair trade, single origin and micro-roasted whole bean Mexican coffee" sold by Tierra Farm [www.tierrafarm.com/] of Valatie, New York at its Albany, NY cafe near my home (which is the coffee used in my household) has, in addition to its own logo, four "eco-labels" or logos on its package: (1)USDA Organic, (2) Earth Kosher, (3) Solar Power Facility, and (4) Fair Trade USA's roboman.  This certification of fair-trade by Fair Trade USA in the future will no longer mean that the coffee comes from "small" farmers, at the heart of the criticism by Equal Exchange's Mr. Dickinson of Fair Trade USA's changing "perspective" on the meaning of fair trade coffee.  The New York Times story reported that "Green Mountain Coffee Roasters, which calls itself the largest buyer of fair trade coffee in the world . . . is participating in a pilot project with Fair Trade USA involving a 500-acre organic coffee plantation in Brazil, a farm that previously would have been too large to get fair trade certification."
On its website, Fair Trade USA provides the following answer to the question, "What is Fair Trade?":
"Within the Fair Trade movement there are many voices, many definitions of Fair Trade and many approaches to Fair Trade.  Fair Trade USA's approach is grounded in the belief that Fair Trade is a global movement to alleviate poverty in farming communities."  This amorphous definition, which does not place any emphasis on small farms, contrasts starkly with the small farmer co-ops "owned and run by the farmers themselves," which is the model for Equal Exchange.  Alleviating poverty in farming communities is a wonderful goal.  Still, it's a sad situation for this goal to be used to justify means (growing organic coffee on 500 acre plantations albeit with a concern for better wages and conditions for the workers), which will likely make the success of small farms and small farmer co-ops, which grow and produce coffee, more difficult.  Fair Trade USA argues that fair traded tea, flowers and bananas are all grown on large plantations.  Does that justify extending the plantation agricultural model to coffee, when there has been so much success growing coffee on small farms, which is apt to be more conducive for the establishment of sustainable food communities [knowwhereyourfoodcomesfrom.com/2011/11/08/carlo-petrinis-terra-madre-forging-a-new-global-network-of-sustainable-food-communities/]?
(FW Barrie, January 17, 2012)