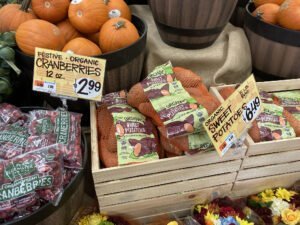 The first day of winter in the Northern Hemisphere and the shortest day of the year (Dec. 21. 2022) is less than a couple weeks away. Here in the Albany area of upstate New York, we have yet to have any significant snowfall, but it won't be long before the ground is frozen solid, and snow covered.
With my CSA (community supported agriculture) farm share of 24 weeks from Roxbury Farm in Kinderhook (Columbia County), New York (which began the first week of June) at an end, eating seasonally and locally in the winter months ahead and staying connected to a local farm is no longer a simple undertaking.
But there are ways to stay connected to the farmers who grow much of my household's food, a mere 20 miles away from my city neighborhood. And there is continuing satisfaction from knowing where at least some of the food on one's plate (in the winter) comes from and not merely with the simple answer, "from a supermarket."
For the dozen years this local and organic food advocate has had a seasonal CSA farm share of 24 weeks from Roxbury Farm, I've opted for a winter share of veggies, three boxes of 30 pounds of organic root and storage crops (including potatoes, sweet potatoes, celeriac, watermelon radish, carrots, beets, onions, cabbage, winter squash, parsnips and rutabaga) with one 30 pound box of veggies delivered at the start of each of three wintry months of December, January and February.
At a cost of $150 for the 90 pounds of veggies, besides continuing to support economically my local farmers, the $1.66 per pound for the organic produce is economical for any household budget.
The first winter box was delivered this first week of December, and the sweet potatoes were a perfect complement to the delicious vegetable/bean soup made out of the remains of the Thanksgiving turkey. And keeping a ready supply of washed and sliced carrots in the fridge is a great way to avoid snacking on less healthy food.
And with winter approaching, this home cook also stocks up on cranberries to use as an ingredient in the morning bowl of steel cut oatmeal. The cranberries cooked into the oatmeal  may not come from a mere 20 miles away, but the organic cranberries from Vermont and Cape Cod are not grown too far away from home.
A few years ago we cited to an article in the New York Times, which has not faded in my aging brain: What's the Secret to Reaching 111? 'Avoid Dying,' but 'Porridge Is Helpful' (3/31/19).  Alf Smith, at age 111, ventured this reason though he admitted he had no definitive answer: "Porridge is helpful and having a job you enjoy." And we shared a recipe for Fifteen Minute Cranberry/Walnut Porridge when we first referenced this article in the newspaper. No surprise then that in the winter, cranberry oatmeal is a frequent morning breakfast, especially on days when the snow shovel is a necessity.
As Thanksgiving approaches, over the years I've observed that my local food co-op, the Honest Weight Food Co-op in Albany, NY, has a great supply of fresh organic cranberries that are also often "on sale." This year, I stocked up when organic Cape Cod and organic Vermont cranberries were priced at $4.00 for 8 ounces. Besides keeping a few packages in the fridge, I also froze some packages to last into early spring for cooking up the morning bowl of cranberry/walnut porridge.
According to my well-thumbed copy of Edible An Illustrated Guide to the World's Food Plants (Washington, D.C.: National Geographic Society, 2008), almost all the world's cranberries (96 percent) are grown in the United States and Canada. Indigenous to North America, the article on cranberries in Edible notes that cranberries were used extensively, both fresh and dried, by native Americans, especially in pemmican, a preserved meat product made of dried game meat, cranberries and fat. Gathered wild until cultivation began in the 19th century, cranberries "have become increasingly popular in recent years because of their medicinal qualities."
In an article by Lindsay Oberst, Cranberries Are Healthy, But You Need to Know the Full Story (12/21/16) on the Food Revolution Network website, the health benefits of cranberries are concisely noted: "While they are best know for their protection against urinary tract infections, they provide powerful antioxidant protection and anti-inflammatory benefits." But in addition, buying organic cranberries is highly recommended by the Food Revolution Network's Lindsay Oberst given the wide use of chemicals in growing conventional cranberries. A post, Clean Up Those Cranberries (11/20/12) on the website of the Rodale Institute, is in agreement.
(Frank W. Barrie, 12/9/22)