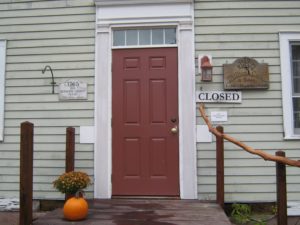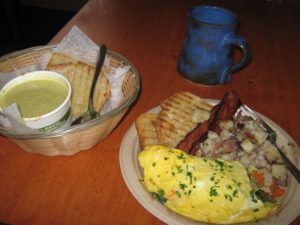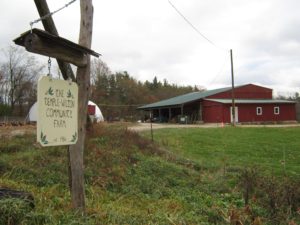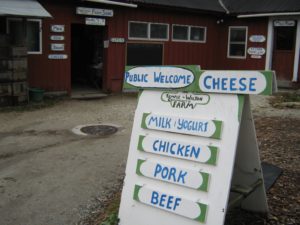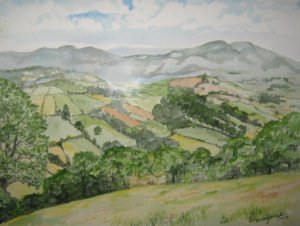 On a grey, mid-November day, with post-Election Day malaise prompting anxiety about the future, lunch at New Hampshire's Hilltop Café in a cozy restored 1765 farmhouse on Abbot Hill (at 923 feet, the highest elevation in the rural town of Wilton in Hillsborough County) raises the spirits and rewards the taste buds. Committed to "using fresh, local and organic ingredients to create nourishing meals," the Hilltop Café has a special relationship with the historic Temple-Wilton Community Farm which has been "Growing Food in Community since 1986."
Christie and Ben Reed, who operate the café, are two members of the Temple-Wilton Community Farm. The farm assisted the Reeds in getting the local zoning board to approve their plan to operate the Hilltop Café, as a "natural extension" of a well-established farm stand according to an article by Amy Traverso in Yankee magazine (May/June 2014). The café opened in February 2011 and on its website notes that it is "a proud partner of the Temple-Wilton Community Farm."
Before describing my wonderful lunch at the café, a few words are in order about the Temple-Wilton Community farm, "the oldest continuously operating CSA in the United States." A diversified farm of 200+ acres, it grows and produces "everything from raw milk and cheeses to biodynamically-grown vegetables, pastured-raised meat chickens, pastured pigs, laying hens, grass-fed beef and veal and grass-fed lamb."
An important mission of this website is the promotion of CSA farms, rooted in our strong belief that what we choose to eat requires that we know where our food comes from and how it's produced because our food choices have serious consequences not only for an individual's health, but also for the health of our communities and the planet. The Temple-Wilton Community farm is an enviable "community of people who care for each other as they care for the land that sustains us all" as noted on the farm's home page. Moreover, this historic CSA farm places a special emphasis and faith in "community."
Nearly all CSAs are seasonal and have a fixed price for a fixed share in the harvest. For example, this writer belongs to Roxbury Farm, a Hudson Valley CSA in Kinderhook (Columbia County in upstate New York), where for approximately $600, a shareholder receives weekly deliveries of freshly harvested, organic vegetables for 24 weeks.
The unique Temple-Wilton Community Farm CSA does not maintain "a direct relationship between the money needed to operate the farm and the produce that comes through the bounty of nature." Instead, it asks its members to meet the expenses of operating the farm "by having each family pledge to contribute as much as they could manage."
Another unique feature: members take what they need rather than a specific portion of the harvest. All members of the Temple-Wilton community farm accept responsibility for the agricultural use of the land and become "farmers." They either farm directly, by planning and doing the farm work as "Active Farmers" or pledge to contribute to the operation of the farm based on "the ability to pay."  The farm's Principles of Cooperation details the standards for the operation of this remarkable CSA "community."
This community farm's form of CSA is "rooted deeply in the social and economic ideas of Rudolf Steiner" in the words of Robert Karp, Co-Director of the Biodynamic Farming and Gardening Association. Mr. Karp notes that farmers and eaters are not in a relationship of buying and selling produce. Rather members "are making gifts to support the continued existence of the farm as a whole and that the produce they receive in return is a gift." Abbot Hill, where the farm is located, is also the home of two Waldorf Schools, based on the educational philosophy of Rudolf Steiner, Pine Hill School (birth through Grade 8th) and High Mowing School (founded in 1942, the only Waldorf boarding school in North America).
Onward now to my pleasure in partaking of a delicious lunch at the Hilltop Café. With its appealing "Breakfast Staples" which are served all day, an omelette, made with two eggs, served with home fries and a slice of toast was a not-so-easy choice given the omelette possibilities. Instead of the delicious sounding one made with "eggs whisked with yogurt and herbs, filled with toasted pecans and feta," I opted for the café's veggie omelette made with an intriguing combo of spinach, caramelized onion, grated carrot, avocado and cheddar cheese. Delicious. And I'll admit to ordering a side of two crispy slices of bacon which added to the pleasure of the meal.
The broccoli cheddar soup of the day, served with another couple slices of thinly sliced and toasted "sandwich French" bread from Orchard Hill Breadworks, added to this diner's sustenance before a close to three hour drive, back home to Albany, NY. The café uses A&E Coffee Roastery's organic espresso blend "shots", added to hot water, for its Americano "espresso drink" which provided a boost in energy for the road trip. Served in a Voice of Clay coffee mug made by local potter, Wendy Walter, in Brookline (Hillsborough County, NH), it was a cup of muddy water worth savoring.
After the "surprise outcome" of the presidential election, Richard McCarthy, the Executive Director of Slow Food USA, sent a message to Slow Food members suggesting the need to pay attention to current politics but not to get "absorbed by them." Instead, he reminded Slow Food members "to focus on the regenerative values of food and community." It's fair to say that in Wilton, New Hampshire, the Hilltop Café and the Temple-Wilton Community Farm are doing just that.
Not far from Nashua's suburban sprawl and only 33 miles east of Keene, N.H., a drive into New Hampshire farm country to enjoy a meal at the Hilltop Café is highly recommended.
[Hilltop Café, 195 Isaac Frye Hwy, 603.654.2223, Breakfast & Lunch: Tues-Sun (closed Mon) 8:00AM-2:00PM, Also closed Tuesdays in winter; click on link to confirm operating hours, www.hilltopcafenh.com]
(Frank W. Barrie 11/18/16)