Reporter Sam Roberts' story in the New York Times last month on the death at 98 of Beatrice Trum Hunter, who was the author of The Natural Food Cookbook (first published in 1961 and the first of her 38 books), caught this home cook's eye by including three appealing recipes as a sampling of her cookbook recipes. Decades before organic, raw and natural became watchwords for the most desirable of foods, Roberts notes that Hunter had become an apostle of whole grains, honey and vegetable oils as substitutes for refined flours, sugars and animal fats.
The recipe for German Apple Cake included in Roberts' story looks irresistible, but the local apple harvest near my Albany home in upstate New York is still a couple months away. And the easy to make recipe for oatmeal fruit squares in the 1961 cookbook (which I recently obtained in a paperback version from a used books seller) seemed a simple way to enjoy a delicious and wholesome dessert using late spring/early summer seasonal strawberries.
Not so simple was finding local and organic strawberries, which I felt had to be used on the occasion of remembering Beatrice Trum Hunter, who was ahead of her times by warning against the artificial additives, processed foods and preservatives that were proliferating in the American diet. Roberts references Hunter's blunt words: Food treated in this manner may appear brighter and last longer, but the people who eat them don't. Moreover, conventional strawberries top the Environmental Working Group's 2017 Dirty Dozen list of fruits and vegetables with "high pesticide loads" that should be avoided "if at all possible" as we reported this past April.
I had no luck finding local and organic strawberries at the Troy Farmers Market across the river from my home in Albany or at my local food co-op, the Honest Weight. And no luck at the Chatham Real Food Market Co-op south of Albany in Chatham (Columbia County, NY) which had sold-out its initial supply of Blue Star Farm's Certified Naturally Grown (CNG) strawberries grown in nearby Stuyvesant (Columbia County, NY). To be granted the CNG certification, farmers don't use any synthetic herbicides, pesticides, fertilizers, antibiotics, hormones, or genetically modified organisms, and carrying out an inspection is an annual requirement of the CNG program.
Next stop was the Hawthorne Valley Farm Store in Ghent, a little further south in Columbia County, NY. Bingo. Not only did the farm store have Blue Star Farm's CNG strawberries available, organic strawberries from Thompson-Finch Farms in Ancram (Dutchess County, NY) were also prominently displayed as you came into the store. On its website, Thompson-Finch Farm notes that it has been certified organic since 1988. On the way home to Albany, I also stopped at the Chatham Berry Farm in Columbia County and purchased a quart of its no spray, pesticide free strawberries too.
Oatmeal Strawberry Squares (Makes 12 medium-sized squares)
2/3 cup local honey
1/2 cup sunflower oil
1 1/2 cups rolled oats
1 cup wholewheat flour
1/2 cup wheat germ
3 tablespoons soy flour
1/8 teaspoon sea salt
2 cups strawberries, cut into small pieces
In a large bowl, stir and blend honey and sunflower oil.
[I used a local clover honey from Humming Bird Ranch in Salt Point (Dutchess County, NY) and Napa Valley Naturals Organic Sunflower Oil.]
Add the whole wheat flour, soy flour, wheat germ and salt.
[I used all-purpose, New York grown, organic and stoneground whole wheat flour from Farmer Ground Flour in Trumansburg (Tompkins County, NY), organic soy flour, organic toasted wheat germ and Himalaya sea salt. All these ingredients were available from the Bulk Food department of the Honest Weight Food Coop in Albany.]
Add rolled oats to the mixture. [The Canadian organic rolled oats were also from the Albany co-op's Bulk Food department.]
Press half of the mixture firmly into oiled 8 inch x 8 inch x 2 1/4 inch square cake pan.
Spread top with strawberries. [With great satisfaction after my lengthy search for local and organic strawberries, I used two cups (plus a few more than what the recipe calls for) of the local and organic Thompson-Finch Farm's strawberries.]
Cover with remaining mixture.
Bake at 400 degrees F. for about 25 minutes.
When cool, cut into squares. Makes 12 medium squares.
Topped with a scoop of your favorite vanilla ice-cream or perhaps of Luna & Larry's Organic Coconut Bliss (made with organic coconut milk and organic vanilla beans), these oatmeal strawberry squares are a sweet celebration of the pioneering contribution of Beatrice Trum Hunter's to the good food movement.
(Frank W. Barrie, 6/22/17)
Nine miles east of Upstate New York's Saratoga Springs and down an unpaved, dusty road in historic farm country (that once was crossed by Burgoyne's troops on their way to defeat in 1777 at the Saratoga Battlefield) is 9 Miles East Farm. The 29 acre farm has become well-known for its farm pizza.
The farm has also expanded its business to provide ready-to-eat meals called GO Boxes that it delivers to subscribers and which it offers in a much wider geographic area than the area covered by its pizza delivery business. GO Boxes are available for delivery in the Capital District region of upstate New York as well as the Boston and metro-West Boston area.
But it's the farm's pizza that deserves especially to be spotlighted and there is wonderful news on that score: 9 Miles East Farm recently increased the limited number of pies made each day from 12 to 20, with delivery seven days a week, 5:00PM to 10PM (4:00PM start on Fridays). Now there's a significantly better chance that residents of Saratoga County in Saratoga Springs and the towns of Wilton, Gansevoort, Greenfield and Milton  (plus residents of the village of Greenwich in Washington County) can enjoy delivery of a farm fresh pizza, which this pizza lover would rank as the very finest.
But even if you're not a nearby resident or a tourist in a local inn or hotel (who can accept delivery of a pizza), a daytripper can journey down a dusty Goff Road in Schuylerville (Saratoga County) to the farm to pick up one of the twenty pizzas (albeit, the farm is not signed and this first time visitor was a little wary about turning up the unpaved drive to the farm buildings). On the plus side, a leisurely hike around the farm was a great way to spend a few minutes before the scheduled 7:30PM pick-up for a pizza, which was ordered on-line a couple days earlier.
And any wariness is forgotten after enjoying one of the finest pizzas imaginable. And this is not marketing or promotional hype.
On its website, 9 Miles East Farm notes why its pies are the very finest with an easy to understand explanation: Better Ingredients Make Better Pizza. What stands out in particular for this reviewer was the farm's "naturally leavened, sourdough-style crust," which is made with organic and fresh stoneground flour. With wheat grown in the Finger Lakes region of upstate New York and milled into "high-extraction" flour by the praiseworthy Farmer Ground Flour of Trumansburg (Tompkins County), there is not a better whole grain flour to use as an ingredient for pizza. Farmer Ground Flour is the shared project of millers Greg Russo and Neal Johnston, and organic farmer Thor Oechsner and began milling flour in 2009. [For the past few years, this reviewer has used Farmer Ground's organic whole wheat bread flour for his oats and honey bread; recipe posted on this website.]
The chewy, grainy and wholesome crust is so delicious, this pizza lover wished it was thicker. Plus the three-day slow, natural fermentation process makes it easier to digest than traditional white pizza dough made with commercial yeast.
Also appealing, is the better quality whole milk, low-moisture mozzarella used, which tastes pure and perfect (especially since much pre-shredded, commodity "stuff" is commonly coated with cornstarch). Not a gooey mess like too much pizza, 9 Miles East Farm pizza has just enough cheese. And the sauce which isn't sweetened and is made with tomatoes roasted with garlic and herbs has incredible flavor that complements the delicious sour dough crust.
Only three different pizzas are available and the Farmhouse pizza with tomato sauce and cheese (the house pizza) was a perfect choice for this pizza lover. Also available is the farm's Barnyard pizza, which adds a mix of sweet and hot Italian sausage from nearby West Wind Acres in Charlton. The third option is "what makes sense for the season" and of late, the option was Spicy Mexican with onions, garlic, serrano and Anaheim chilies and for the carnivore version, chorico and andouille sausage.
Given the high-quality ingredients, the $20 for the pizza was a fair price indeed and there was half a pie leftover for lunch the next day to enjoy with some sautéed greens (broccoli rabe and kale) freshly delivered in this reviewer's weekly CSA share from Roxbury Farm!
For readers who are not fortunate to live in 9 Mile East Farm's delivery zone or within driving distance, check out this website's Farm to Table Pizza directory for other possibilities.
[9 Miles East Farm, 136 Goff Road, Schuylerville (Saratoga County), 518.514.8106, Delivery (to Saratoga Springs area) farm fresh pizza & salad: Monday through Sunday 5:00PM-10:00PM, Fridays (4:00PM-10:00PM), www.pizzadelivery.farm]
(Frank W. Barrie, 6/15/17)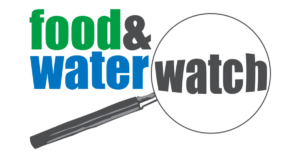 To any list of "what makes life worth living," we recently opined that clean food, clean air and clean water must be included. Food & Water Watch, a national advocacy organization that works to build "a just, healthy and sustainable world," in its most recent quarterly newsletter, noted that the U.S. Environmental Protection Agency (EPA) in December 2016 released the final report on the impact of fracking on our drinking water and that fracking can and does cause drinking water contamination.
Food & Water Watch made a special effort to ensure that the EPA, in preparing its report, heard from residents of Dimock, Pennsylvania; Pavillion, Wyoming; and Parker County, Texas whose water supply was made unusable by fracking. The organization is now campaigning to work locally and state-by-state to ban fracking throughout the United States, with special focus on Maryland and Florida. In early April, Maryland Governor Larry Hogan (R) signed a bill establishing a ban on hydraulic fracturing in the state.
The states of New York, Vermont and Maryland now ban fracking within their borders. And momentum is building in California to ban fracking statewide with Monterey County in November becoming the sixth California county to impose a ban on fracking. Food & Water Watch has been working in communities across the country and to date, over 500 communities (cities, towns, villages and counties) have adopted resolutions banning fracking or practices associated with fracking within their borders.
Marilyn vos Savant's weekly column Ask Marilyn  in Parade Magazine often draws this reader's attention. She recently responded to a puzzled questioner who wanted to know why the supply of water is dwindling when "there's nowhere but planet Earth (including the atmosphere) for the water to go."
Vos Savant's succinct response provides important context for the concern of many, including supporters of the Food & Water Water's campaign to ban fracking, for why the safety of our nation's (and planet's) water supply must be a priority.
Yes, the amount of water on Earth is constant. But only 2.5 percent of it is freshwater.  Of that freshwater, only a tiny fraction is readily available. Almost all of it is frozen or in the ground. Rivers, an extremely important source of water for humans, contain barely .0002 per-cent of Earth's freshwater. So as the population explodes, human use of water expands, and pollution reduces the already limited amount available, the remaining volume of freshwater accessible to supply the demand grows smaller.
And there can be no denying that our world's population has increased dramatically. As noted by David Montgomery in his history of world agriculture, Dirt, the Erosion of Civilization, the planet's population has grown from 4 million when the glaciers melted in 20,000 BC, to 200 million during the time of Jesus, to the current world population of 7.5 billion.
Protecting the United State's fresh water supply must remain a priority even in the face of the dismantling of environmental protections by the current short-sighted administrators of the EPA who seem focused much more on the profits of the fossil fuel industry than protecting the environment. We cannot take for granted a drinkable glass of water with our next meal.
(Frank W. Barrie, 6/7/17)
With inlayed tiles of fiddlehead ferns above the windows the only identifying features (and the colorful façade more suggestive of Tuscany than the rustic Adirondacks), you might easily drive by without registering that this was your farm-to-table dining destination in New York's Adirondack Region, but it would be your loss. The Fiddlehead Bistro is the latest evidence of the cultural renaissance in the village of Saranac Lake (nine miles west of Lake Placid, 100 miles south of Montreal and 300 miles north of New York City). The bistro was long anticipated in the small, tight-knit community, and its owners Shamim Allen and Craig Bailey have become local heroes for the creative menus (which change daily) that they've brought to a small village of just over 5,000 residents.
Locals awaited patiently for the bistro's opening after an extensive renovation of a riverside landmark that took considerable time. (The Fiddlehead Bistro is on the Saranac River, which runs through the village of Saranac Lake.) With custom-made tables engraved with fiddleheads, an antique Vulcan stove as the reception desk, beautiful woodwork and tilework everywhere, and the creativity of local artists displayed throughout, the stage has been set for a fine dining experience, well-worth the wait.
Our party of four was greeted warmly, promptly and professionally at the door, ushered to our table on time and without delay. Drinks first, we chose from a creative list of custom cocktails, many ingredients sourced locally. I found the Fiddlehead, concocted from Bison Grass vodka, grappa and chamomile, garnished with a fresh fiddlehead fern and chamomile flowers, a subtle but satisfying alternative to a dry white wine. Three Trees, a blend of tamarind and walnut liqueurs with locally foraged chaga tea was a delightful alternative to an iced tea, its complex flavoring starting with the fruity tartness of the tamarind, followed by the earthiness of the chaga and finishing with chocolate and root beer notes. From a limited beer menu, we chose a respectable Mango Wheat beer from Racquette River Brewing in nearby Tupper Lake.
Mid-May in the Adirondacks, locally sourced produce is far from abundant, but there was no shortage of options in the list of appetizers: salad greens, asparagus, shallots, chives, ramps from a mountainside right in the village and, of course, plenty of fiddleheads. The orecchiette, petite ear-shaped pasta in a fruity olive oil with ramps and basil, sprinkled with pine nuts and Dutch Knuckle cheese from Sugar House Creamery in Upper Jay (whose mission is "to revive an Adirondack dairy farm") was a clear favorite. So was the chilled asparagus soup, asparagus from Moonstone Farm and Forest in Saranac Lake, with a refreshingly clean taste, finished with chive-enhanced cream from North Country Creamery, a 100% grassfed, non-GMO and animal welfare approved dairy in Keeseville. There is no season without cheese and we eagerly devoured a cheese plate, with tasty contributions from Sugar House Creamery, North Country Creamery, and Asgaard Farm and Dairy, the cheeses nicely balanced with rhubarb and mustard seed paste, a sliced dried fruit compote and candied pecans.
Entrees were international in scope, a favorite being Harissa Pork Carnitas, pork from Kate Mountain Farm, home of the Adirondack Wooly Pig, cooked with a complex sauce of blended peppers, served with cleverly coned flour tortillas, rice and pickled vegetables. Unlike traditional carnitas, the pork was not fried and the chef's interpretation was much preferred. Appropriate attention was paid to presentation, the steamed fiddleheads beside the moist and tender Airline Chicken (a boneless chicken breast with the drumette attached) on a bed of lemon flavored farro were visually enticing.
The Fiddlehead Bistro's mission also includes making sure no vegetarian goes hungry, and the Sichuan mapo tofu, with its spicy and richly flavored chili and bean-based sauce and the accompanying bok choy greens, made for a delicious vegetarian entree for a dining companion. And although it wasn't on the menu this particular evening when we dined, if the grilled Tofu Steak on a bed of whipped sweet potatoes is available when you do, count yourself very lucky.
No meal is complete without dessert in my humble opinion and the hallmark of an excellent and creative restaurant. My favorite was the Lemon and Rosemary Cheesecake, just the right size after a comfortably portioned meal, the cheese nicely textured with a rich chocolate base, topped with a tart, fresh compote of blackberry, pear and balsamic vinegar. The Almond Dacquoise, thin, crisp meringue and almond cookies sandwiched with chocolate buttercream frosting was a close second.
We started sampling from the extensive menu at 6 p.m. on a Thursday night in our springtime visit and by 7 p.m., the bistro was full. Though busy, wait staff remained discretely attentive throughout. As evidenced by the frequency of hugs for Shamim from arriving patrons, many of the diners were locals, but with the anticipated reopening this summer of the classic Hotel Saranac after a 35 million dollar renovation, it may not be long before reservations become an acquisition prized by visitors as they discover this new gem of a restaurant.
[The Fiddlehead Bistro, 33 Broadway (overlooking the Saranac River), 518.891.2002, Dinner: Thurs-Mon (closed Tues & Weds) 5:30PM-9:30PM, Reservations suggested, www.facebook.com/thefiddleheadbistro/]
(Steve Sonnenberg, 6/1/17)
[Editor's Note (FWB): The Wild Center in nearby Tupper Lake, 20 miles southwest of Saranac Lake, is home to more than 900 live Adirondack animals-including otters, porcupines, ravens, snakes and fresh water fish and has become a special attraction for visitors to the region, especially the Center's Wild Walk, an elevated trail across the Adirondack tree tops. The Adirondack Experience, The Museum on Blue Mountain Lake (formerly the Adirondack Museum), 50 miles south of Saranac Lake, is also a popular destination. And for Capital District residents, Union College's Kelly Adirondack Center in Niskayuna (Schenectady County) has currently on display an exhibit Parts But Little Known: Maps of the Adirondacks from 1556. In reporter Rick Karlin's story about the exhibit (open through September 29) in the Albany Times Union, From forbidding to familiar, past, present of the wilderness unfolds (5/30/17), he writes that early maps of the Adirondacks described the region "as a foreboding place that couldn't be traversed, with little reason for visiting." Today, the Adirondacks are not only a [New York State] Constitutionally Protected wilderness area but a major vacation destination that has a first rate bistro in the heart of the region in Saranac Lake!]

In Woody Allen's movie Manhattan (1979), his alter-ego protagonist Issac (a divorced television writer) ponders what makes life worth living? Issac's full list: Groucho Marx, Willie Mays, the 2nd movement of Mozart's Jupiter Symphony, Louis Armstrong's Potato Head Blues, Swedish movies, Gustave Flaubert's Sentimental Education, Marlon Brando, Frank Sinatra, those incredible Apples and Pears by Paul Cezanne, the crabs at Sam Wo's, and (perhaps most important for the movie's plot line) his teen-age companion Tracy's face. (Of course, off the movie screen, any such list would have to include clean food, clean air and clean water!)
Nevertheless, Isaac's reference to the paintings of pears and apples by French post-impressionist Paul Cezanne has stuck in my mind over the years. An image on-line of Cezanne's Still Life with Apples and Pears (ca. 1891-92) in the collection of New York City's Metropolitan Museum of Art evidences Cezanne's artistic achievement in depicting apples and pears in oil paints on an artist's canvas. The linked web page for the Metropolitan's image of the Cezanne's still-life also includes an insightful explanation:
Cézanne once proclaimed, 'With an apple I want to astonish Paris,' and he succeeded, even in his most deceptively simple still lifes, to dazzle and delight. Turning to the Provençal apples and Beurré Diel pears grown in the vicinity of the family's estate near Aix, he dispensed with traditional one-point perspective and examined the fruit, plates, and table from various viewpoints—straight on, above, and sideways. 
As a backyard gardener of many decades, this reviewer has long appreciated the magic of digging up a carrot hidden in the soil's richness. And it was a pleasant surprise that Cezanne's paintings of pears and apples, which capture the magic, complexity and  wonder of nature, were included in a movie character's list of what makes life worth living.
A few years ago, the exhibit Art and Appetite: American Art Inspired by Food (curated by the Art Institute of Chicago) with paintings on loan from 25 collections throughout the United States, was shown in Chicago and Fort Worth, and as noted in our review, examined 250 years of American art, from the agricultural bounty of the 'new world' to Victorian-era excess, debates over temperance, the rise of restaurants and café culture, and the changes wrought by 20th-century mass production. A current exhibit, assembled by the Manhattan art gallery, Di Donna, located at 744 Madison Avenue in NYC, complements beautifully this earlier look at depiction of food in art.
The Di Donna gallery's exhibit includes more than 50 pieces of food-themed American as well as European art as interpreted from the perspective of mainly Surrealist artists, who disdained realism and sought to channel the unconscious as a means to unlock the power of the imagination. Much of the art on display is arranged around a dining table. Salvador Dali's assemblage of painted and gilded bronze and mixed media (Buste de femme rétrospectif, 1977) of a nude female mannequin balancing a baguette on her head with two corn cobs hanging around her neck sets the tone. Notes from the gallery's guide to the 53 artworks interpret provocatively this Dali creation as "a direct representation of Dali's investigations into themes of desire, memory, and repulsion." But how to explain Dali's mixed media artwork (Téléphone homard, circa 1977) where a telephone has become a lobster?
René Magritte's still-life (L'Explication, 1962) on a nearby wall of two wine bottles, one in the process of transformation into a carrot, stimulates the mind and contrasts sharply with American artist Wayne Thiebaud's simple watercolor on paper (Cheese and Olive Sandwich, 1964) which transforms a simple sandwich on white bread into "fine art." Other stimulating artwork on display includes food-themed creations by Claes Oldenburg, Man Ray, Giorgio De Chirico, Pablo Picasso, and Marc Chagall. If NYC is within convenient traveling distance, a visit to view this magical show is highly recommended.
A Surrealist Banquet, Mon-Fri 10:00AM-6:00PM (May 11-June 2, 2011) Di Donna Gallery, 744 Madison Avenue, New York, NY
Clicking on the photos illustrating this review will enlarge them for better viewing of the artwork.
(Frank W. Barrie, 5/25/17)