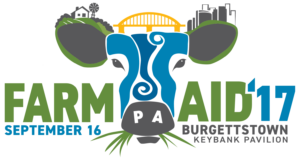 Tickets for the Farm Aid 2017 concert sold out on the first day of sales, nearly three months before next month's concert to be held on September 16 at Burgettstown Keybank Pavilion (formerly known as First Niagara Pavilion and originally Coca-Cola Star Lake Amphitheater) near Pittsburgh. The open-air pavilion will host over 23,000 fans (7,100 reserved seats and an additional 16,000 on a general admission lawn).
Ticket resellers are currently offering lawn seats for more than $200.00. But fans who missed out on obtaining tickets will be able to watch a live webcast stream and as the concert date approaches, details will be posted on farmaid.org.
The first Farm Aid concert was held in 1985, and this year's concert in Burgettstown (Washington County, PA) represents the 32nd inspirational celebration of the American family farm. The 2017 concert lineup includes the three legendary performers who organized the first Farm Aid concert, Willie Nelson, Neil Young, and John Mellencamp, as well as Dave Matthews & Tim Reynolds, Jack Johnson, Sheryl Crow, The Avett Brothers, Jamey Johnson, Blackberry Smoke, Valerie June, Lukas Nelson & Promise of the Real, Insects vs. Robots, and Blackwood Quartet. Little wonder that the upcoming 2017 concert sold out on the first day tickets went on sale. The performers, who all donate their time, deserve special praise and appreciation. (The Wikipedia article on Farm Aid lists all of the concert venues and performers in Farm Aid's illustrious concert history.)
Since 1985, Farm Aid has raised more than $50 million to help family farmers thrive all over the country as well as energizing the good food movement. Farm Aid's online Farmer Resource Network connects farmer to an extensive network of organizations across the United States that help farmers find resources to access new markets, transition to more sustainable and profitable farming practices, and survive natural disasters.
The organization also promotes fair farm policies to defend and bolster family farm-centered agriculture and has worked side-by-side with farmers to protest factory farms and inform farmers and eaters about issues like genetically modified food and growth hormones. About 10 years ago, Farm Aid founded Homegrown.org with the mission to create a place where our love for food and the land evolves, deepens and becomes something more fulfilling.
As we have often noted, at the beginning of the 20th century, 50% of the U.S. workforce was in farming, today it's less than 2%.  Next month's concert near Pittsburgh is, once again, a time to offer praise for the hard-working 2% (which includes an increasing number of small farmers who grow our food with a commitment to a sustainable agriculture that cares for people and community-building, animals, land and water, especially the farmers committed to community supported agriculture, which we promote on this website). Kudos to Farm Aid and Homegrown.org which provide hope for the future of the American family farm, and to the musicians and performers who have donated their time for this year's Farm Aid concert.
(Frank W. Barrie, 8/22/17)
Earlier this year, we reported on the death at 98 of Lorenzo Servitje, whose Grupo Bimbo (a company with sales of more than $14 billion and 130,000 employees), brought "bread across borders" in the words of the notice of his passing in the New York Times (2/7/17). Grupo Bimbo operates worldwide with "more than 100 trademarks, including Wonder Bread, Sara Lee, Entenmann's, Thomas' English Muffins, Brownberry, Boboli and, in Britain, New York-brand bagels."
This website favors a very different approach to bread buying, if baking a fresh homemade loaf is not possible. And our directory for craft bakeries, offering "naturally leavened breads and baked goods, made from scratch and hand-crafted, with the mindful sourcing of ingredients often including local grains and fruits" is one that also comes in handy on travels away from home.
A recent family get-together to celebrate a favorite uncle now nearing the wise old age of ninety, in the suburbs northwest of Chicago, provided this bread lover with the opportunity to splurge on baked goods from an artisan bakery that has been admired from afar for some time. One of the praiseworthy listings included in this website's directory of craft bakeries  is for Hewn in the university town of Evanston, Illinois (home to prestigious Northwestern University). And the festive occasion for this bread lovers visit to Chicagoland warranted a sampling of Hewn's pastries as well as a loaf of the bakery's delicious bread.
Each day, Hewn's bakers mix its bread dough by hand, turning it over every 30 minutes over a four hour period. Then shaped, the dough is placed into bannetons (a type of basket used to provide structure for shaping loaves of bread during proofing), where it rests overnight to rise naturally. In the morning, the oven, which has a stone hearth and steam injection that helps to create a perfect crust, is fired up and the bread baked. From the start of the mix to the bake, the bread is fermented approximately 20 hours.
Notably, Hewn uses 100% organic flour and grains and all of its breads are free of additives, additional gluten, fast-acting yeasts, sugar or preservatives. No surprise given the care taken in sourcing ingredients and the method of baking bread (the staff of life as my father would say), that Ellen King, Hewn's chief baker and owner, has also been a chef instructor for the "Food as Medicine" culinary classes held in Evanston with Dr. Geeta Maker-Clark.
What bread to purchase at Hewn? Not an easy decision, and the choice on a Sunday morning in late July included eight different types. The possibilities were described as country, parmesan & garlic country, turkey red, whole wheat seeded, beer bread, cranberry walnut, baguette and brioche.
The whole wheat seeded turned out to be an excellent choice, with its sourdough flavor complemented by a surprising variety of seeds, with flax, chia, millet, pumpkin and sunflower seeds gently folded into the dough and baked to a nice brown, crusty chewiness. A day or two later, it toasted up perfectly, and made for a delicious breakfast treat with a smear of Irish butter and organic jam (purchased at the Trader Joe's in Evanston located around the corner from Hewn).
Not too long ago, we reported on Who Makes Trader Joe's Food (and some of the appealing food items sold at bargain prices) and this chain seems to be a growing presence in urban/suburban America, with 465 stores in 41 states as of early summer 2017. (The Trader Joe's in my home area of the Capital District of upstate New York was actively sought after by a group of vocal Albany residents, led by a College of Saint Rose professor who would trek to western Massachusetts to shop frequently at one.)
So noticing the Trader Joe's in Evanston, around the corner from Hewn, I knew I would be able to get butter and jam which would complement the perfect loaf of Hewn's artisan bread. Trader Joe's own brand of Organic Super Fruit, a "fruit spread" blend of Morello Cherry, Red Grape, Blueberry & Pomegranate as well as a half pound of Kerrygold Pure Irish Butter (with its motto prominent on the packaging, milk from grass-fed cows) are very appealing items to find in a grocery store. Kerrygold also notes proudly, next to the UPC marking on the packaging: "In Ireland, cows graze on the green pastures of small family farms. This Milk is churned to make Kerrygold Butter." Nice.
But what made me feel like a kid in a candy store was the ability to go to town and indulge in a variety of Hewn's pastries for the family get-together. No easy decision, but a couple almond croissants, fruit and savory brioches, slices of coffee cake and an unfamiliar bostock (a sweet and crunchy breakfast pastry with roots in Normandy) made for a boxful of wonderful treats.
Some limited seating is available at the front of the bakery, and from a photo on Hewn's website also in an outdoor area out back behind the store. The bakery features Kickapoo Coffee from Viroqua, Wisconsin (which is included in our directory of fair trade & organic coffee roasters). A pastry and a cup of Kickapoo Coffee could easily become a part of daily life for someone fortunate to live nearby.
[Hewn (Ellen King & Julie Matthei), 810 Dempster Street, Evanston, Illinois, 847.869.4396, Tues-Fri 7:00AM-5:00PM, Sat & Sun 8:00AM-1:00PM, http://hewnbread.com]
(Frank W. Barrie, 8/15/17)
What you see is the beautiful array of produce, the shelves of spices and carefully chosen packaged foods, the case of chilled meat and seafood, the coffee bar, the tables, the cookies and brownies and scones. What you feel is the welcoming ambience provided by a sunny, attractive space and the pleasant vibe of pleased customers strolling through the aisles or at table or couch to enjoy a meal or sip some of the home-roasted coffee. What it means is that, as it celebrates its eighth anniversary, Mohawk Harvest Cooperative Market continues to thrive. And its renewed growth is the vision of a new manager, Gianna DeLilli, who took over that position in May but knows well the food co-op in downtown Gloversville (Fulton County, NY) after two years as an employee.
"I've made some changes in the spatial orientation," DeLilli says, indicating the less-cluttered front of the store, "and I've been putting in more of the items that people want to see. We're also increasing the amount of local produce."
To that end, she attends the twice-a-week Mohawk Valley Produce Auction in Fort Plain (Montgomery County, NY), where area farmers wholesale their goods – and she's been working to build relationships with the farmers themselves, buying directly for the store and also buying with an eye to wholesaling some of the local bounty to restaurants herself.
"We're also holding more community activities here," she says. "We have an open mic on the second Saturday of the month, we have a meditation class here every Sunday evening, and we just finished a series of weekly book club meetings. And we're certainly open to more activities like those."
There's a new logo for the place, and new paint has been strategically applied to harmonize with floor space and traffic flow. Antique wood floors and tin ceilings murmur the heritage of the building, which went up in 1881 to house the Kasson Opera House (now Glove Theater), among other retail outlets. Now known as Schine Memorial Hall, the building continues to be a hub of Gloversville commerce and social activity.
The Co-op opened in a smaller location across the street from its present one, in a city that's seen its fortunes stagger since the decline of the glove-making industry over a half-century ago. Empty storefronts checkerboard Main Street, but the success of Mohawk Harvest and the revitalized Glove Theater are inspiring other business to test the downtown waters.
"We're getting great customer feedback," says DeLilli. "There's a lot of positive energy. People like the way we've improved the café, adding couches and making it feel more friendly. We bought a new oven for the café – " (it's a small, robust convection oven) – "so we're baking more of the goods we offer. And we're planning to add a smoothie menu, with the kinds of smoothies you can have as a meal, ones with fruit, protein, turmeric, flax – whatever you'd like."
The café, at the front of the store, sports five tables and a pair of couches, with a self-serve coffee station. But there's usually someone nearby to recommend a pastry or two, which beckon enticingly from a counter display. There's a case of cookies and muffins from Gloversville-based Sugar Pearl, and other items, like biscotti, come from the Chick and Hen Baking Company, located north of the city in Bleecker.
And then there are the homemade goods, baked by Abigail Nares. "I try to make something new every day," she says, noting that, although she's new to the co-op, she's been cooking for most of her life. Fresh loaves of zucchini bread and banana bread have just emerged from the oven, and she points to a display of large pumpkin cookies as an example of a house recipe that she's improved – "I put more pumpkin into them, and topped them with a cream-cheese frosting."
Some of the artwork on the walls comes from the Micropolis Gallery, which is itself a tenant of the co-op, and occupies space midway through the store, yet another diversion for the senses. "I love having them here," says DeLilli, "and they also fit well with us because they're an artists' collective."
Fresh produce fills a case by the front of the store; beyond it is a you'll-never-go-hungry array of chips, chocolates, spices, soaps (including the legendary Dr. Bronner's), beans, bars, pasta, olive oil, grains, and nuts. And there's fresh locally raised meat (from Heather Ridge Farm) and a variety of fresh salads (chicken, cucumber, potato, macaroni – you get the idea). Frozen meats include lamb from Dutch Barn Farm in nearby Stone Arabia (which grows everything on the farm without using artificial fertilizers, pesticides or added hormones and has taken the NOFA Farmer's Pledge), sausage from Kelley Meats, and pastured elk from Creek's Edge farm, alongside a variety of beef cuts. Eggs, milk, and yogurt fill the dairy case, not far from shelves of local honey, jam, and fresh-ground peanut butter.
The coffee selection has expanded, thanks to Kevin Chamberlain, whose roasting sessions can become cheerfully narrated excursions into his methodology, usually with generous samples. Sacks of beans proclaim Mexico, Peru, and Indonesia, among others, as the countries of origin, and the aromatic, crackling roasting process itself is as much of a sensory feast as the final brew. Chamberlain works full time at No. 22 Bicycle Company in nearby Johnstown, but his expertise as a coffee roaster has put Mohawk Harvest on the map as a destination for coffee lovers.
French presses are newly added, so when you're ready to commit to a pot, that's the optimal way to go. Alongside the various roasts – which includes a dark, delicious decaf – are variants like cappuccino, Americano, and different flavors of latte, including Mocha and French toast. All of the brews are also available iced. There's also a selection of tea, black and herbal, served hot or iced.
At the back of the store is a counter for more serious eating, where breakfast and lunch specials are offered daily alongside a changing selection of homemade soups. Recent menus have included specials like zucchini parmesan and a sandwich of salmon salad with spinach, alongside such regular offerings as a turkey Reuben, tuna and spinach sandwich, grilled cheese with roasted red peppers, bacon-spinach-tomato sandwich, and more. The turkey Reuben (one of my favorites) includes cheddar cheese and sweet-and-sour red cabbage on toasted panini bread.
During a recent visit to celebrate the store's anniversary, my wife and I enjoyed a pair of delicious brunch items. She had a breakfast wrap that contained egg, spinach, mushroom, and cheese, which combined well in terms both of flavor and sandwich texture; I opted for the special of walnut-studded waffles, served with real maple syrup, a fresh raspberry compote, and sweetened yogurt.
Breakfast is served daily from 9-11, and the lunch menu is offered from 11-2.  Moreover, the co-op is also a shopping destination – open to the public, but with discounts for members – and it's earned a deserved reputation as a social destination as well, which means all of the important forms of nourishment are covered. [Mohawk Harvest Cooperative Market Café, 30 N. Main Street, 518.706.0681, Breakfast/Lunch/Bakery Items: Mon-Fri 8:00AM-7:00PM, Sat 8:00AM-5:00PM, Sun 9:00AM-4:00PM, www.mohawkharvest.org]
(B.A. Nilsson, 8/8/17)
[Editor's Note (FWB)-A couple years ago, we reported on the economic benefits to a local community when consumers patronize food co-operatives compared to conventional supermarkets, with local suppliers averaging 157 for food co-operatives verses 65 for conventional supermarkets. Also, food dollars spent on locally sourced products by food co-ops are much higher, by percentage of total dollars spent, than by conventional grocers. Many food co-operatives also engage their local communities in ways similar to Mohawk Harvest as described above. We've made it a point to include cafés located at food co-operatives in our dining directories, and would appreciate users of this website sending us information on any additional co-op cafés, not already included in our dining directories, which place a priority on sourcing ingredients from local growers/providers.

Our Table is a regional cooperative which farms 58 acres in a spectacular location with a view of Mount Hood, about 15 miles south of Portland in Sherwood (Washington County, Oregon) in the Tualatin Valley. All of its plant-based crops, as well as its chickens and eggs are Certified Organic under the USDA's National Organic Program (NOP). Since 2011, when the co-op took over the property, no artificial chemicals of any sort have been applied and the soil has been restored using Biodynamic practices.
Our Table's farm store sells fresh produce from the farm, foods made in the co-op's farm kitchen, eggs, dairy, meat, grains, seafood, coffee, health and wellness products and has wine and kombucha on tap. The farm store's mantra is "Eating local made easy." And 80% of what is sold is Oregon sourced and 90% certified organic. With its farm store and U-Pick blueberries and raspberries, Our Table has made Sherwood, Oregon a destination for folks who appreciate knowing where their food comes from and how it is grown.
Moreover, this praiseworthy farm has also created meals and events across the seasons to allow "everyone-chef, farmer, and dinner guest- to form lasting memories at Our Table in the Field," the co-op's on-farm dining series. Meals are hosted in various settings across the farm using ingredients that reflect the season and land where the food is crafted.
We were particularly fortunate on a summer afternoon to enjoy a leisurely farm brunch which spotlighted Our Table's brunch partner, Brian Shaw of Oregon Brineworks whose fermented products accented every delicious dish. They even appeared alongside our mimosas; Brian passed us bottles of red and golden beet kvass to sip!
Our first introduction to the Our Table-Brineworks partnership was a tasty salad prepared with fresh gem lettuces, cucumber, radish, and dill from the farm, all dressed in a light dill pickle vinaigrette. Tangy pickle juice complemented perfectly the delicately bitter greens and spicy radish. Popped quinoa and parmesan added lovely texture and deepened the flavor profile. The salad was served family style, and we enjoyed sharing it with a couple locals who joined the brunch on a beautiful summer day.
Our next course, black eyed peas and things, showcased puréed black eyed peas serving as a bed for the things— Deck Farms spicy chorizo (the vegetarian version featured mushrooms marinated in fermented hot sauce), a bright purple kvass poached egg, watermelon radish, squash hash, cucumber, pea shoots, and first tomatoes. Our Table's fresh-from-the-field produce rested in perfect proportion to the proteins, creating a light lunch dish that satisfied both the stomach and the eyes. With bright green pea shoots, cherry red tomatoes, and that neon purple poached egg, this dish was a true work of art. Oregon Brineworks made their appearance with the ruby kvass used to poach the egg, as well as the hot sauce used to marinate the mushrooms in the vegetarian version.
To complete the experience, we were served krauty carrot cake. This moist pastry truly impressed this savory-inclined reviewer. With just the right amount of sweetness and a rich mouthfeel, the krauty cake satisfied with zero guilt. Citrus kefir cream cheese, sugar and spiced walnuts, and Brian's lambert cherries rounded out the delicately sweet carrot cake. If they hadn't told us, I would never have known there was sauerkraut in there! It truly held the magical cinnamon-spice flavor so characteristic of classic carrot cake.
Over the course of our afternoon, Brian ate with us and shared stories of his fermenting adventures. We learned that Brineworks relies predominantly on Himalayan pink salt because it has the least impurities of any salt. We also discovered his secret to the perfect beet kvass (more beets!) and listened to the amazing role that microbes play in creating food that nourishes our bodies on the deepest level possible. Jen of Our Table ensured that we had a lovely time with her palpable enthusiasm for the food and farm. She explained the mission of Our Table's cooperative business structure where workers, members, and producers all democratically invest in the company, infusing the dining audience with hope for the future of our food systems. As awareness of exploitative and environmentally destructive agricultural practices grows, Our Table's example of success is an encouraging model.
(Our Table, 13390 SW Morgan Road, Sherwood (Washington County), Oregon,  503.217.4304, Click on link for info on monthly farm brunches and farm dinners, www.ourtable.us/brunch.html)
(Lucas Knapp, 8/2/17)
[Editor's Note (FWB)- Our Table is included in our special dining directory for Dining on the Farm, which highlights farms and gardens where diners can experience a meal on the farm or in the garden where most or much of the food served is grown. This directory has listings in twenty-three states including Arizona, California, Florida, Georgia, Illinois, Indiana, Iowa, Massachusetts, Missouri, New Hampshire, New Jersey, New Mexico, New York, Ohio, Oklahoma,Oregon, Rhode Island, South Dakota, Tennessee, Texas, Vermont, Virginia and Washington, as well as listings in Australia, Canada, Denmark, England, Ireland, Sweden and Wales. Users of our website are encouraged to send us information on any other farms and gardens where diners may enjoy a very special meal.]

A little over two years ago, I clipped an eye-catching article with the playful title, Crunch Factor: Crackers, Jacked, from Saveur magazine on artisanal crackers by Keith Pandolfi, who noted "Ten to try, and one DIY" (do it yourself). The short article was illustrated with beautiful photos of each of the ten crackers "worth seeking out."
I recognized three from grocery shopping at my hometown food co-op, the Honest Weight in Albany, NY: Whitney's Castleton Crackers based in Vermont (which was the source for two of the ten crackers noted, (1) Middlebury Maple (a maple syrup glaze complements stinky Muenster and Roquefort according to Pandolfi) and (2) Rutland Multi-Seed Rye (sturdy and sprinkled with seeds, great with brie, smoked fish, and charcuterie according to the knowledgeable food writer). My local food co-op also had on its shelves Effie's Oatcakes (top these nutty oat cakes with a sharp cheddar cheese advised Pandolfi). The other listed crackers were equally intriguing! The DIY recipe offered by Keith Pandolfi was enticing too: Rye Crackers With Figs and Seeds.
Although I've purchased Whitney Castleton Crackers as small holiday gifts for friends and family, I didn't indulge. I stuck with store bought Ak-Mok Sesame Crackers, made with organically grown and stoneground whole wheat flour, at a much lower "price-point." But in the back of mind, there was always an idea to home-bake my own crackers. How hard would that be?
My starting point was the ever-handy cookbook, Joy of Cooking by Irma S. Rombauer, Marion Rombauer Becker, and Ethan Becker (New York, NY: Scribner, 1997). The encouragement often given in this reliable cookbook is much appreciated: for example, a recipe for Cranberry Pecan Muffins posted on this website last Thanksgiving noted this advice: "Remember that muffins invite substitutions and inventive flavoring, and that any coffeecake, quick loaf, or corn bread batter can be made into muffins as well" (p. 782).
Similarly, Joy of Cooking writers were encouraging when it comes to making homemade crackers: "Almost any bread dough may be turned into crackers. Simply roll the dough out 1/8 inch thick, cut crackers to the desired size and shape, and place about 1 inch apart on a lightly greased baking sheet. You can brush the tops with melted butter or beaten egg and sprinkle sesame, poppy, or any favorite seeds on top before cutting." In a preheated 450 degree oven, the crackers are baked "until they begin to turn light or golden brown, 6 to 9 minutes."
But the cookbook's advice was not all that I relied upon. I had also clipped a recipe by food writer Lisa Abraham published in my local newspaper, the Albany Times Union, for Fancy Homemade Crackers, which had been originally published in the Akron Beacon Journal. The recipe is not available on-line and food writer Abraham no longer appears to have an active internet presence. Moreover, this cracker recipe was originally sourced by Lisa Abraham from writer Catherine Newman (who writes a cooking and lifestyle blog called Ben and Birdy). Catherine Newman's Fancy Homemade Crackers recipe apparently first appeared on a Disney family website from several years ago. (Credit given when credit is due!)
Delicious & Chewy Whole Grain Crackers (makes about 2 dozen)
1 cup whole wheat pastry flour
1/4 cup rye flour
1/4 cup blue corn meal
1 tablespoon raw local honey
3 tablespoons olive oil
1/4 teaspoon sea salt
1/2 cup warm water
1/8 to 1/4 cup of unhulled sesame seeds (for topping)
For brushing on the dough before baking: 1/2 cup water with 1 teaspoon sea salt stirred into it.
My recipe varied from the recipe clipped from my local newspaper by substituting 3 whole grains, wheat, rye and corn for 1 and 1/2 cups of 100% wheat flour. The whole wheat pastry and rye flours and blue corn meal used in the recipe were all organically and locally grown in upstate New York, from Farmer Ground Flours (farmer owned, farmer grown in Tompkins County). The flours and corn meal, as well as the unhulled sesame seeds, were available in the inspiring Bulk Food department, with its nearly 1000 (yes, one thousand!) bins of bulk foods, of the Honest Weight Food Co-op in my hometown of Albany.
Whisk together the flours, corn meal and salt.
Stir in the warm water, olive oil & honey. (I used "raw, local, organic" honey from Nectar Hills Farm in Otsego County in upstate New York.)
Turn out on a floured board and knead by hand, adding extra flour if the dough seems too sticky, until it comes together and can be shaped into a nice looking ball (about 10 minutes).
Put the dough ball back into its bowl and lightly coat with olive oil (approximately a teaspoon).
I followed the directions of the recipe clipped from my local newspaper and covered the dough ball with plastic wrap.
[After following that step, I decided to google whether it would be possible to avoid using plastic wrap. The website Quora, which offers "answers to all your questions" via discussion groups which "connect people," had a relevant discussion topic: Baking: Does dough have to be covered while rising? The discussion included advice from writer Andrew Bennigan who noted that plastic wrap could be avoided and that the traditional way is to cover with a cloth, "but make sure it is tucked in well to keep out drafts." Next time, I would use a thin dish towel instead of plastic wrap.]
Rest the dough ball for an hour.
Heat the oven to 425 degrees.
Flip over a heavy rimmed baking sheet, flour it heavily, and roll out the dough onto the back of the sheet until it covers the pan more or less from edge to edge. It should be quite thin. Brush off the pan any extra flour.
Brush the dough with the salt and water, prick it all over with a fork (so the crackers don't ballon up in the oven), and sprinkle with the sesame seeds.
Don't worry about making sure the crackers are separated: they'll break apart easily after baking.
Bake the crackers for 10 minutes, until they are golden and browning slightly on the edges and looking very baked.
Remove the baked crackers to a cooling rack. Use a pizza cutter (or a large knife) to cut the baked dough into the cracker size of your choice.
The recipe clipped from the newspaper noted that the crackers would "crisp up nicely" while cooling. However, the crackers I baked never became crispy and remained chewy (but delicious, still!). My hunch is that using corn meal made for the chewiness. For crisp crackers, corn flour, which is more finely ground than cornmeal, should be used instead. And the higher oven temperature of 450 degrees suggested by the Joy of Cooking cookbook (instead of 425 degrees) might result in crisp crackers. But the tastiness of these homemade crackers cannot be disputed and in less than 24 hours, they all were enjoyed with toppings of Manchego Anejo aged sheep milk cheese and Bionaturae organic bilberry fruit spread:  a festive homemade treat perfect for picnickers.
One further note: After googling for cracker recipes, I discovered this delicious-sounding cracker recipe for Seedy Oat Crackers from Bon Appetit magazine. Although they require a total baking time of 40 minutes (and the use of parchment and flipping over the dough to bake on the "other" side), this cracker maker will be heating up the kitchen on another cool summer morning. The Bon Appetit recipe, which uses rolled oats and a variety of seeds (and no flours of any sort), is tempting.
(Frank W. Barrie, 7/27/17)