Tusk, a new dining option in Portland, Oregon, opened last fall to the delight of diners looking for flavorful Middle Eastern food at a restaurant with a commitment to sourcing its food aggressively and seasonally from local sources (as emphasized on its website's homepage). With more than 30 food sources, including small farmers and artisans, listed prominently at a tab on Tusk's website for producers, a delicious dinner becomes something more: support for the good food movement and appreciation of how eating local bolsters community and the local economy. Much of Tusk's produce comes from Groundwork Organics, as well as an extensive list of rotating local farmers. With reservations booked out days in advance, the restaurant's popularity is heartening for the small farm and local economy.
You won't find pomegranates, dates, or chickpeas growing in the soggy U.S. Pacific Northwest, with a climate not comparable to the temperate region of the Eastern Mediterranean. But the verdant Oregon hills are home to not only grapes in abundance, but olives, figs, almonds, pine nuts, and even saffron and nigella can thrive here. And sweeping valleys nestled in between rocky buttes provide the ideal landscape for pastured lamb, sheep, and cattle. Magnificent root vegetables grow fat from the mineral-rich soil, and some of America's last dense wild forests nurse mushrooms of all shapes, colors, and sizes.
Tusk makes use of all the region's bounty from its various microclimates to create Mediterranean small plates. The tapas-style servings were perfectly portioned to share, and we would have had a difficult time deciding what to try without the experience of our knowledgeable servers, who encouraged us with stories of the staff's hummus obsession.
First, they helped us choose a beer that even your hops-averse reviewer could enjoy: the De Garde Petit Blanc Saison from Tillamook, Oregon was a limited edition offering that tasted more like wine than beer. This made sense when we learned that it's aged in oak barrels with Riesling grapes. Sour and fruity, it immediately made the list of my favorite libations.
We began our dinner with the recommended Mezze Plate and sampled classic Mediterranean delights: beet and honey brittle, hummus, potatoes with tahina [tahini is the pureed raw sesame seeds, while tehina is the prepared sauce with lemon juice] and nigella seed (crunchy with a flavor like toasted onion), house pickles, feta and olives, and white beans with red onion. All arrived in speckled clay bowls that were thrown by the chef himself, cleverly matching the larger plates created for them by Alexandria Cummings of Portland.  They were accompanied by warm flat bread, made in-house with a blend of spelt and red wheat flours from Camus Country Mill.
The fluffy flatbread pillowed every delectable bite. We dipped it in olive oil blended with pistachio and hazelnut before loading them up with Mezze items and topping them with condiments prepared in-house; Aleppo pepper sauce, cumin salt, and za'atar (a generic name for a family of related Middle Eastern herbs, oregano, basil, thyme and savory).
From their "Vegetables, Fruits, Grains, And…" selection we sampled the chicories, pears, and kibbe naya. The tangy, pleasantly bitter chicories (a local spring green sourced from both Ayers Creek and Black Locust farms) starred in a stunning salad featuring radishes, fennel, Ellenos yogurt, sumac, and candied walnut. The dish was vibrant and refreshing, reminding us that spring was just beginning to bloom.
Pears from Kiyakowa Family Orchards in Hood River, Oregon were accompanied by sunchokes, peanuts, puffed rice, and fermented chiles. Surprisingly bland compared to the bright flavors in our other dishes, the quinoa with rapini, citrus, pistachio, and horseradish would have been a spicier option. (Tusk sources their quinoa from Willamette Valley Quinoa Company, which is proving that this protein-rich seed need not be imported from its South American origin to be enjoyed by North Americans.)
We relished with intense pleasure the kibbeh nayyeh, a traditional Lebanese dish. Raw lamb sourced from Cattail Creek in Junction City, Oregon was marinated in spices and combined with green wheat, apples, turmeric yogurt, chips, and pieces of romaine lettuce perfect for creating lamb lettuce wraps. It was light and balanced, with a plethora of herbs and just the right amount of grain to lamb. Bits of local wood sorrel added beautiful sour notes to the dish.
Our last selection was the grilled maitake mushrooms. This was my favorite of everything we tried: when maitake mushrooms are grilled their umami flavor heightens and they taste very much like scallops. What a treat and surprise! With a hint of peanut, and garnished with crispy kale leaves, anchovy, chiles, and lemon, the maitake mushrooms were culinary perfection. Tusk's supply were cultured in Northern California by an anonymous source, as many mushroom varieties are brought to restaurants from preciously secret locations.
While we ate until we could eat no more, we still felt relatively light, happy to be unperturbed by heavy grease or excessive carbohydrates. With its invitingly bright lighting and sleek interior (all designed by locals including Jessica Helgerson Interior Design), Tusk is sure to remain a popular hub for the neighborhood and very likely a destination for visitors too. Reservations are recommended.
As a closing note, why the name Tusk? The dictionary definition does not provide any clue: "In certain animals, a tooth developed to great length, usually one of a pair, as in the elephant, walrus, etc., but single in the narwhal." According to reporter Samantha Bakall of The Oregonian/Oregon Live, the restaurant Tusk is a much-anticipated follow-up restaurant to chef Joshua McFadden's Ava Gene's, and Fleetwood Mac's Tusk was a much-anticipated follow-up to their album Rumours.
 
[Tusk, 2448 East Burnside Street (between NE 24th & NE 26th Avenues), 503.894.8082, Brunch: Sat & Sun 10:00AM-2:00PM, Dinner: Mon-Sat 5:00PM-midnight, Sun 5:00PM-10:00PM]
(Lucas Knapp, 4/24/17)
[Editor's note (FWB)- After the posting of this review, we obtained further information that the source of the flours used to make Tusk's delicious warm flat bread was Camas Country Mill and that Jessica Helgerson Interior Design was responsible for the design of Tusk's sleek interior and lighting. Typos were also corrected when the review was updated on  5/3/17.]

The Environmental Working Group  (EWG) has long been a strong advocate, rooted in its own health research, for consumer awareness of fruits and vegetables with "high pesticide loads" that should be avoided "if at all possible."  Over the past couple of decades, it has developed an annual list of The Dirty Dozen with the recommendation that items on this list (conventionally grown) should be purchased "organic."
Sonya Lunder, an EWG senior analyst with a Masters of Public Health in environmental health sciences from UC-Berkeley (who has conducted research focused on toxic chemicals in food) created a must-see short video (less than two minutes), which remains ever relevant. Succinctly stated: conventionally grown fruits and vegetables (70% back in 2012 when the video was created) often have pesticide residues that should be avoided especially by pregnant women and young children.
For 2017, EWG has issued, in addition to its list of "The Dirty 12," a list for "The Clean 15." (It is currently offering to send supporters who donate $15.00, a Shopper's Guide to Pesticides in Produce bag tag to attach to a reusable shopping bag as a handy reminder of the fruits and vegetables to avoid when buying produce.)
EWG analyzed pesticide residue testing data from the U.S. Department of Agriculture (USDA) and the Food and Drug Administration (FDA) to come up with rankings for 48 popular produce items. Domestic and imported versions of three items (blueberries, green beans and snap peas) showed sharply different results so that domestic and imported versions are ranked separately on EWG's full list, resulting in 51 entries for the 48 popular produce items. The top 12 items on the list of 51 are designated The Dirty Dozen, while the bottom 15 items on the full list are designated The Clean 15.
The Dirty Dozen, ranked by levels of pesticide residue, with 1 being the highest,  for 2017 are as follows:(1) Strawberries, (2) Spinach, (3) Nectarines, (4) Apples, (5) Peaches, (6) Pears, (7) Cherries, (8) Grapes, (9) Celery, (10) Tomatoes, (11) Sweet bell peppers, and (12) Potatoes.
The Clean 15, with the lowest levels of pesticide residue, with 1 being the least,  for 2017 are (1) Sweet corn, (2) Avocados, (3) Pineapples, (4) Cabbage, (5) Onions, (6) Frozen sweet peas, (7) Papayas, (8) Asparagus, (9) Mangoes, (10) Eggplant, (11) Honeydew melon, (12) Kiwis, (13) Cantaloupe, (14) Cauliflower, and (15) Grapefruit. The EWG points out that a small amount of sweet corn, papaya and summer squash (which appears at number 28 on the full list of 51 items) sold in the United States is produced from genetically modified seeds. The organization recommends buying organic varieties of these three crops if you want to avoid genetically modified produce.
One item on the full list which caught my attention was ranked at number 31, bananas. Although bananas have never appeared among The Dirty Dozen in the years the EWG has ranked produce for pesticide residues, my food co-op (the Honest Weight) in Albany, NY has taken special pride in selling only organic bananas, even though the co-op does sell conventional spinach (number 2 on the list of The Dirty Dozen) and other conventional fruits and vegetables. That might not seem logical since before eating a banana, the peel is discarded (composted hopefully) while spinach, for example, has no skin to peal off.
But there's another important reason to sell only organic bananas and not conventional ones. For an individual consumer's health and wellness, a conventional banana might not be among the items of produce that should be especially avoided since it appears more than halfway down the EWG list and as noted above, the peel is discarded. Nonetheless, there are other important reasons to choose organic fruits and vegetables: protection of the environment and the health of farmworkers. Spraying pesticides has the potential to affect negatively the health of farmworkers and the environment. Furthermore, the Honest Weight sells organic Equal Exchange bananas which are grown by "small scale banana farmers" who operate as non-profit cooperatives, an excellent reason (rooted in fair trade economics) to know where your banana comes from!
And an important closing note: with environmental protection no longer the modus operandi of the federal Environmental Protection Agency (EPA), with its takeover by advocates for the fossil fuel industry and the focus on short term profits over the future of our planet, the "working" aspect of the Environmental Working Group has become even more important. Case in point, the new head of the EPA, Scott Pruitt, earlier this month denied the petition of environmental advocacy organizations to outlaw chlorpyrifos, a pesticide often used on apples, oranges and other crops, even though the agency's own safety experts concluded that the chemical should be outlawed. Check out reporter Roni Caryn Rabin's article, Groups Seek Court's Aid in Banning A Pesticide (4/6/17), in the New York Times.
(Frank W. Barrie, 4/13/17)
[UPDATE (FWB 4/18/17) Since the publication of this post, EWG has begun a petition campaign asking retailers, particularly large supermarket chains, to stop selling produce that has been sprayed with chlorpyrifos. Marketed by Dow AgroSciences under the names Lorsban and Dursban, EWG notes that it has been widely used to control insects in homes, gardens and lawns, as well as on farmland, but in June 2000, the company agreed to stop selling it for household uses because of the health risks it posed to children. But its agreement with the EPA did not extend to conventional agriculture, where it is still widely used on nearly 50 food crops, including fruits, vegetables and nuts. While Pruitt and the Trump administration's decision ignored overwhelming evidence that small amounts of chlorpyrifos can damage parts of the brain that control language, memory, behavior and emotion, EWG notes it's not too late for retailers to step up and do the right thing – but they need to hear from every one of us. Click here to add your name to the petition: Tell retailers to stand up for the health of their customers and stop selling fruits and vegetables that have been sprayed with chlorpyrifos! ]
Consumer Reports (CR)

has launched a new Consumer Voices Survey to determine its priorities for "testing, researching, and uncovering what consumers need to know to make smarter choices in their daily life."  The nonprofit and nonpartisan organization notes that this mission has not changed over its more than 80 years existence.
The inaugural CR Consumer Voices Survey revealed that food safety and quality continues to be "fundamental to American life" and a priority, as noted by the responses to its questioning of Americans on "their most pressing consumer concerns" for 2017. Sadly, sixty-six percent of Americans surveyed said they don't trust the government to look out for consumer interests in response to the nationally representative survey of 1,012 adults 18 and older conducted this past January.
In analyzing the results of its inaugural survey, Consumer Reports contends that to ensure the safety of American's meat and poultry and the health of the American public, the Food and Drug Administration (FDA) should "eliminate a loophole that still allows producers to use antibiotics on healthy animals in the name of disease prevention." Reducing the number of people affected by antibiotic-resistant bacteria requires minimizing "the amount of antibiotics used in raising food animals."
We previously reported several years ago that 80 percent of all antibiotics used in the United States are used in livestock, and that since the 1950s, the FDA has approved the use of antibiotics in animal feed for non-therapeutic purposes, such as growth promotion and routine disease prevention (not the treatment of disease). Our earlier report focused on litigation that (to date) has not been fully resolved. Consumer Reports deserves much credit for shining a bright light on this still on-going matter.
It's recommended that readers check out Eatwild's directory of more than 1,400 pasture-based farms in the United States and Canada, which meet praiseworthy production standards that include that animals are not treated with routine, low-level antibiotics, and that animals which receive antibiotics, due to health problems or injury, are removed from the program.
(Frank W. Barrie, 4/3/17)
[Update on litigation against FDA (FWB 4/5/17): Shortly after the publishing of this post, we were advised by Avinash Kar, the Natural Resources Defense Council's (NRDC) lead attorney in the litigation against the FDA, that the U.S. Second Circuit Court of Appeals in a 2-1 decision ruled in 2014 that the FDA did not have to consider banning the practice of regularly feeding antibiotics to animals that are not sick, despite its finding that such misuse of antibiotics threatens the effectiveness of essential human medicines. Attorney Kar noted that attention has shifted to seeking legislative changes on the state level, including California (where a state law now limits routine use of antibiotics in livestock) and Maryland (both houses have passed similar legislation limiting routine use of antibiotics in livestock). Further, NRDC has also embarked on a number of campaigns to drive change in the market place, leading to commitments by companies like Subway, Foster Farms, and McDonalds to reduce the use of antibiotics in their supply chains, particularly for chicken. NRDC now has an ongoing campaign focusing on KFC. (FWB 4/5/17)]
I take to heart the advice of Michael Pollan: notably his short and sweet Rule 82 from his Food Rules: "Cook."  According to Pollan, "Cooking just might be the single most important thing you can do for your dietary health…Cooking for yourself is the only sure way to take back control of your diet from the food scientists and food processors, and to guarantee you're eating real food rather than edible foodlike substances, with their unhealthy oils, high-fructose corn syrup, and surfeit of salt."
And what I like to cook at home for breakfast most days is a bowl of oatmeal prepared with cranberries or blueberries and topped with walnuts, cinnamon and some plain kefir: A perfect home cooked meal to start the day. And in season, strawberry and rhubarb oatmeal is my own special creation with a recipe posted on this website a couple years ago.
I've pondered substituting a bowl of granola and on occasion have substituted Swiss-style unsweetened muesli for the oatmeal. But a bowlful of granola in place of oatmeal? I don't think so: Most granolas include too much added sweetener of some sort. And although I've considered making my own homemade granola without using too much added sweetener, I just don't see the reason to move away from my everyday healthy breakfast of oatmeal.
But homemade granola bars? They wouldn't be a substitute for a healthy breakfast, but instead could be viewed as a treat of sorts in lieu of some other sweet. And a stockpile of granola bars would also be handy for future springtime hikes in the woods as a quick energy boost. Last spring, Parks and Trails NY, on its blog, posted a recipe for Take a Hike Granola Bars, and I've tweaked the recipe to come up with my own recipe for Cherry Almond Granola Bars, with the delicious flavors of tart cherries and coconut to balance the sweetness of the maple syrup and honey used in the recipe. Made with organic and when possible local ingredients, I sourced nearly all of my ingredients from the remarkable Bulk Food department (with its almost 1,000 bins of bulk foods) of my food co-op, the Honest Weight Food Co-op in Albany, NY. I used maple syrup from Sweet Brook Farm in Williamstown (Berkshire County, MA) and local Rulison honey from Amsterdam (Montgomery County, NY). The flaxseed meal sold at the co-op was Bob's Red Mill organic golden flax seed meal.
Homemade Cherry Almond Granola Bars (makes about 30 bars)
2 cups rolled regular (not thick or quick) oats
1 cup dried unsweetened tart cherries
1 cup raisins
3 tablespoon shredded unsweetened coconut
1/2 cup raw sunflower seeds
1 cup chopped almonds
1/2 cup flaxseed meal (for its omega 3 fatty acids and nutritional boost)
1/2 cup maple syrup
1/4 cup local honey
2 tablespoons butter
3 teaspoons vanilla extract
1/2 teaspoon  cinnamon
1/4 teaspoon nutmeg
1/2 teaspoon sea salt
Preheat oven to 350 degrees. Combine in a large bowl the rolled oats, chopped raw almonds, raw sunflower seeds, flaxseed meal. Transfer to a half sheet pan and toast in the oven for 15 minutes, stirring every five minutes.
In a saucepan, combine maple syrup, local honey, butter, vanilla, cinnamon, nutmeg and salt while stirring over medium heat until butter is melted and ingredients are thoroughly blended.
Chop the dried tart cherries and raisins. (I used unsweetened dried tart cherries and the larger sized flame raisins, both from Tierra Farms  and sold in the Honest Weight's bulk food department.) Add the oat mixture and the chopped tart cherries and raisins to the syrup mixture and stir to coat the oats well.
Line a half sheet pan with parchment paper. Spread the granola mixture evenly and press firmly into the pan.
Bake at 300 degrees for 20 minutes. Let cool completely on a rack. Slice into bars. This recipe made approximately 30 tasty and energy boosting granola bars.
(Frank W. Barrie, 3/24/17)
The Perennial Plate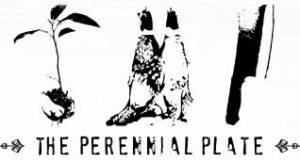 has created more than 150 short documentaries that share the theme of Adventures in Sustainable Eating. A recent documentary produced by the two-time James Beard Award winning online weekly documentary series dedicated to socially responsible and adventurous eating, is perfectly timed for St. Patrick's Day.
Episode 168: Howth, Dublin, with a soundtrack of lively traditional Irish music by Skippers Alley and the sounds of a fishing boat at sea, in little more than six minutes, shares the unique voice of Joe Caufield. The filmmakers note that "this is probably the first film in English that we've had to subtitle: what an accent!"
The filmmakers Daniel Klein, Mirra Fine and Hunter Johnson, went out on Joe Caufield's boat to empty his crab traps. Howth (rhymes with "growth") is a village on the northern extremity of Dublin Bay. As the skillfully made short documentary attests, for generations it has supported a fishing fleet.
These days, however, the fleet is much smaller than in years gone by, a fact acknowledged with wry humour by the skipper, fisherman Joe Caufield.   Noting that fishing is a vocation rather than merely a job, he recalls a fleet of 40 boats, with 200 men working, which is now reduced to less than a half dozen.
The harbor is situated on the Howth peninsula, the northern arm of Dublin Bay and nestles under the summit of Howth Head (location of one of Ireland's oldest working lighthouse, the Baily, whose origins go back to 1665). The Head commands magnificent elevated views over the Bay: its bracing cliff walk is known to be a favorite for Dubliners wishing to shake off the cobwebs. The village itself, at the bottom of the hill and clustered around the picturesque harbor, looks out over an island known as Ireland's Eye.
A trip to Howth from Dublin city is less than 10 miles from the city center and less than 30 minutes on commuter rail, the DART (Dublin Area Rapid Transit).  The Perennial Plate has made it possible to be transported to this beautiful place with an episode spotlighting the life of a fisherman, with deep and practical insight into the economic forces that are threatening traditional livelihoods.
Three modern fishing boats can catch three times the amount of fish that in the past 40 boats with 5 men crews caught. As fisherman Caufield puts it: You could have one millionaire or 30 people with $30,000. Which one is better? Which one does society want?
Joe Caufield, after 38 years of fishing, perhaps was darkly humorous when he states that he doesn't eat fish. The accomplished chef and teacher, Darina Allen, whose wonderful cookbook 30 Years at Ballymaloe was reviewed a couple of years ago on this website, noted that in Ireland in the 1990s when she had her TV series, Simply Delicious Versatile Vegetable, we had a deeply ingrained meat-eating culture…and a very strange attitude to fish.
Darina Allen elaborates: Owing to Irish Catholic customs, Friday was considered by many a fast day; people abstained from eating meat but were allowed to eat fish, if available….Understandably eating fish began to be regarded as a penance rather than a pleasure. She also adds that in the not so long ago past, most of the fish was transported inland by bus or by train and so was often at least a week old by the time it reached its final destination. In her home village of Cullohill (County Laois), when fish arrived on the bus from Dublin on Thursday evening, The choice was limited and generally comprised of whiting, occasionally flounder and a bright, psychedelic-orange smoked haddock.
Times change and Ireland now has become well-known for superb farm to table restaurants and seafood restaurants, with the day's catch served on an evening's menu exemplified by two seafood restaurants (Idás and Out of the Blue) located in Dingle (County Kerry) recently added to our dining directory for Ireland. A small town, with a population of less than 2,000, Dingle now has, in fact, along with Global Village Restaurant (previously listed) three destination restaurants included in our directory. Joe Caufield should be pleased with this development and the growing appreciation of his vocation. And to whet his appetite, we would also recommend to fisherman Caufield (or the cook in his household) Darina Allen's recipe for Roast Fish with Dill Butter and Zucchini. Very tasty.
(Frank W. Barrie, 3/17/17)