We love maple syrup. And often rely on advice from Katie Webster, who in her cookbook, Maple- 100 sweet and savory recipes featuring pure maple syrup, recommends that if a recipe calls for 1 cup of white sugar, use 3/4 cup of maple syrup while also decreasing other liquids called for in a recipe by about 3 tablespoons per cup of maple syrup used.
Although limiting intake of calories especially from processed and industrial food is important in our age of widespread obesity, a quarter cup of maple syrup, unlike sugar, supplies 62 percent of your daily riboflavin requirement, about 9 percent of calcium, 8 percent of zinc, and 5 percent of potassium and less maple syrup than sugar is required to sweeten a recipe.
We respect Michael Pollan's advice that "sugar is sugar" and processed foods that have some form of sugar (or sweetener) listed among the top three ingredients should be avoided, but we also like Rowan Jacobsen's appreciation of how only sugar maples have flowing sap with a miraculous formula of high sugar content, a few flavor compounds and nothing nasty.   And according to Rowan Jacobsen, in a must-read chapter on maple syrup in his wonderful book American Terroir, the only suitable terroir in the world for maple syrup is the Greater Northeast, described as a triangle running from Michigan to New Brunwick (Canada) to West Virginia.
Uniquely American maple syrup prompts a certain pride in this upstate New Yorker and also provides a way to spend food dollars locally. So when we received word that Massachusett's Lieutenant Governor Karyn Polito was going to tap the ceremonial first tree of the 2018 sugaring season at Mill Brook Sugarhouse in Lenox (Berkshire County), Massachusetts, an easy drive from home in Albany to the beautiful Berkshires, a March snowfall the day before the tree tapping didn't deter.
Maple syrup is the first crop of the year for Massachusetts and other states in the Greater Northeast, and Karyn Polito, accompanied by Massachusetts Secretary of Environmental Affairs Matthew Beaton and Commissioner John Lebeaux of the Department of Agricultural Resources, took pleasure in proclaiming March to be Maple Month in Massachusetts, and this coming weekend of March 17-18 has been designated Maple Weekend in the state. Sugarhouses around the state will be open to visitors who want to see syrup being made, learn about the process and history of maple production, and sample and purchase what  is described as the state's sweetest crop.
Massachusetts has more than 300 sugar makers around the state and maple syrup production generates estimated economic activity of $6 million and employment for 1,000. For information on other sources for maple syrup in the Greater Northeast, the website Sugarbush Info  maintains listings of over 500 maple syrup producers (sugarbushes) in the United States and Canada. And Sugarbush Info also has listings for 27 maple syrup festivals in Canada and the United States.
In addition, March Is Maple Month has also been declared in Indiana, Michigan, Minnesota, New Brunswick, New York, Ontario, Wisconsin, and New Hampshire. The Green Mountain State of Vermont (renown for its maple syrup) has a Maple Open House the weekend of March 24-25, and Maine is celebrating its 35th Anniversary Maple Sunday on March 25th. Ohio promoted its maple syrup with its Maple Madness Driving Trail, earlier this month.
(Frank W. Barrie, 3/15/17)

I can remember the moment a fresh local ingredient changed my life as an omnivorous human, capable of eating all kinds of foods indiscriminately. It was an apple, sampled from the tree during an excursion to Indian Ladder Farms in Altamont, near Albany in upstate New York. Besides being crisp and juicy, the apple's flavor exploded and then lingered on my tongue, like nothing I had ever experienced. It led me on a path to eating almost exclusively from farm stands, farmers markets, and CSAs: fresh and local became a guidepost.
Amy Halloran's aha moment was an oatmeal ganache cookie bar made from oats and wheat grown near where she lived in upstate New York's Rensselaer County. She set out to find the source of the flavor and fresh grainy taste. The New Bread Basket, How the New Crop of Grain Growers, Plant Breeders, Millers, Maltsters, Bakers, Brewers, and Local Food Activists Are Redefining Our Daily Loaf (Chelsea Green Publishing, White River Junction, Vermont, 2015) is the outcome of her quest to investigate the regional grain revival happening in New York State and New England.
An excellent storyteller, Halloran explains how wheat became a commodity in the nineteenth century and how bakers and eaters lost access to, and interest in, locally grown grains. She then introduces us to a lively cast of bakers, farmers, millers, researchers, and community activists who are working together to re-localize food production, revive local economies, and in the process recapture the social meanings of wheat. For, despite what we experience in our commodity culture, wheat is an inherently social food. To make bread with local grains, a baker needs a miller and a farmer. Brewers need maltsters. And farmers need customers in order to make the investments required to test and grow new types of grains.
Early on in the book, Halloran introduces us to June Russell, who is a farm inspector for the New York City Greenmarket (which operates 50+ Greenmarkets including its flagship Union Square Greenmarket and 15 Youthmarkets in the great metropolis). Russell worked with the Greenmarket's Regional Grains project. Once the producer-only markets decided to require bakers to use local grains, the task fell to June to shore up the supply. She traveled widely in New York State and became a kind of matchmaker – connecting aspiring millers with grain growers and introducing them to NYC chefs through the New York City Greenmarket.
Halloran introduces us to other change-makers, such as plant scientist Julie Dawson, who went to France as a postdoctoral researcher at INRA (French National Institute for Agricultural Research) where she studied the on-farm conservation of landraces and historic varieties in order to protect and expand genetic diversity and resilience and helped to create a participatory plant breeding program led by an association of organic farmers. Then as a postdoc at Cornell University, her focus was on research and agricultural extension, related to value-added grains (emmer, einkorn, spelt and bread wheat) for organic farmers. (Dawson is now on the faculty of the Horticulture Department at the University of Wisconsin-Madison, where she specializes in peri-urban agriculture with a focus on the needs of Wisconsin's small, diversified, direct to market farms.)
We also meet bakers like Peter Endriss of the Brooklyn bakery, Runner & Stone, whose bread has enthused food critics. He has managed to adapt local grains to commercial scale baking and still make a profit. One of his sources is Farmer Ground Flour near Ithaca in upstate New York's Tompkins County. (After much trial, error, and innovation, Farmer Ground Flour has put together a successful farming/milling/baking operation with wholesale customers throughout the northeast.)
These days you can't have a movement without a conference and Halloran writes about the Kneading Conference, developed by the Maine Grain Alliance, in Skowhegan, Maine, whose mission is to preserve and promote grain tradition, from earth to table. Each July professional bakers, millers, masonry oven builders, and bread enthusiasts come together for three days of classes, tastings, and demonstrations. While the conference is a pivotal experience for many in the artisan bread community, it has also become an important source of pride for a community reeling from factory closings and economic malaise. In 2012, Somerset Grist Mill was opened by the Maine Grain Alliance in what had been the town jail. The mill is purpose-built for local stone-ground whole wheat flour and was developed because the organizers of the conference realized that without a processing facility, local flour would remain just a theory. They visited millers they knew, hoping that one would want to open up a second location, but eventually they decided to start their own. Maine Grain's website shows fifteen locally produced grains for sale, including heritage wheat, rolled oats, stone ground rye, and cornmeal.
There is much to like in The New Bread Basket. Bakers will appreciate the abundance of new sources of flour and other grains along with useful information for using them. Aspiring millers will find sources for mill stones and a community of creative, intrepid entrepreneurs ready to share their knowledge. There's also an interesting chapter on brewing and how that parallels bread making in the quest to rebuild an atrophied infrastructure to take advantage of the thirst for local brews.
Halloran features extensive interviews in the northeast but also visits California, Oregon, Washington, North Carolina, and Canada. What impressed me the most, however, was how her stories showcased the power of the local food movement to build community. While Halloran's book can help us understand the roots and flowering of the local grains movement, it can also be read as a handbook for community organizing. The world is a better place for the people profiled here and their stories will inspire future activists and entrepreneurs to collaborate in making the world a tastier place.
(Laura Shore, 8/12/17)
[Editor's note (FWB): Our directory of craft bakeries now includes 80 praiseworthy bakeries, offering baked goods and naturally leavened breads, made from scratch and hand-crafted, with the mindful sourcing of ingredients often including local grains and fruit (with 74 bakeries in the United States from Alaska to Wyoming, five in Canada and one in England). We ask our readers, to send us information on any other bakeries which they believe should be included in this popular guide to superior bread.]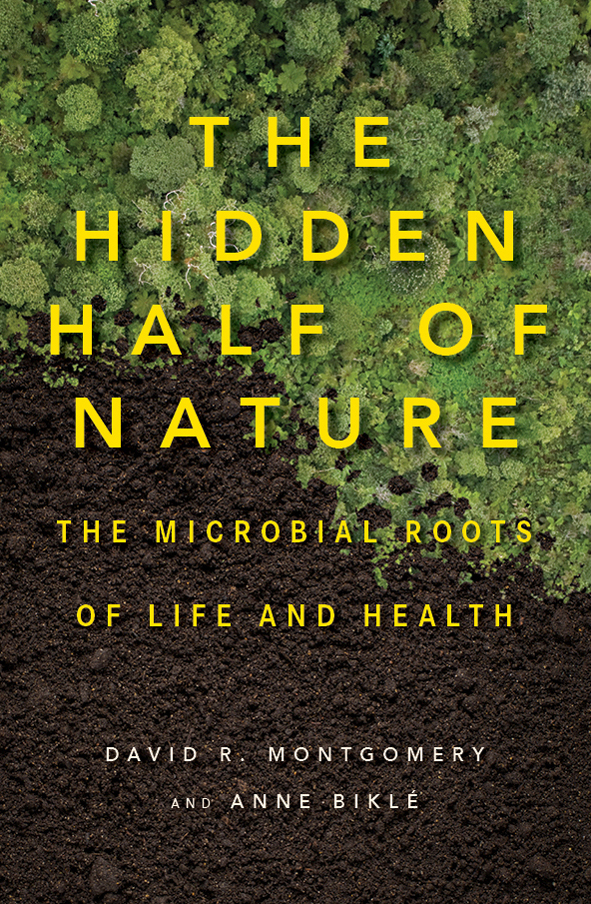 Despite the best efforts of my elementary-school science teachers, the world of biology only really opened up for me as I thrilled to the exploits of Arthur Kennedy, Raquel Welch, and Donald Pleasance as they were shrunk to microbe size and sent into the bloodstream of a wounded scientist to effect a cure. Nothing brought home the battles fought by our bodies' antibodies as did the skirmishes in the 1966 science fiction movie Fantastic Voyage – nothing, that is, until the book The Hidden Half of Nature, The Microbial Roots Of Life And Health (W.W. Norton & Co., New York, NY 2016) put it into a compelling story that moves between the biosphere without and the microbiota within.
Authors David R. Montgomery and Anne Biklé have written a book that also sends you on a thrilling trip through the bloodstream – alongside voyages through the digestive tract (where the colon is the underslung hero), and the soil, and the earthworm … and through a succession of laboratories as researchers through the centuries uncover the intricacies of growth and disease. In their way, these travels are even more fantastic than anything that movie could imagine – and they're a tough reminder that, as a culture, we're ignoring the lessons they teach at our peril.
Although we begin by looking at the garden that Biklé cultivates at their new Seattle home, we're soon drawn into an examination of the exhausted soil below, soil that came to life as the couple began feeding it organic matter: wood chips, coffee grounds, a substance called zoo doo made available by the city's Woodland Park Zoo. It's all in service of the microbes.
Microbes typically are about two microns in size, which, even when expressed as two thousandths of a millimeter, barely helps it become comprehensible. And certainly not naked-eye visible. Microbial life began about 3.6 billion years ago, when they had the Earth to themselves, and have evolved and co-evolved into a nuisance and a necessity. Although, as Montgomery and Biklé take admirable pains to explain, they're even more of a nuisance when we don't treat the good ones well.
To say we're surrounded by them puts it mildly. There are some 1030 microbes on Earth – that's a nonillion of them – and they're everywhere, including deep within us. They're incredibly adaptable, surviving in the most oppressive environments, and they reproduce so quickly, stealing any desirable genetic material along the way, that they can endure onslaughts of drought and attacks by antibiotics.
Microbes fall into five types, including bacteria, fungi, and viruses, and The Hidden Half of Nature assumes that we grew up learning to vilify such things. But the consequence of our germ-free lives has been a cycle of disruption that ultimately takes its toll on our health, which is itself maintained through a microbes-driven balancing act.
Each facet of the microbial world is introduced with the easygoing charm of a good storyteller; before you know it, you're being drawn into the science and history of that facet. So it is that we meet such important figures as Antonie van Leeuwenhoek, the 17th-century Dutch draper who grew so obsessive about grinding lenses to inspect his merchandise that he developed a microscope powerful enough to show him the otherwise invisible microbes in a drop of pond water. Which invites the leap to the mid-19th century, when Louis Pasteur discovered the role of microbes in yeast fermentation, and would carry that into world-changing innovations in disease resistence.
Others include Carl Woese, whose research into bacterial DNA in the 1970s led him to isolate 16S rRNA, the gene that makes ribosomes, which in turn build proteins. And that research led to a new system of classification of life forms, giving unicellular critters two categories of their own and relegating us multi-cellular folk to a part of but one domain.
And Lynn Margulis, who tenaciously pursued research on her theory that the evolution of multi-cellular life was a result of bacterial symbiosis. The (male-dominated) scientific community mocked or ignored her; nevertheless, she persisted, and swept us beyond our Darwin-based views.
Each of these studies added insight into the unseen world, and we follow them as they tie into plant growth, first through the work of 19th-century German chemist Justus von Liebig (considered the founder of organic chemistry) as he discredited the then-prevailing notion that plants took in carbon through the soil. He realized that it was gained through photosynthesis, and that such nutrients as nitrogen and phosphorus were coming from the earth. Then we meet the 20th-century biologist Sir Albert Howard, whose research in India laid the groundwork for an understanding of the vital importance of organic gardening, learning how to support a plant's natural defense systems through the soil.
Like a good thriller, the book cross cuts among these developing topics, soon sending us into our own viscera, to learn the tripartite nature of the digestive tract and the startlingly complex work done by our resident microbes. In the end, it turns out that plant roots and our colon have much in common, but we're unkind to them both.
To some extent, we couldn't help it. The bandwagon of progress is a sneaky vehicle. Munitions factories are also good for making fertilizer, so the chemical-fertilizer industry flourishes in battle-ready countries. Fertilizer brought a quick fix to farmers, whose growing reliance on such products has resulted in soil no longer able to offer plants traditional microbial support – and plants so corrupted by fertilizer that they haven't the roots to accept it.
Several decades ago, William Albrecht, a University of Missouri emeritus professor of soils, said that soil was the nation's most important resource, and tried to encourage farmers to treat their land with organic matter, not fertilizer. Albrecht's message, write Montgomery and Biklé, that fertilizers were no substitute for healthy soil, and that soil-related nutrient deficiencies underlay many human health issues, did not go over well with an agronomic establishment striving to industrialize food production and bolster yields on degraded land. Scientific colleagues and agribusiness interests alike attacked Albrecht for straying beyond the bounds of his soil science training.
And here we are, a nation in far poorer health than we were even a half-century ago, feeding ourselves food that has been processed to an unhealthy degree, or eating food grown in such poor soil that it's devoid of micronutrients – copper, magnesium, iron, and zinc, which build enzymes and proteins. Magnesium is a required element for at least three hundred enzyme reactions, and inadequate levels have been implicated in ADHD, bipolar disorder, depression, and schizophrenia.
In the end, it's all about the food. "Pick a modest-sized plate," the authors suggest, and make meals using vegetables, legumes, leafy greens, beans, fruits, and unmilled whole grains as the main ingredients. Add some meat if you want and dollops of healthy fats on the side or sprinkled through the plant foods. Desserts and sweets are special, so save them for special times.
The Hidden Half of Nature offers a deceptively calm narrative, speaking with thoughtfulness and well-substantiated insight. Microbes are our friends, and we've been mistreating them. The way to change this is through diet – what goes on our plate should be taken into our hands, and by thus improving our own lives, we'll improve the lives of others.
(B.A. Nilsson, 3/7/18)
[Editor's Note (FWB): It's been several years since we posted a book review of David Montgomery's Dirt, The Erosion of Civilization (University of California Press, Berkeley and Los Angeles, California, 2007). This one volume history of world agriculture remains a go-to book for an understanding of the dangers of an inadequate food supply for a growing world population if current trends continue and inspires the reader to become part of the movement to protect Mother Earth's soil in order to ensure a future of sustainable food production.]

With the winter's snow pack in the Capital District of upstate New York now a memory (and any future inches of whiteness sure to melt quickly), the concise summing up by Liz Cardinal (who is a Teaching Garden Coordinator for Sustainable Food Center in Austin, Texas) of the Seven Reasons You Should Be Gardening deserves attention up north in the Hudson Valley of New York State as well as in the more temperate growing zone of central Texas. This urge to garden is well worth encouraging in all humans (if only marketers would promote gardening and not Tony the Tiger).
Here are Liz Cardinal's 7 Reasons for Gardening:
1. Exercise – Flexibility, weight loss, reduced bone loss, and muscle strength are all benefits of gardening, and because there is always work to be done in a garden, it's a great way to get in your daily moderate exercise.
2. Community building– School and community gardens help foster a sense of place in a community and bring together people from different backgrounds.
3. Wonder and excitement – Watching a garden grow and evolve creates a sense of wonder in both children and adults. There is something special, if not magical, about planting tiny carrot seeds and then pulling a beautiful, orange carrot out of the soil 75 days later.
4. Life-long learning – All those times your garden failed, you learned something! And when it goes right….
5. A sense of achievement – When hard work pays off, it results in a sense of satisfaction. Helping a garden flourish boosts your emotional well-being, and you get to enjoy the fruits of your labor.
6. Connection to Earth's cycles – Tending a garden throughout the seasons is a way to observe and be a part of Earth's cycles. The process of enabling a seed to sprout, form flowers and fruit, then reproduce unfolds before your eyes in just a few months.
7. Freshness – When food is harvested close to the day it is eaten, it tastes significantly better than when it is harvested weeks prior and ripened en route to the supermarket. A child who has only ever tasted store-bought tomatoes is often surprised when they pick a tomato off the plant and eat it.
Cardinal's second reason for gardening, community building, is a reminder of the wonderful resource provided by the American Community Garden Association. It's easy-to-search directory of community gardens throughout the U.S. and Canada makes it a cinch to find a place not far from home (especially if backyard gardening is not possible) to green up the world and grow some food for yourself while becoming part of a community of gardeners.
In the Capital Region of upstate New York, the praiseworthy Capital Roots coordinates 900 garden plots available in 52 communities (located throughout Albany, Rensselaer, Schenectady and southern Saratoga counties). AND all of Capital Roots' community gardens are managed organically. The non-profit organization emphasizes that: You don't have to spend a lot of money or know how to garden organically – we'll teach you! In addition, Capital Roots offers dozens of gardening and culinary classes each year, provides seeds free of charge to all Capital Roots gardeners and sells unique seedling varieties at two plant sales per year. Bravo!
(Frank W. Barrie, 3/1/18)
Reporter Andrew Jacobs in his front page story in the New York Times (Waging a Sweeping War of Obesity, Chile Slays Tony the Tiger, 2/8/18), notes that Chile's former president, Sebastian Piñera, returns to political leadership of the South American nation next month and that back in 2011, he vetoed the first proposed food law that has now begun to turn the tide on the global obesity crisis. Chile's current (for only two more weeks) President Michelle Bachelet trained as a pediatrician and supported the law first proposed in 2007 and enacted while she was president two years ago. According to reporter Jacobs, a spokesman for Mr. Piñera said he would likely take a second look at the law and explore ways to improve it after he takes office.
Other reported attacks on Chile's food law include a pending lawsuit by Kellogg's and PepsiCo claiming their intellectual property has been infringed. These goliath corporations contend they should be able to use their trademarks registered in Chile (alas images of Tony the Tiger have been deleted from cereal packages by legal restrictions). And the industrial food industry association in Chile, Chilealimentos, argues that the corollation between weight gain and promotion of unhealthy food is scientifically flawed and consumer education is the best way to change people's behavior/habits. We recommend viewing the recent film, Fed Up, to see why that is not the simple solution.
Chile has endured skyrocketing rates of obesity: 75% of adults and 50% of six year old children, in a country of 18 million, are overweight or obese. And with medical costs of obesity of $800 million (in 2016), there has been much support for the nation's restrictions on industrial food products: (i) mandatory packaging redesigns, (ii) labeling rules, (iii) junk food advertising bans from TV, radio and movie theaters, (iv) steep soda taxes, (v) banning the marketing of infant formula to encourage breast feeding, and (vi) already very effective black warning logos in the shape of stop signs on packaged food products high in sugar, or salt, or calories or saturated fat. If a packaged food product sold in Chile is high in sugar and salt and calories and saturated fat, there are now four black warning logos in the shape of stop signs.
Also proving the law's success, reporter Jacobs notes that 20% of the 1,500 items of packaged food products sold in Chile have been reformulated in response to the law to avoid the dreaded black warning logos. Coca Cola has created 32 new beverages in the last 18 months to avoid the black logos.
Reporter Jacobs quotes a mother of two filling her shopping cart at a supermarket in Santiago (capital of Chile), "I never really paid attention to labels," but now the black logos "kind of force you to pay attention. And if I don't notice, my kids do." Jacobs also quotes Dr. Camila Corvalan of the University of Chile who has been assessing the impact of the new label system: "Originally we didn't believe the logos would make much of a difference but in focus groups, we've discovered that kids really do look at them. They'll say 'Mom, this has so many logos, I can't bring them to school. My teacher won't allow it'."
The front page story in the New York Times also quotes Stephen Simpson, director of the Charles Perkins Centre, an Australian medical research institute, clinic and education hub in Sydney, that primarily focuses on diabetes, cardiovascular disease and obesity. Noting that the multi-billion dollar food and soda industries have exerted pressures to successfully stave off regulation in many other countries, he opines that the significance of Chile's food law cannot be overstated. How Chile's (soon to take office) President Sebastian Piñera  seeks to improve the law will be watched closely. Let us hope that the well-financed opposition to the law and political campaign contributions will not control the outcome.
(Frank W. Barrie, 2/20/18)