Despite a sweet tooth for cakes and pies and the appeal of indulging in a sweet dessert on Valentine's Day, with the stirring film Fed Up still in mind, an organic cherry cobbler with a scoop of organic ice-cream (or some tangy plain farmstead yogurt!) seemed a better way to satisfy the taste for a delicious indulgence and also forego too many grams of sugar. This Valentine's Day, a fruit cobbler would serve as a perfect dessert, and spotting a can of Omena Organics Montmorency pitted cherries in water in the grocery aisle of the Honest Weight Food Co-op in my hometown of Albany, NY was a touch of serendipity.
Last year, we posted a recipe for a sweet and tart smoothie made with Montmorency tart cherries and referenced the Cherry Marketing Institute's website called choosecherries.com that promotes Montmorency tart cherry juice as an anti-inflammatory food that also may help improve the quality and duration of sleep, reduce the severity of insomnia and increase overall sleep efficiency. Montmorency is the varietal of tart cherry (Prunus cerasus) most commonly grown in the U.S. and Canada on small family farms.
The name comes from a valley in the northern suburbs of Paris, France, where tart cherries were first cultivated in the 18th century, but now, more than 94 percent of Montmorency tart cherries consumed in the U.S. are grown in the U.S. About 75 percent of the U.S. Montmorency tart cherries are grown in Michigan, with additional harvests in Utah, Washington, New York, Wisconsin and Pennsylvania. The Insitute also emphasizes that choosing this locally-grown varietal helps preserve generations-old family farms and supports North American agriculture.
And fortunate for this home baker, the website of Omena Organics includes recipes and voilà– there was one for a cherry cobbler. The company based in Omena (Leelanau County), Michigan describes its products carefully on its website including this information on its 14.5 oz can of pitted organic montmorency tart cherries: packed in nothing but water and the cherry's own juices. Great for use in pastries, smoothies, salsa or barbecue sauces.
Omena Organics recipe for its Organic Cherry Cobbler is easy to follow and besides a can of cherries, all the baker needs is flour, salt, baking powder, butter and a sweetener. Also appealing is the limited amount of added sugar required by the recipe. And this baker decided to substitute maple syrup for the sugar in preparing the cobbler batter (a quarter cup of maple syrup, unlike sugar, supplies 62 percent of your daily riboflavin requirement, about 9 percent of calcium, 8 percent of zinc, and 5 percent of potassium and less maple syrup than sugar is required to sweeten a recipe as noted by Katie Webster in her wonderful cookbook, Maple, 100 Sweet and Savory Recipes Featuring Pure Maple Syrup). But in preparing the heated up cherry juice to pour over the batter and cherries, I decided to use the half cup of sugar suggested to ensure that the juice would thicken up sufficiently (using unrefined, fair traded sugar available at my food co-op).
What follows is the recipe for Organic Cherry Cobbler as suggested by Omena Organics. In the description of the way I prepared the delicious dessert, I note the substitutions that I made: melted butter for shortening; maple syrup for sugar; kefir milk for ordinary milk; as well as the specific local sources for ingredients (grown and produced near my home in upstate New York).
ORGANIC CHERRY COBBLER
Cobbler:
1 and 3/4 cup 

Omena Organics Montmorency Tart Cherries in Water

, drain and reserved for sauce

1 and 1/4 cups organic flour (sifted) 

1 and 1/2 teaspoons organic baking powder 

1/2 teaspoon organic salt 

1/2 cup organic, unrefined sugar 

1/2 cup organic milk 

2 tablespoons organic shortening, melted  
Sauce:
2 cups cherry juice and water – hot 

1/2 to 3/4 cup organic, unrefined sugar 

2 tablespoons organic butter 
I used 1 and 1/4 cup of Farmer Ground whole wheat pastry flour which I mixed with 1 and 1/2 tsps of baking powder, and 1/2 teaspoon of Himalaya pink sea salt. Deciding to use 3/8 cup of maple syrup instead of the specified unrefined 1/2 cup of sugar, I combined the Sweet Brook Farm maple syrup, 1/2 cup of Maple Hill Creamery's plain kefir milk (instead of ordinary milk) and 2 tablespoons of melted Kriemhild butter (instead of shortening) and stirred the liquid ingredients into the dry ingredients until smooth. After greasing an 8x8x2-inch pan, I spread the batter evenly into the pan.
I drained the can of cherries, saving the juice, and the one can made for the perfect amount of cherries as called for (1 and 3/4 cups). After arranging cherries over the top of the batter, in a saucepan, I then heated to a boil, the cherry juice drained from the can plus enough water to make for 2 cups of liquid, 1/2 cup of unrefined, fair traded sugar and 2 tablespoons of butter and poured the heated sauce over the cherries.
Bake in 375 degree oven for 45 to 50 minutes. This delicious fruit cobbler for Valentine's Day also would be a suitable dessert for any festive meal.
(Frank W. Barrie, 2/13/18)

The recent hullabaloo over the airing of ads during Super Bowl LII brought to mind a study published last summer in JAMA Internal Medicine (the peer-reviewed medical journal of the American Medical Association) where researchers watched nearly 30,000 customers over 46 days in a college cafeteria select various vegetables and determined that touting health claims is counterproductive. Instead, relabeling food with jazzy names resulted in more people choosing the vegetable.
According to Nicholas Bakalar in his In Brief article, Carrots by Any Other Name in the New York Times (6/14/2017), Alia J. Crum, an assistant professor of psychology at Stanford and the senior author of the study, noted that We're trying to get people to eat healthier, but we're going about it all wrong by trying to make people eat healthy by touting health claims. Instead, just relabeling food with some creative names resulted in college students eating more vegetables.
Calling a sweet potato dish, zesty ginger-turmeric sweet potatoes, instead of just plain sweet potatoes resulted in 25 percent more people choosing the vegetable. Even more intriguing, 35 percent more people chose the zesty ginger-turmeric sweet potatoes than a health-conscious wholesome sweet potato superfood. And 41 percent more chose the zesty label than cholesterol-free sweet potatoes.
Reporter Bakalar summed up the study's results by noting that college students would rather eat slow-roasted caramelized zucchini bites than just plain zucchini even when both dishes are prepared exactly the same way. Telling college students to eat healthy energy-boosting green beans and shallots or vitamin-rich corn has a negative effect; Better to call them sweet sizzling' green beans and crispy shallots or rich buttery roasted sweet corn.
For this organic and local food advocate who values his monthly box of winter vegetables, part of a CSA (community supported agriculture) farm share, and the satisfaction of digging up a carrot from a backyard garden, marketing claims and jazzy renaming are greeted skeptically, if not cynically. What's pleasing to this consumer is to receive a box of vegetables from Roxbury Farm in nearby Kinderhook (Columbia County, NY) only a few miles from home in the first week of February in wintry upstate New York that contains parsnips, potatoes, rutabaga, onions, sweet potatoes, carrots, watermelon radish, cabbage and celeriac. Wow.
The fact that the root vegetables in the CSA winter share come "dirty" is an added benefit since unwashed root crops store for a longer period of time. Simply stated, my questions before I choose to eat a particular vegetable is where and how was it grown.
The sweet potatoes in the winter share are a culinary treat- sweet and delicious when simply baked in the oven. No need for this home cook to add any sweetener to sugar them up, and there's zero need to figure out jazzy words for the sweet potatoes to persuade me to include them in my diet.
Nonetheless in this era of marketing hype when the powerful words of Dr. Martin Luther King, Jr. are used stupefyingly to market pick-up trucks during the airing of the Super Bowl, relabeling vegetable dishes in college cafeterias is certainly an inoffensive and clever way to improve the diet of the smart phone generation.
(Frank W. Barrie, 2/8/18)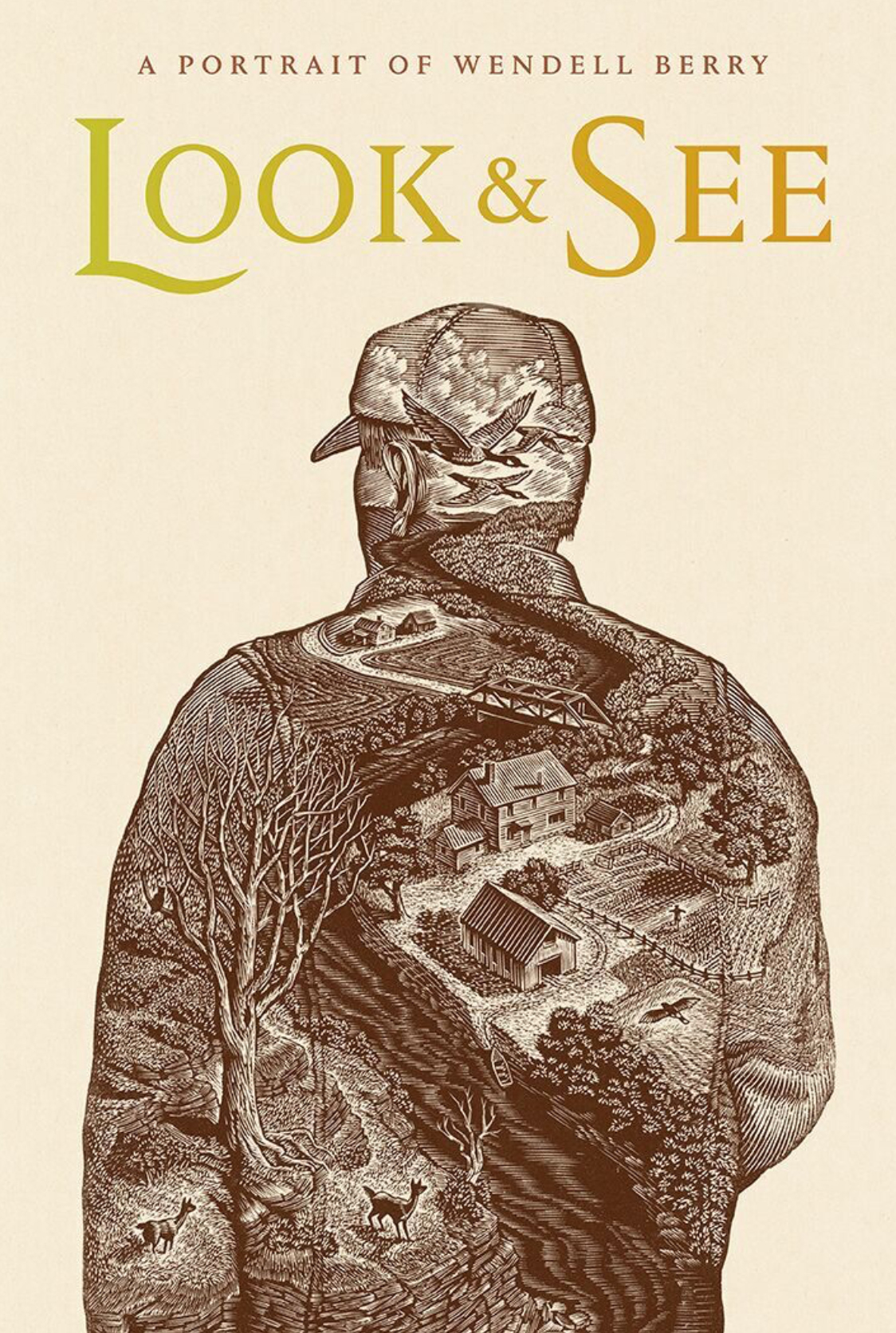 Wendell Berry has been the conscience of rural America for several decades, presenting a cohesive, considered response to the over-industrialization of our lives. He has done so through his essays, novels, and poetry, while living a life as a Kentucky farmer with a deep connection to the land that allows him to put his beliefs into practice.
In the fall of 2016, Wendell Berry and his colleague Wes Jackson delivered the annual E.F. Schumacher lecture at the Mahaiwe Theatre in Great Barrington, the cultural heart of the Berkshires in western Massachusetts. Their analysis of our perilous state was provocative."What screwed us up," Berry said, "was oceanic navigation, because it taught us to think that if we didn't have it here we could get it somewhere else."  Commitment to a community and a place is necessary in Jackson's words "for affection to grow and intelligent action to take place to address what is needed in a community."
This 2016 appearance in the Berkshires raised expectations for a long-awaited documentary devoted to Wendell Berry, Look & See, A Portrait of Wendell Berry, from Executive Producers Robert Redford and Terrence Malick. Retitled from The Seer because Mr. Berry expressed misgivings about being identified in the office of prophet, it was anticipated that the film would provide a means for introducing Wendell Berry to a much wider audience, not just his many admirers.
However, it's a disappointing portrait. As Berry refused to be filmed, it lacks his presence at its center. I don't doubt that this was prompted by his modesty, but it leaves a vacuum that's not filled by the affectionate descriptions coming from family and friends. Daughter Mary, an effective speaker, probably deserves her own documentary. As founder and executive director of the The Berry Center, she finds practical solutions for the problems her father's essays explore. And Steve Smith, her husband, offers a farmer's persuasive voice to the movie.
Look & See is the second full-length documentary from Laura Dunn, whose The Unforeseen from 2007 looked at an ill-fated housing development near Austin, Texas, and drew from Berry's writing for its soundtrack. Her new film suffers overall from what's become a familiar documentary style, with limited-length segments tied together by voice-overs that have an affected piety, very different from Wendell Berry's unforced and unaffected, yet passionate, voice and presence experienced at the 2016 lecture in the Berkshires or at his 2012 Jefferson lecture sponsored by the National Endowment for the Humanities at the Kennedy Center in Washington, DC.
Fortunately, some of the spoken material is Berry's poetry, read by the author, including his poem A Timbered Choir, with its epochal vision of urban intrusion, used at the movie's start. But this well-known Berry poem is accompanied by quick-changing images of urban life, robbing the words of their impact by their distracting frenzy. And the piano music by Kerry Muzzy, that sounds throughout much of the film, is new-agey finger-wandering that also distracts and has a dulling effect.
Farmers whose lives continue to be ruined by industrialization offer unsurprising assessments of their plights, but it's dismaying to see tobacco farming as the prime example here. Yes, it's a huge Kentucky crop, and Berry's readers know that his family has farmed it for generations. But it's also a reminder that one of Berry's weakest essays is The Problem of Tobacco, collected in the 1992 volume Sex, Freedom, Economy, and Community. His arguments in defense of the crop are flawed, as when he notes that tobacco's opponents will sit in their large automobiles, spewing a miasma of toxic gas into the atmosphere, and will sit in a smoke-free bar, drinking stingers and other lethal beverages (note the effectiveness of the adjectives large and lethal), thus succumbing to the fallacy of false equivalencies.
All of which contributes to the discomfort of seeing lovingly photographed tobacco harvesting and storage. We learn that Steve Smith moved away from tobacco – It lost its beauty, he says. It lost its appeal. It was no longer farming: it was something industrial – to raising and selling food crops at markets and through a CSA (community supported agriculture) farm model, and the film's final section amplifies that approach – the most hopeful note this movie sounds.
Archival footage of Berry debating former Agriculture Secretary Earl Butz in 1974 gives a look at the beginnings of Berry's crusade. Butz aggressively promoted industrial-scale farming, urging farmers to adapt or die. Those who cling to the moldering past are the ones who die. Butz (whose political career came to an ignominious end) embodied the arrogant profiteering that has gone on to gut farming, so it would have been fascinating to see more of the Berry-Butz exchanges.
But this movie is mining emotional reactions without earning them through considered argument. We're moved by shots of glinty sunsets, by point-of-view treks along country pathways with a country dog – a claim to a wistful nostalgia for something remaining undefined. But I fear that Look & See does Berry a disservice by presenting him as a cranky Luddite, condemning of all technology and urban life.
There are loving close-ups of a Smith-Corona Secretarial, which, we assume, is the manual typewriter Berry continues to use (he has declared that he'll never buy a computer). His best essays – and there are many – are excellent indeed, and his public appearances prove him to be a persuasive speaker. But far too little of that makes its way into this film. We see instead hand-set metal type locked into a chase for platen-press printing, which is how some of Berry's poetry is published, but it comes across, in this context, as too recalcitrant, too precious, and therefore a metaphor for the movie at large. If you're already a Wendell Berry admirer, Look & See may be a pleasant enough diversion; if you're just getting to know the man and his work, look elsewhere.
(B.A. Nilsson, 2/1/18)
[Editor's Note (FWB): A good introduction to Wendell Berry's writings is his novel, Jayber Crow, a Life on the River, a powerful portrait of a fictional barber of a small Kentucky river town, which describes the collapse of a small town way of life, close to nature and its replacement with a new society tied to the rush of the interstate and a system of industrial agriculture heedless of the environment and the past. And check out some wonderful and rare photographs of Wendell Berry illustrating Brian Barth's Wendell Berry Is Not a Prophet which appeared in Modern Farmer (10/23/17).]

Researchers, who analyzed results from the National Health and Nutrition Examination Survey (a program of studies designed to assess the health and nutritional status of adults and children in the United States, which combines interviews and physical examination), have found that daily consumption of hot tea "had a 74% decreased odds of having glaucoma compared with those who did not consume hot tea." The study, Frequency of a diagnosis of glaucoma in individuals who consume coffee, tea and/or soft drinks, published in the British Journal of Ophthamology, also found that there was no association between a diagnosis of glaucoma and consumption of coffee (caffeinated and decaffeinated), iced tea and soft drinks.
The researchers reported that among a total of 1678 survey participants, the overall prevalence of glaucoma was 5.1%. According to the World Health Organization (a specialized agency of the United Nations concerned with international public health headquartered in Geneva), glaucoma affects an estimated 58 million people and is the third leading cause of blindness worldwide (un-operated cataract 35%, uncorrected refractive error 21%, glaucoma 8%).
In this bitter cold winter of 2017-2018, another reason to consider a daily afternoon hot tea time: health benefits for the eyes.
Our tea directory lists nearly two dozen tea companies in the U.S. and Canada that specialize in organic and fair-traded teas. California Tea House included in our listings has a page on its website called Tea Health Benefits 101, All You Ever Wanted To Know About The Health Benefits of Tea, which notes, in particular, that tea has about eight to ten times the polyphenols found in fruits and vegetables and these powerful antioxidants inhibit harmful free radicals.
This tea drinker also has another source for tea: his local food co-op, the Honest Weight in Albany, NY. In addition to organic and fair traded, loose leaf teas, a grocery aisle in the store has nearly two dozen brands of boxed teas.
Consumers should be cautious, however, on what tea to brew up for a hot pot. The Organic Consumers Association (OCA) recently issued a Take Action notice to tell Bigelow, There's Nothing 'Natural" about Monsanto's Roundup weed in my tea. And OCA has filed a lawsuit against R.C. Bigelow, Inc. alleging that glyphosate (the world's most widely used weedkiller) can be detected in some of the company's popular tea products. The focus of OCA's legal complaint is to challenge the labeling of Bigelow's teas as "All Natural" and "Natural" which the non-profit organization claims is deceptive, making the products appear environmentally friendly.
(Frank W. Barrie, 1/26/18)

After crossing the new and visually striking Tappan Zee Bridge, officially named the Gov. Mario M. Cuomo Bridge, over the Hudson River, this highway traveler decided to exit the NYS Thruway at the first exit after the bridge, Exit 10 for Nyack in Rockland County. Relying carefully on the highway signing for Nyack, the zigzagging twists and turns to maneuver around the Thruway and exit ramps eventually led to the main street of this historic river town.
What prompted this extra mileage on a trip home to Albany in upstate New York from New York City was the desire to avoid a rest area stop for a hearty and healthy (and organic) breakfast at True Food on Nyack's Main Street that runs down to the Hudson's western river bank. True Food's motto, Serving Real Food, Made by Real People, was a magnet for this traveler.
Breakfast at this organic restaurant proved to be Exhibit 1 in demonstrating True Food's guiding principle that preparing food is a labor of love and that health, beauty and art can be served on a plate. Its owner/chef Pamela Schulz has described her cooking style, as organic home-cooking, and my Deluxe Breakfast Burrito with two organic eggs, scrambled, Cabot cheddar cheese, organic potatoes, organic avocado and organic bacon was an energizing freshly-prepared meal.
Complimenting the delicious breakfast burrito was a jolt of caffeine from a delicious cup of flavorful coffee made with organic and fair traded coffee beans from Larry's Coffee. 100% of Larry's Coffee is fair trade, shade grown, and organic. Plus on its website, Larry's Coffee notes that its green-o-vated facilities use passive solar construction, active solar systems, radiant floors, zoned heating, composting, and rainwater harvesting to minimize our impact on this awesome planet.
A big wow for True Food's breakfast burrito and Larry's Coffee is in order. WOW!
After this quick hop off the NYS Thruway in mid January, a destination trip to Nyack is on the horizon for the spring, with another meal at True Food and a visit to the Edward Hopper House (hours: Weds-Sun 12:00PM-5:00PM), the birthplace of the famous American painter who spent the first 28 years of his life in Nyack. From his bedroom window, the brochure for the historic home notes that a visitor can witness firsthand the views of Nyack and the Hudson River that so inspired the artist: a terrific way, for sure, to spend an afternoon in the NYC metro area. [True Food, 166 Main Street, 845.480.5710, Breakfast, Lunch & Dinner (Eat-In & Carry-Out): Mon-Sat 8:00AM-8:00PM, Sun 8:30AM-8:00PM]
(Frank W. Barrie, 1/19/18)