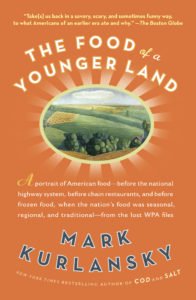 One way to make sense of new/old foods at the farmers market is to find vintage cookbooks with recipes that predate industrial agriculture. Not quite vintage, Food of a Younger Land by Mark Kurlansky (Riverhead Books, member of Penguin Group (USA) Inc., New York, 2009) is a rollicking tour of American regional cuisine before World War II. You can read it for the recipes and insight into cooking when all food was seasonal, fresh, and local. But along the way you'll stop for the deeply satisfying cultural essays on early twentieth century America in all its splendid variety.
Mark Kurlansky, an award-winning (including for literary writing about food from the James Beard Foundation in 2003 for Salt: A World History and in 1998 for Cod: A Biography of the Fish That Changed the World) author, was doing research in the Library of Congress when he stumbled on boxes containing brittle onionskin typescripts from the WPA Federal Writers Project (1935-1939 Federal program which provided employment for historians, teachers, writers and librarians). The manuscripts belonged to America Eats, the unfinished, unpublished successor to the Federal Writers Program's regional guidebook series on historical, cultural and economic resources of the United States. Thankfully this skilled writer took up the challenge of completing the project that was literally stopped in its tracks the day the Japanese bombed Pearl Harbor.
America Eats was conceived by Katherine Kellock as the Federal Writers Project was winding down in 1940. Rather than producing a cookbook, she urged her writers to take an anthropological approach to their regional essays. According to Kurlansky, "She wanted the book to be enriched with local food disagreements, and it included New England arguments about the correct way to make clam chowder, southern debate on the right way to make a mint julep and an absolute tirade against mashed potatoes from Oregon." The book captures the complex tapestry of ethnic food in America, crossed with regional oddities like the Horn and Hardart automat in New York, squirrel Mulligan in Arkansas, Nebraska lamb fries, Oklahoma prairie "oysters" and ten-pound Puget Sound clams.
Kurlansky's introduction outlines the history and controversies of the Federal Writers Project, which brought together and supported such extraordinary talents as John Cheever, Ralph Ellison and Zora Neal Hurston. By 1940, when America Eats was begun, many of the best writers were drifting away and state organizations were thinly staffed. Nevertheless, the project created a treasure trove of writing that Kurlansky has edited and resurrected – recreating first-person accounts of America before the homogenizing effects of postwar modernism. Rather than recreate America Eats, Kurlansky has presented the most interesting essays along with commentary as required.
Following the organization of the Federal Writers Project, The Food of a Younger Land is divided geographically and reads like an anthology, with a mix of signed and unsigned contributions. It is almost impossible to summarize this eclectic stew of regional cooking and social history, so what follows are highlights of some of the essays that captured this reader's attention:
New York Soda-Luncheonette Slang and Jargon translates 153 hash-slinging slang words into plain English: beans might be called whistleberries or repeaters. Nervous pudding is Jello and two cackles in oink is, of course, ham and cheese. While the essay, Vermont Foods, includes recipes for pickled butternuts, cooked greens, cider plum pudding, and sour milk doughnuts, Italian Feed in Vermont tells the story of around 50 Italian widows of stone masons in Barre who offer a traditional Italian meal for pay, making their dining rooms available for guests to eat and relax in until midnight.
Not surprisingly the South is represented by wonderful storytelling and recipes like Sally White Cake from "prominent North Carolinians"– contrasted with Squirrel Mulligan from Arkansas. Zora Neal Hurston tells of the mythical place, Diddy Wah Diddy, where food arrives already cooked and ready to eat. Another writer tells of white-gloved Coca Cola parties in Georgia that are patterned on afternoon teas.
The Midwest features essays on farm food, including a detailed essay, Cooking for the Threshers in Nebraska, which would resonate with farm families across America, and a recipe for Indiana Pork Cake just begging for a trial (ingredients include a pound of finely chopped pork, molasses, raisins, four cups flour, cinnamon and nutmeg). Also prevalent are stories and recipes for community gatherings, such as barbecue, the Kansas Beef Tour (an annual feast day in cow country), and Minnesota Booya Picnic (when the Booya is ready to be eaten, the separate ingredients of oxtails, meaty soup bone, veal, chicken, fresh vegetables, and beans have lost their identity- neither soup nor stew, but something of both to savor under the blue Minnesota sky).
The Far West includes typical Basque (the oldest European culture according to America Eats essayist Raymond Thompson) holiday menus, written by someone with little knowledge of Spanish. There are seafood recipes from Oregon and an essay featuring development of an eggless, butterless recipe for Depression cake. Another features an essay on home brews like milkoline – a mixture of gasoline and evaporated milk, that dubiously promises its drinkers "more miles to the gallon."
Though the Southwest section starts with an essay, Iowa Picnic in Los Angeles, followed by A Los Angeles Sandwich Called a Taco, it also includes some interesting essays on native American cooking and pioneer eating in Oklahoma and Hispanic cooking in Arizona.
Whether you choose to read this book cover to cover or graze the eclectic mix of recipes and stories, you'll come away with a new appreciation of the rich diversity that existed before the landscape was transformed by factory farms, super highways and fast food restaurants. To see how America's culinary diversity has fared since the 1940s, you might check out One Big Table, a portrait of American home cooking by Molly O'Neill.
(Laura Shore, 7/19/17)

"Art for art's sake" (l'art pour l'art) is a phrase that has a long history, summed up very well in a Wikipedia article. In the 19th century, it was a slogan of defiance in the face of those "who thought that the value of art was to serve some moral or didactic purpose" and "that artistic pursuits were their own justification and that art did not need moral justification."
19th Century artist James McNeill Whistler used the words in the context of discarding "the accustomed role of art in the service of the state or official religion." Whistler wrote: "Art should be independent of all claptrap-should stand alone . . . and appeal to the artistic sense of eye or ear, without confounding this with emotions entirely foreign to it, as devotion, pity, love, patriotism and the like."
But now in the 21st century, Swale, a floating food forest built atop a barge, the latest "artwork" of visionary artist Mary Mattingly, challenges Whistler's concern for "claptrap" when an artist's art is not done primarily for art's sake. This "artwork" or "fieldwork," as Mattingly calls it interchangeably on her own website, has created positive change in a neglected city neighborhood by strengthening "stewardship of public waterways and land, while working to shift policies that will increase the presence of edible perennial landscapes" (as noted on Swale's website).
Far from creating "artifice . . . for winning applause or impressing the public," Mattingly's latest "artwork" has resulted in plans in the summer of 2017 to grow food on public land in one of the largest food deserts in the United States. In 21st century America, artwork that has resulted in the expansion of access to public and real (not cheap and processed) food in the South Bronx is a remarkable accomplishment for an "artist."
Swale was launched in the summer of 2016 at the Concrete Plant Park in the South Bronx. In 2000, the New York City Department of Parks & Recreation had acquired an abandoned concrete plant that was operational from the late 1940s through 1987. The abandoned site along the Bronx River in the past few years has seen salt-water marshes re-established on the riverbank and a kayak/canoe launch site created. The 18.1 mile Bronx River Greenway bike path also runs through the unusual urban park.
And one year after the launching of Swale last summer, a visit this July to the floating food forest at the unique city park (a couple blocks away from the Whitlock Avenue elevated subway station on the #6 IRT line), shows the floating food forest (and its herbs, fruits and vegetables) has become a site for the gathering of young adults working with Youth Ministries for Peace and Justice. They share Swale's bounty with folks in the neighborhood and interested visitors, and have plans to plant up newly established vegetable beds in the South Bronx park to grow food in a long-neglected post-industrial landscape.
Also eye-opening, according to Dottie, the welcoming representative of Youth Ministries for Peace and Justice who greeted this visitor, participants in the Swale project have also learned the technology behind filtering the water of the stagnant Bronx River, on which the barge is afloat, in order to water their floating food forest. Swale's slow sand filtration system is one of the oldest forms of water treatment still in use today. Participants learn about standard indicators of water quality: pH, temperature, nutrients (nitrogenous species), dissolved oxygen, salinity, and microbes in order to answer the question whether the water is clean enough for our plants.
Swale's plant community is made up of perennial native fruit trees and plants, and "what's currently onboard" is described in detail on Swale's website by these categories: canopy (beach plum, apple trees, persimmon, etc.), shrub (red raspberry, blackberry, blueberry, etc.), herbaceous (asparagus, anise hyssop, garlic, oregano, lettuce, etc.), ground cover (thyme, oregano, strawberries, etc.), rhizosphere (wild yam, Jerusalem artichoke, etc.) and vertical layer  (hardy kiwi, hops, runner beans, etc.).
Swale may not represent "art for art's sake" but it is indeed inspirational.  And check out Swale's Indiegogo campaign to "keep Swale free and open to the public."
[Swale will remain anchored in the South Bronx at Concrete Plant Park until Sept. 3rd before returning to its off-season home at a marina in Verplanck on the Hudson River in northern Westchester County. Visiting hours are posted on Swale's website.]
(Frank W. Barrie, 7/12/17)
The results of an observational study of 4,310 Irish adults 60 and older (whose lead author, Eamon J. Laird, is a research fellow at Trinity College Dublin) have shown that greater yogurt consumption is associated with increased bone mineral density and physical function in older adults. The study is summarized in a short abstract published by the National Center for Biotechnology Information  (a division of the National Library of Medicine at the National Institute of Health in Bethesda, Maryland) which also includes a link to the full text of the journal article in Osteoporosis International (an official journal of the International Osteoporosis Foundation).
According to Nicholas Bakalar's reporting in the New York Times (Yogurt for Healthy Bones, 5/16/17), researcher Eamon J. Laird noted "that other dairy products did not (emphasis added) produce a similar effect and cautioned that some yogurts are high in sugar." To be assured of quality yogurt, this website's yogurt directory has over 30 listings of farmstead yogurt makers.
As noted by researcher Laird avoiding added sugar in yogurt can be challenging with conventional yogurt producers. Reading labels on yogurt containers is important.
This yogurt fan's almost daily dish of Old Chatham Sheepherding Company's Black Sheep Yogurt is not only delicious (especially with a handful of added walnuts and blueberries), but carefully made. Its label reflects the pride of the maker: "We produce our great sheep's milk yogurt with care on our farm in Old Chatham, New York." Ingredients are plainly listed: pasteurized sheep's milk, L. bulgaricus, S. thermophilus, L. acidophilus, Bifudus [the live and active probiotic cultures]." The label also notes: no added sugars, no stabilizers (naturally thick) and no artificial growth hormones.
A visit to the Old Chatham farm in Columbia County, a short drive from my home in Albany, a couple of years ago on a pleasant spring day, showed one black sheep, which gives the yogurt its brand name, among the herd of Friesian sheep at pasture. Memorable.
(Frank W. Barrie, 7/7/17)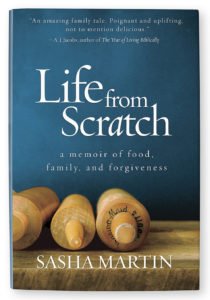 Sasha Martin tells us on page one that this is not the book she meant to write. Life from Scratch, a memoir of food, family, and forgiveness (National Geographic Society, Washington, D.C. 2015) is a beautifully written exploration of love, loss and redemption, but it started as a stunt memoir based on her popular blog Globaltableadventure.com.
Between 2010 and 2013, Sasha Martin, an award-winning food writer, cooked meals from all 195 counties in the world for her picky-eater husband and toddler daughter in Tulsa, Oklahoma. Her engaging prose, coupled with interesting and accessible recipes, earned her a loyal following and press, including an interview with Rick Steves on NPR. More than 650 recipes are searchable on Sasha Martin's website.
But rather than expanding her popular blog into something familiar in book length for her dedicated followers, Life from Scratch details Martin's efforts to make sense of a chaotic and confusing childhood and her struggle to build an adult life of meaning and connection through cooking.
From her perspective as a new mother, Martin tells the story of her own free-spirited young single mother in the 1970s, who connected her and her brother with their larger-than-life, immigrant relatives and with the exciting culinary world of Boston's North End. With empathy she describes her mother's creativity in the face of poverty (doesn't everyone drink cranberry juice on their cereal?), the events that landed the two siblings in foster care, and finally the family friends who rescued them from the court system.
From Boston, Sasha Martin lived in Atlanta, Paris, and Luxembourg before she graduated from high school, never understanding why she'd been taken from her mother in the first place. At one point she writes, "There are mysteries buried in the recesses of every kitchen – every crumb kicked under the floorboard is a hidden memory." And as she gently but persistently pokes at the crumbs of memory in her life we come to realize how difficult it is for children to process the lies and half-truths we invent for their protection.
Aside from the compelling personal narrative and the beautiful writing, it's the family-tested recipes that have earned this memoir a permanent place in this reader's library. Martin includes 29 home-grown favorites along with more exotic fare, but always in a way that enhances the story.
There are her mother's family recipe for Hungarian crepes and Chicken Paprika. There's artisan French bread from her days in Paris, and Torta di Riso from her reunion with her mother in Boston. Graduation from cooking school is marked with directions for making the perfect omelet (it took her 75 tries to get it right).
Sasha Martin's Culinary Institute of America (CIA) training takes her to Tulsa, Oklahoma to work for a company that invents processed foods. Once through her internship and launched in life, she embarks on her world cooking adventure. Rather than source exotic ingredients on the internet, she forages for them in her middle-American city, finding communities and cultures that were hiding in plain sight. And because she's managing a household and a toddler, Martin uses her CIA skills to simplify her recipes and make them accessible to home cooks.
I realized, in reading these recipes, that cooking with local ingredients doesn't mean you're limited to local cuisine. And I'm looking forward to making two kinds of chicken stew, Kabeli Palau (Afghanistan) or Muamba de Galinha (Angola), though I'll skip the baton de manioc made from cassava root, which if prepared inexpertly can give you cyanide poisoning according to Martin.
Sasha Martin is a gifted writer with the ability to make the most intimidating recipes accessible to ordinary cooks. She also faces the world with an open mind and boundless curiosity. Like many of us in America where so few people let roots grow in one place, she craves community but has a hard time making connections in her adopted Oklahoma home.
As she brings her global cooking adventure to a close, she decides to create a world-food event, in which local chefs and home cooks adopt recipes from all the countries in the world, bringing the results to a global potluck to support the local food pantry. She is amazed to meet Tulsa families from Ethiopia, China, Australia, Nigeria, and France. Old friends, new friends, and family come together to build a global table. I can only imagine that Sasha Martin – and Tulsa – will never be the same- with the realization that each bite can be a flash of the past and the present.
(Laura Shore, 7/1/17)
[Editor's Note (FWB): In addition to Sasha Martin's Life from Scratch, a memoir of food, family, and forgiveness, highly recommended (especially for summertime reading) are three other "food related" memoirs: Kirsten Kimball's The Dirty Life, A Memoir of Farming, Food, and Love, Julene Bair's The Ogallala Road, A Memoir of Love and Reckoning and Novella Carpenter's Farm City: The Education of an Urban Farmer.

The New England Journal of Medicine has published a new study on the Health Effects of Overweight and Obesity in 195 Countries over 25 Years (6/12/17), based on a Global Burden of Disease Study (GBD), a collaboration of over 2,300 researchers in 133 countries (of late). A global research program, the GBD assesses mortality and disability from 300-plus diseases, injuries, and risk factors. Funded by the Bill and Melinda Gates Foundation, GBD is based at the University of Washington's Institute for Health Metrics and Evaluation.
The new study on obesity analyzed trend data from 1980 to 2015 from 195 countries (representing the world's population) and concluded that in 73 countries obesity rates at least doubled and in most of the other countries continuously increased. Globally, the problem is staggering: more than 2 billion children and adults suffer from health problems related to being overweight or obese, and an increasing percentage of people die from these health conditions. Dr. Christopher Murray, an author on the obesity study and Director of the Institute for Health Metrics and Evaluation noted the risks for people who "shrug off weight gain" are serious: cardiovascular disease, diabetes, cancer, and other life-threatening conditions. In 2015, 4.0 million deaths were attributed to excess body weight.
Among the 20 most populous countries, the highest level of obesity among children and young adults was in the United States at nearly 13%. Egypt topped the list for adult obesity at about 35%. Lowest rates were in Bangladesh and Vietnam, at 1%. China with 15.3 million and India with 14.4 million had the highest numbers of obese children. The United States with 79.4 million and China with 57.3 million had the highest numbers of obese adults in 2015.
In Matt Richtel's article in the NY Times on the new study, Over 10% of World's Population is Obese, Study Finds (6/12/17), Adam Drewnowski, director of the Center for Public Health Nutrition at the University of Washington, who was not affiliated with the study, noted that "What people eat is the key factor in whether they become obese or not." Mr. Drewnowski added that "It is all very nice to talk about the need to eat less unhealthy foods and more healthy foods" but emphasized that "healthier food often cost more."  According to reporter Matt Richtel, the authors of the study said the growing accessibility of inexpensive, nutrient-poor packaged foods was probably a major factor and the general slowdown in physical activity was probably not.
We would also draw attention to the documentary film Fed-Up, narrated by Katie Couric, which hammers home the point that sugar consumption, with its addictive nature, has spawned the obesity problem. Americans consumed an average of over 130 pounds of sugar during 2012, the most recent year with data available when the film was made.
Of the 600,000 food items sold in America, 80% have added sugar, and these items are marketed worldwide. The World Health Organization (WHO) last year urged global action to curtail consumption of sugary drinks emphasizing that obesity was on the rise. Dr. Francesco Branca, Director of WHO's Department of Nutrition for Health and Development, noted the WHO's recommendation that if people do consume free sugar, to keep their intake below 10% of their total energy needs and reduce it to less than 5% for additional health benefits. He pointed out that a single serving (at least 250 ml) of commonly consumed sugary drinks per day is more that 5% of the average person's energy needs. Moreover, according to Dr. Branca, "Nutritionally, people don't need any sugar in their diet."
In the United States, medications that deal with the effects of obesity, according to reporter Matt Richtel's story, have produced some "good" news: death rates associated with obesity in the U.S. have fallen from 63 per 100,000 in 1990 (the baseline year for this measure) to 61 per 100,000 people in 2015. Nonetheless, another lead author of the study, Dr. Ashkan Afshin, assistant professor at the Institute for Health Metrics and Evaluation, points out that although medications have mitigated somewhat dying because of cardiovascular disease and diabetes, "We cannot have all people on drugs" and "we want to go to the root causes and address the problem of overeating." According to Dr. Afshin, "the food environment . . . seems to be the main driver of obesity."
Permit me to suggest patronizing a bulk foods department at a natural foods co-op and perhaps purchasing a share in a community supported agriculture (CSA) farm. And as Michael Pollan puts it bluntly: Eat food, mostly plants, and not too much. A closing note: Buying food in bulk and participating in a CSA farm, by purchasing a farm share or splitting a share with a neighbor or friend, are actually very economical ways to spend food dollars for healthy and nutritious real food.
(Frank W. Barrie, 6/28/17)