I take to heart the advice of Michael Pollan: notably his short and sweet Rule 82 from his Food Rules: "Cook."  According to Pollan, "Cooking just might be the single most important thing you can do for your dietary health…Cooking for yourself is the only sure way to take back control of your diet from the food scientists and food processors, and to guarantee you're eating real food rather than edible foodlike substances, with their unhealthy oils, high-fructose corn syrup, and surfeit of salt."
And what I like to cook at home for breakfast most days is a bowl of oatmeal prepared with cranberries or blueberries and topped with walnuts, cinnamon and some plain kefir: A perfect home cooked meal to start the day. And in season, strawberry and rhubarb oatmeal is my own special creation with a recipe posted on this website a couple years ago.
I've pondered substituting a bowl of granola and on occasion have substituted Swiss-style unsweetened muesli for the oatmeal. But a bowlful of granola in place of oatmeal? I don't think so: Most granolas include too much added sweetener of some sort. And although I've considered making my own homemade granola without using too much added sweetener, I just don't see the reason to move away from my everyday healthy breakfast of oatmeal.
But homemade granola bars? They wouldn't be a substitute for a healthy breakfast, but instead could be viewed as a treat of sorts in lieu of some other sweet. And a stockpile of granola bars would also be handy for future springtime hikes in the woods as a quick energy boost. Last spring, Parks and Trails NY, on its blog, posted a recipe for Take a Hike Granola Bars, and I've tweaked the recipe to come up with my own recipe for Cherry Almond Granola Bars, with the delicious flavors of tart cherries and coconut to balance the sweetness of the maple syrup and honey used in the recipe. Made with organic and when possible local ingredients, I sourced nearly all of my ingredients from the remarkable Bulk Food department (with its almost 1,000 bins of bulk foods) of my food co-op, the Honest Weight Food Co-op in Albany, NY. I used maple syrup from Sweet Brook Farm in Williamstown (Berkshire County, MA) and local Rulison honey from Amsterdam (Montgomery County, NY). The flaxseed meal sold at the co-op was Bob's Red Mill organic golden flax seed meal.
Homemade Cherry Almond Granola Bars (makes about 30 bars)
2 cups rolled regular (not thick or quick) oats
1 cup dried unsweetened tart cherries
1 cup raisins
3 tablespoon shredded unsweetened coconut
1/2 cup raw sunflower seeds
1 cup chopped almonds
1/2 cup flaxseed meal (for its omega 3 fatty acids and nutritional boost)
1/2 cup maple syrup
1/4 cup local honey
2 tablespoons butter
3 teaspoons vanilla extract
1/2 teaspoon  cinnamon
1/4 teaspoon nutmeg
1/2 teaspoon sea salt
Preheat oven to 350 degrees. Combine in a large bowl the rolled oats, chopped raw almonds, raw sunflower seeds, flaxseed meal. Transfer to a half sheet pan and toast in the oven for 15 minutes, stirring every five minutes.
In a saucepan, combine maple syrup, local honey, butter, vanilla, cinnamon, nutmeg and salt while stirring over medium heat until butter is melted and ingredients are thoroughly blended.
Chop the dried tart cherries and raisins. (I used unsweetened dried tart cherries and the larger sized flame raisins, both from Tierra Farms  and sold in the Honest Weight's bulk food department.) Add the oat mixture and the chopped tart cherries and raisins to the syrup mixture and stir to coat the oats well.
Line a half sheet pan with parchment paper. Spread the granola mixture evenly and press firmly into the pan.
Bake at 300 degrees for 20 minutes. Let cool completely on a rack. Slice into bars. This recipe made approximately 30 tasty and energy boosting granola bars.
(Frank W. Barrie, 3/24/17)
The Perennial Plate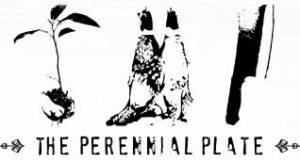 has created more than 150 short documentaries that share the theme of Adventures in Sustainable Eating. A recent documentary produced by the two-time James Beard Award winning online weekly documentary series dedicated to socially responsible and adventurous eating, is perfectly timed for St. Patrick's Day.
Episode 168: Howth, Dublin, with a soundtrack of lively traditional Irish music by Skippers Alley and the sounds of a fishing boat at sea, in little more than six minutes, shares the unique voice of Joe Caufield. The filmmakers note that "this is probably the first film in English that we've had to subtitle: what an accent!"
The filmmakers Daniel Klein, Mirra Fine and Hunter Johnson, went out on Joe Caufield's boat to empty his crab traps. Howth (rhymes with "growth") is a village on the northern extremity of Dublin Bay. As the skillfully made short documentary attests, for generations it has supported a fishing fleet.
These days, however, the fleet is much smaller than in years gone by, a fact acknowledged with wry humour by the skipper, fisherman Joe Caufield.   Noting that fishing is a vocation rather than merely a job, he recalls a fleet of 40 boats, with 200 men working, which is now reduced to less than a half dozen.
The harbor is situated on the Howth peninsula, the northern arm of Dublin Bay and nestles under the summit of Howth Head (location of one of Ireland's oldest working lighthouse, the Baily, whose origins go back to 1665). The Head commands magnificent elevated views over the Bay: its bracing cliff walk is known to be a favorite for Dubliners wishing to shake off the cobwebs. The village itself, at the bottom of the hill and clustered around the picturesque harbor, looks out over an island known as Ireland's Eye.
A trip to Howth from Dublin city is less than 10 miles from the city center and less than 30 minutes on commuter rail, the DART (Dublin Area Rapid Transit).  The Perennial Plate has made it possible to be transported to this beautiful place with an episode spotlighting the life of a fisherman, with deep and practical insight into the economic forces that are threatening traditional livelihoods.
Three modern fishing boats can catch three times the amount of fish that in the past 40 boats with 5 men crews caught. As fisherman Caufield puts it: You could have one millionaire or 30 people with $30,000. Which one is better? Which one does society want?
Joe Caufield, after 38 years of fishing, perhaps was darkly humorous when he states that he doesn't eat fish. The accomplished chef and teacher, Darina Allen, whose wonderful cookbook 30 Years at Ballymaloe was reviewed a couple of years ago on this website, noted that in Ireland in the 1990s when she had her TV series, Simply Delicious Versatile Vegetable, we had a deeply ingrained meat-eating culture…and a very strange attitude to fish.
Darina Allen elaborates: Owing to Irish Catholic customs, Friday was considered by many a fast day; people abstained from eating meat but were allowed to eat fish, if available….Understandably eating fish began to be regarded as a penance rather than a pleasure. She also adds that in the not so long ago past, most of the fish was transported inland by bus or by train and so was often at least a week old by the time it reached its final destination. In her home village of Cullohill (County Laois), when fish arrived on the bus from Dublin on Thursday evening, The choice was limited and generally comprised of whiting, occasionally flounder and a bright, psychedelic-orange smoked haddock.
Times change and Ireland now has become well-known for superb farm to table restaurants and seafood restaurants, with the day's catch served on an evening's menu exemplified by two seafood restaurants (Idás and Out of the Blue) located in Dingle (County Kerry) recently added to our dining directory for Ireland. A small town, with a population of less than 2,000, Dingle now has, in fact, along with Global Village Restaurant (previously listed) three destination restaurants included in our directory. Joe Caufield should be pleased with this development and the growing appreciation of his vocation. And to whet his appetite, we would also recommend to fisherman Caufield (or the cook in his household) Darina Allen's recipe for Roast Fish with Dill Butter and Zucchini. Very tasty.
(Frank W. Barrie, 3/17/17)

SUNY Cobleskill, a four year public college in rural Schoharie County of upstate New York is one of seven technology colleges, which are part of the State University of New York, "the nation's largest comprehensive system of public higher education which offers programs at 64 geographically dispersed campuses."  The School of Agriculture and Natural Resources at SUNY Cobleskill takes pride in offering "one of the most diverse agricultural programs in the United States."
The college's agricultural complex includes a working farm, 14 greenhouses, a 10-acre arboretum, and a 40,000-gallon fish hatchery. And its Culinary Arts Program includes a student operated on-campus restaurant and specialty courses in "farm to table management" as well as pastry courses, meat processing, ice carving and garde manger.
The school has now launched its Institute for Rural Vitality to reimagine education "as a productive collaboration with the community that brings new energy and new growth to our region" according to SUNY Cobleskill President Dr. Marion A Terenzio. The Institute was funded with a $749,000 grant from the United States Department of Agriculture's National Institute of Food and Agriculture, which supports agricultural education, research, and outreach at non–Land Grant colleges of agriculture.
Dr. Jason Evans, associate professor and chair of Agriculture and Food Management at the college, has been selected to serve as director of the Institute for Rural Vitality, which will build on longstanding efforts of the four year public college to "improve quality of life in Schoharie County and the Mohawk Valley region" according to Evans. The Institute is asking the college community  and stakeholders throughout the region to contribute their ideas and energy through one of five centers that address specific opportunities in the region and act as incubators for new growth: (1) Center for Farm and Food Entrepreneurship, (2) Center for Community Advancement, (3) Center for Business Development, (4) Center for Art and Culture, and (5) Center for Rural Legal and Policy Services, a partnership with Albany Law School.
This past autumn, we reported on the third annual Savor Schoharie Valley festival, which celebrated the farms and local food producers in the region to be served by SUNY Cobleskill's Institute of Rural Vitality. We noted that many of the farms and local food producers participating in the festival were also associated with Schoharie Fresh, an on-line farmers market. This new Institute will be certain to share much synergy with Schoharie Fresh, which operates a pick-up site for its customers across the road from the college's main campus.
(Frank W. Barrie, 3/11/17)
Chef Damon Baehrel names as his favorite food – an apple. I find a crisp, slightly tart, juicy apple absolutely irresistible, he writes in his new book Native Harvest: The Inspirational Cuisine of Damon Baehrel (Lightbulb Press, New York, NY, 2016). It's a cookbook without many recipes and a picture book without many finished dishes, but it's first and foremost a testimony to Baehrel's fanatically unique approach to fine dining.
He runs an eponymous restaurant in Earlton (Greene County) in upstate New York, just north of the Catskills and a few miles west of the Hudson River. The place may be the world's most stunning example of farm-to-table cookery, given that most of the ingredients come from Baehrel's own 12-acre property all year round, and are transformed through the chef's ruthlessly innovative systems of wresting the goodness out of the unlikeliest parts of the harvest.
But don't even think about getting a seat at his eatery any time soon. Reservations are backed up for a matter of years, a controversial topic that has netted his restaurant the distinction of being named the world's most exclusive even as disgruntled speculation flies around as to the veracity of so much delay.
I visited the restaurant over fifteen years ago, when it still was evolving towards its present identity, so mine was a more conventional tasting-menu experience. But I have spoken with people who've visited very recently and characterized it as the finest, most innovative meal ever experienced.
There is no Native Harvest manifesto, Baehrel writes. What I do is based on a simple, honest, wholesome, and non-judgmental belief that nature has all the answers, just waiting to be discovered. He credits a lack of culinary training as an inspiration to his inventiveness – which he characterizes simply as being curious and aware of his surroundings, where he witnesses the uncertainty, inconsistency, and surprises of nature.
Native Harvest is a substantial coffee-table tome, generously illustrated (Baehrel is credited with nearly all of the photos), and packed with nuggets of insight into the process of discovering the bounty of your own backyard.
When Baehrel describes his own discoveries, it brings to mind an essay by Bill McKibben titled  A Carefully Controlled Experiment, describing the summer McKibben spent studying a ten-foot-square area of his own backyard, because, he wrote, the best interviews I conducted were with the field biologists, the people who were down on the ground carefully studying the life of these places, finding reasons to save them.
Writes Baehrel: What we consider our lawn is, for the most part, a little soil with rocks of all sizes, and hopefully, something green. But, as one who hammered together his own house, he's tuned into details. He studied the changes of texture and flavor of plants throughout the growing season. He discovered that deer eat certain bits of tree-bark for a brief period in late winter because of the salt content evident only then.
From this grew the use of that bark, alongside the harvesting of sap from various trees (I often serve it chilled instead of water) and the use of cooking planks from felled hardwoods. And thus does the book proceed, from what's abundantly wild to what grows through cultivation, all put to use in his cuisine in creative and surprising ways.
From wild onions and wild asparagus to wild varieties of violet, thyme, carrot, and parsnip, there's a natural bounty at hand, and his special paean to the dandelion notes that one of his several uses of that plant is to cook the dandelion root in a broth made from ironwood and black birch branches, eventually turning it into a sauce for seafood.
You quickly learn that Baehrel is a flour fanatic, milling his own from what's around him – so you might be served a cracker made from dandelion root flour. Roots of wild clover also yields a flour, as well as a concentrated essence distilled from the blossoms.
Both the roots and young shoots of burdock have their uses, as does clover and day lily, and one of the few recipes in the book is a preparation of day lily with wild mushrooms, finishing in a tender stack of alternating layers. The obnoxious, ubiquitous knotweed becomes a stevia-sweetened ice.
He cultivates many different herbs, and will occasionally present guests with a single wild mint flower or leaf between certain courses – not to eat, but to bruise with their hands so they can experience the cleansing aroma before the next course.
Carefully (intelligently) harvested mushrooms figure into many of the items he serves, although his favorite cooking method is to sear or roast them on hot stones or wood slabs.
Not surprisingly, there's an expansive section describing the cultivated plants and vegetables grown on the property, covering all of the familiar ones – among them cucumber, corn, beets, cauliflower, kale, leeks (the tortoise of the onion family – they grow ever so slowly), melon, onions, peas, peppers, potatoes, pumpkins (for pumpkin butter), shallots, spinach, and squash.
But it's not just the carrot itself that he's after. Carrot-water onions, for example, are the result of continuing to cook sauteed onions in a mixture of water in which carrots were cooked as well as some fresh carrot juice.
Or how about smoked carrot with melted cabbage? It's a process of tenderizing shredded cabbage in a smoked carrot stock for several hours. Some form of slow cooking figures in many of the vegetable preparations, such as slow-cooking fennel in concentrated beechwood sap.
Baehrel plants a thousand cloves of garlic – a process after my own heart, although I haven't gotten much beyond 400, and that was a backbreaker. That Baehrel sometimes wraps each clove in a leaf as it's planted, mixing the fanaticism we expect from him with a dose of pure common sense – the cloves need protection and mulching. I'm going to try this. But not with a thousand.
He acknowledges that the fruit he cultivates becomes a food supply for everything living in the area, but that only goes on to help the area. Thus he grows apples, of course, as well as apricots, many types of berry, grapes, pears, plums, and more.
As a culture, we've long separated the savory from the sweet, but Baehrel is aggressively returning those flavor components to the same bed, where they get along quite well, as exemplified by his description of a blackberry-based compote:
I melt wild onion roots for several hours in a maple wood broth with a touch of maple vinegar and let them cool before mashing them in a cold stone bowl. In another stone bowl, I gently mash some blackberries, adding a touch of maple vinegar and sea salt. To finish, I combine the onions and blackberries and add a few additional chopped blackberries for texture. Just a little goes a long way as a condiment.
He makes over three dozen varieties of cheese, embracing the variations that will occur from batch to batch thanks to the vagaries of nature. What better way to end a five-hour meal, he asks, than with a combination of cheeses and my homegrown fruits accompanied by dandelion flour flat breads or clover and acorn flour breads?
He provides a detailed approach to making soft cheeses, and explains that his recipes for hard cheeses include coagulants made from native and wild cultivated plants, roots, and even tree barks.
The section on Native Harvest breads is brief but fascinating, centered around Baehrel's use only of ingredients sourced from his farm, especially his own milled flours. Just creating enough flour to make the bread for our guests is a year-round effort that adds hours to my day every day, since I make it from trees, acorns, nuts, plants, and vegetables.
A section titled Going Native Harvest with Other Foods is where the meats and fish come in. My role is to make every part of the animal as a memorable as possible to celebrate its life while enriching our own lives at the same time.
Here, too, is where you'll find the bulk of the recipes, such as sumac chicken wings (they get a coating of salt and sumac powder), pine needle pork (the meat sits, refrigerated, for five or more days in a coating of pine needle powder and salt before undergoing a further two weeks of pine-needle brining, then poaching the meat in hickory sap), rock shrimp cooked in cherry sap with lemon cucumber seeds; a preparation of clams, hemlock, ostrich ferns, and burdock root; and sycamore sap-brined salmon belly.
Dinner at his restaurant is a five-hour journey through these well-considered courses, but the book may provide a better insight into Baehrel's unique approach by following him around his farmland and learning so many different ways to consider what grows there. It's one thing to live as self-sufficiently as possible; it's quite another to evolve that into a completely original approach not only in using as much of the ingredient as possible but also to turn it into a fine-dining element. May we all learn to look at our backyards in this way!
(B.A. Nilsson, 3/3/17)
Who could have predicted that tart cherries would become a popular remedy for sleeplessness and anxiety in America? Last month, Bloomberg Business Week's Productivity page focused on ways to sleep better in a column by Gayleen Schafer (1/14/17), Get Some Rest!
Schafer's suggestion to enjoy an evening smoothie caught our attention. Referencing Dr. Robert S. Rosenberg, the author of The Doctor's Guide to Sleep Solutions for Stress & Anxiety, she shared a recipe for an evening smoothie with tart cherries noting that they contain melatonin to help you fall asleep and proanthocyanidins to help keep you that way.
And we recently discovered The Cherry Marketing Institute which maintains a website called choosecherries.com that promotes Montmorency tart cherry juice as an anti-inflammatory food that also may help improve the quality and duration of sleep, reduce the severity of insomnia and increase overall sleep efficiency.
According to the Cherry Marketing Institute, Montmorency is the varietal of tart cherry (Prunus cerasus) most commonly grown in the U.S. and Canada on small family farms. The name comes from a valley in the northern suburbs of Paris, France, where tart cherries were first cultivated in the 18th century, but now, more than 94 percent of Montmorency tart cherries consumed in the U.S. are grown in the U.S. About 75 percent of the U.S. Montmorency tart cherries are grown in Michigan, with additional harvests in Utah, Washington, New York, Wisconsin and Pennsylvania. The Insitute also emphasizes that choosing this locally-grown varietal helps preserve generations-old family farms and supports North American agriculture.
With friends sharing anxiety about the political changes and chaos in DC and attendant sleepless nights, there's likely a special need of late to try this easy and tasty remedy. We've tweaked the suggested recipe to focus on the best possible ingredients plus a little dab of local honey.
Sweet & Tart Smoothie With Cherries (makes 3 servings)
1 cup plain farmstead yogurt
3/4 cup unsweetened almond milk
Dozen raw organic almonds
2 teaspoons ground organic cinnamon
1 frozen organic banana
3/4 cup dried organic tart cherries & frozen organic sweet cherries
1 tbsp local raw honey
Directions are simple. Simply blend all the ingredients until smooth. But where discretion enters is the specific brands or sources for the ingredients used.
This organic food advocate started with a new product that appeared recently in the dairy case of the Honest Weight Food Co-op in my hometown of Albany, NY: Siggi's Swedish style filmjolk, non-fat drinkable yogurt. In lieu of 1 cup plain yogurt, I used a cup of Siggi's drinkable yogurt, made with "milk from grass-fed cows" and live active cultures. Not a simple decision since I was tempted to use a cup of Redwood Hill Farm plain cultured goat milk kefir, a mainstay daily ingredient added to my morning bowl of oatmeal.
I have not been a user of almond milk in the past. I've been tempted to give it a try, but the longish list of added ingredients usually put me off the product. But a month or so ago, Califia Farms Unsweetened Vanilla Almond Milk caught my eye in the dairy case at the co-op with its cutesy label: Pssst! CARRAGEENAN FREE. Still, the ingredient list was not simple, but better than others: almond milk (water, almonds), natural flavors, calcium carbonate, sunflower lecithin, sea salt, potassium citrate, locust bean gum, gellan gum. In particular, I was glad to see no added sugar.
The search for frozen tart cherries came up empty at the co-op, so I decided to divide the recipe's required 3/4 cup of frozen tart cherries between organic dried tart cherries from Tierra Farms sold in the co-op's bulk food department and frozen Earthbound Farm organic dark sweet cherries, which were available in the co-op's frozen foods case.
The Honest Weight Food Co-0p was also the source for the Equal Exchange organic banana and raw honey as well as the organic ground cinnamon from its remarkable Bulk Food department with its almost 1000 (yes, one thousand) bins of bulk foods, and herbs & spices. (The Bulk Is Green Council is helping to spread the message about the many environmental and economic benefits of bulk foods, and kudos to the co-op for being a praiseworthy part of this positive trend.)
As a closing note, on a later visit to the Honest Weight Food Co-op after preparing this recipe, I noticed Smart Juice Organic Tart Cherry 100% Juice, Fresh-Squeezed not from concentrate in a grocery aisle. The label trumpeted: A source of Melatonin and Potassium, and included this enlightened commitment: We are committed to a green Earth and utilize wind turbines and solar energy for our juice processing, new fruit trees are planted annually around the processing plant to minimize fuel costs and a water-conserving drip irrigation system is used. Impressive. The bottle of juice priced at $7.99 for 33.8 fl. oz became reasonable given this commitment especially with the realization that a serving of 4 ounces or so (half a cup) would provide boosts of melatonin on 8 or 9 evenings before bedtime at the less eye-catching cost of 88 cents. Also putting this pricing in perspective is the cost of one of the Vermont Country Store's All-Natural Health Tonics: Super Black Cherry Concentrate (fortified with acai, noni, and pomegranate): Proven Help For Arthritis and Gout at $24.95 for a 16 oz. bottle that makes a gallon of "this healthy beverage" when mixed with water or seltzer.
(Frank W. Barrie, 2/24/17)