In Woody Allen's movie Manhattan (1979), his alter-ego protagonist Issac (a divorced television writer) ponders what makes life worth living? Issac's full list: Groucho Marx, Willie Mays, the 2nd movement of Mozart's Jupiter Symphony, Louis Armstrong's Potato Head Blues, Swedish movies, Gustave Flaubert's Sentimental Education, Marlon Brando, Frank Sinatra, those incredible Apples and Pears by Paul Cezanne, the crabs at Sam Wo's, and (perhaps most important for the movie's plot line) his teen-age companion Tracy's face. (Of course, off the movie screen, any such list would have to include clean food, clean air and clean water!)
Nevertheless, Isaac's reference to the paintings of pears and apples by French post-impressionist Paul Cezanne has stuck in my mind over the years. An image on-line of Cezanne's Still Life with Apples and Pears (ca. 1891-92) in the collection of New York City's Metropolitan Museum of Art evidences Cezanne's artistic achievement in depicting apples and pears in oil paints on an artist's canvas. The linked web page for the Metropolitan's image of the Cezanne's still-life also includes an insightful explanation:
Cézanne once proclaimed, 'With an apple I want to astonish Paris,' and he succeeded, even in his most deceptively simple still lifes, to dazzle and delight. Turning to the Provençal apples and Beurré Diel pears grown in the vicinity of the family's estate near Aix, he dispensed with traditional one-point perspective and examined the fruit, plates, and table from various viewpoints—straight on, above, and sideways. 
As a backyard gardener of many decades, this reviewer has long appreciated the magic of digging up a carrot hidden in the soil's richness. And it was a pleasant surprise that Cezanne's paintings of pears and apples, which capture the magic, complexity and  wonder of nature, were included in a movie character's list of what makes life worth living.
A few years ago, the exhibit Art and Appetite: American Art Inspired by Food (curated by the Art Institute of Chicago) with paintings on loan from 25 collections throughout the United States, was shown in Chicago and Fort Worth, and as noted in our review, examined 250 years of American art, from the agricultural bounty of the 'new world' to Victorian-era excess, debates over temperance, the rise of restaurants and café culture, and the changes wrought by 20th-century mass production. A current exhibit, assembled by the Manhattan art gallery, Di Donna, located at 744 Madison Avenue in NYC, complements beautifully this earlier look at depiction of food in art.
The Di Donna gallery's exhibit includes more than 50 pieces of food-themed American as well as European art as interpreted from the perspective of mainly Surrealist artists, who disdained realism and sought to channel the unconscious as a means to unlock the power of the imagination. Much of the art on display is arranged around a dining table. Salvador Dali's assemblage of painted and gilded bronze and mixed media (Buste de femme rétrospectif, 1977) of a nude female mannequin balancing a baguette on her head with two corn cobs hanging around her neck sets the tone. Notes from the gallery's guide to the 53 artworks interpret provocatively this Dali creation as "a direct representation of Dali's investigations into themes of desire, memory, and repulsion." But how to explain Dali's mixed media artwork (Téléphone homard, circa 1977) where a telephone has become a lobster?
René Magritte's still-life (L'Explication, 1962) on a nearby wall of two wine bottles, one in the process of transformation into a carrot, stimulates the mind and contrasts sharply with American artist Wayne Thiebaud's simple watercolor on paper (Cheese and Olive Sandwich, 1964) which transforms a simple sandwich on white bread into "fine art." Other stimulating artwork on display includes food-themed creations by Claes Oldenburg, Man Ray, Giorgio De Chirico, Pablo Picasso, and Marc Chagall. If NYC is within convenient traveling distance, a visit to view this magical show is highly recommended.
A Surrealist Banquet, Mon-Fri 10:00AM-6:00PM (May 11-June 2, 2011) Di Donna Gallery, 744 Madison Avenue, New York, NY
Clicking on the photos illustrating this review will enlarge them for better viewing of the artwork.
(Frank W. Barrie, 5/25/17)

There's a conviction shared by some top Montreal-based chefs to keep food local, explore heritage Canadian dishes and celebrate the fruits of the region's lands and seas, harkening back to the days of Quebec's fur trappers and tree tappers. Au Pied de Cochon (in English, pig's foot or pig's trotters) and Manitoba are two standout restaurants in Quebec (whose motto Je me souviens, "I remember" in English, seems apt for chefs with this commitment), that have become fine dining destinations for meat eating omnivores with a willingness to experience "fine dining" that encompasses delectable wild foods.
Au Pied de Cochon (or PDC as it's referred to in Montreal) and Martin Picard, the founding chef and iconoclastic personality behind it, deserve much credit for Montreal's culinary revolution that looks to local food for inspiration. With steady praise for his cooking (viewed by some as defiantly decadent), Picard has become well known as a chef, well-beyond Quebec's borders. The chef and television personality Anthony Bourdain has called PDC one of his favorite restaurants on the planet. In Canada, Picard is also famous for his Food Network show, Wild Chef, which aired a few years back, that followed him on fishing and hunting trips as he prepared delectable-looking wild game like muskrat, moose, eels and geese in alfresco backcountry kitchens.
Besides a long-standing commitment to using locally grown and raised ingredients (including some, like the restaurant's ham and maple syrup, that are produced on Picard's own farm) and practicing a zero-waste, nose-to-tail philosophy, what stands out most about chef Picard's cooking is a disregard for trend, and he seems not to let anything stand in his way of giving people what he believes to be delicious food. The result is rich, satisfying and unique meals made with a Dionysian embrace of fats and meats. Anthony Bourdain describes the culinary approach in the introduction to the restaurant's 2008 cookbook, as "an ode to all things porky, ducky, fatty and wonderful." Yet even after reading descriptions of Picard's food, I was woefully unprepared for the intensity of the feast that awaited.
On a Friday evening when I visited, the small and warmly lit bistro space was packed to the gills and filled with the tantalizing scents from the open kitchen and the happy sounds of contented diners. Opting for a counter spot earned a slightly faster seating and an excellent perch from which to watch the kitchen staff at work.
PDC's deceptively simple menu forgoes elaborate descriptions for one-word dish names and abbreviations. Thankfully for us neophyte patrons, the restaurant's wait staff are ready to impressively rattle off the long list of ingredients in each dish. As plated entrees flew by inches past my face in the narrow, bustling space, the selection process became more of a ooh, what's that table having? and what are they making over there? than anything carefully thought through.
I decided to start my meal with the exquisitely plated cheval carpaccio. The paper-thin slices of, yes, raw horse meat, were decorated with an abstract, Pollack-like arrangement of thinly shaved mushrooms and parmesan, fresh herbs and small puddles of habañero aioli and dijon. A raw egg yolk and a generous layer of olive oil provided the connective tissue for these disparate elements and lent a thickness to mouthfuls of the leanish and tender meat. I've eaten lots of undulate flesh before, but I'd never had horse. I found it, at least in this preparation to be exceedingly clean, slightly sweet, lacking in any gamey, off notes and even somewhat fragrant. With all the garnishes, the dish was complex but still light and altogether wonderful.
The French settlers of Quebec are one of but a handful of cultures that don't have taboos around eating horse and various cuts and preparations of the meat are available on Montreal menus. There may be no better proof of a meat's quality than carpaccio, which must be meat of the highest and freshest quality. After trying it, I must say that they're onto something. It certainly convinced me.
Next up, I tried the pâte of hare. Drizzled in a creamy dijon aioli and peppered with pistachios, the chunky pâte was amazing. I literally could not help myself from spreading every last bit of its thick, rich lumps on the house-baked crostini spears and greedily chomping down every last morsel. There are few things that I've found as satisfying as that pâte, as balanced as it was with the pistachio's nutty textures, a subtle marsala-like sweetness, hints of garlic, the rabbit's gamey notes and the fattiness of the foie gras (PDC's foie gras is sourced from the local farm producer, Palmex Farm, that Picard and staff routinely visit).
Following that luxurious treat came the most novel dish of the night: the conard en conserve. Also known as the duck in the can, the dish has been a hallmark of PDC for years but is actually a fairly simple preparation of duck breast, cabbage, foie gras, thyme, garlic and balsamic stewed and cooked in the can. When served, the iconic can with its cartoon illustrations, is reheated, opened in front of you by your server, and immediately dumped unceremoniously onto a pile of crostini. The sloppy look of the dish was no disguise for a subtle elegance. Unpretentiously hearty, indulgent and filling, it had big flavors (and the kind of fat content that would make a lumberjack smile and a doctor frown).
The duck meat was succulent, and the sauce was worthy of some serious lip smacking. But after eating a few bites of the smooth and tender foie gras, I felt the initial waves of slipping into the inevitable PDC high-caloric haze. The exceedingly rich and buttery dish was a bit overwhelming for this non-lumberjack.
Luckily, I had ordered an elegant Beaujolais to accompany the meal. The unfiltered, unsulfured and wild-fermented 2014 Old Vines Fluerie from Domaine Marcel Joubert (made from organically grown Gamay grape) made eating my artery-jamming feast a little easier.
After the duck, came yet another extremely rich dish I'd ordered from the daily special menu: a parmentier of foie gras, veal and potatoes served piping hot in a small baking crock. This dish was nothing but unadulterated comfort food. Here, the ever-present foie gras formed a floating layer that melted like cheese above the broth of tender veal strips. It was delicious and its composition reminded me a little of French onion soup. At this point, dessert was simply an impossibility and I was secretly glad that I'd passed on PDC's bigger and even more decadent menu items (that night there was a steak, a burger, poutine, six kinds of foie gras, stuffed pigs feet, snow crab, pork shanks, ham, meatloaf and a salmon head).
Dinner on my second evening in Montreal was a little off the well-worn track for visitors, but Manitoba sparked my interest with its unusual mission statement: We wanted a taste of the forest in our plates, a taste of nature in our glasses, wood, rock, wind. With its focus on hearty and indigenous Canadian game meats and seafood, root vegetables, seasonal local produce, wild-crafted forest foods, organic and biodynamic wines and artful preparations inspired by the sights, flavors and textures of boreal forest itself, Manitoba did not disappoint.
Tucked into a small nondescript brick building on a quiet, nearly deserted block at the industrial edge of Montreal's hip Mile-Ex/St-Zotique neighborhood, right off the far western end of Avenue du Parc, Manitoba has become a popular dining destination. It won Eater Montreal's best restaurant of 2014 just months after opening. It was easy immediately to see at least part of the reason it's gotten such buzz: the space is pretty ideal. You pass through the restaurant's door into a hallway-like entry with a low slatted ceiling and recessed lights. Beyond this dark entryway, the restaurant's tall open main space, with a chic, bare-brick minimalism and focused lighting to create the feeling of privacy in its darkened corners, contrasts with a well-lit open kitchen. And despite the stylish austerity of the décor, Manitoba feels refreshingly welcoming and cozy — something for which the two co-owners, Elisabeth Cardin and Simon Cantin, who also own the local design firm, La Firme, undoubtedly deserve credit. Unlike the bustling PDC, the spacious and relaxed Manitoba is clearly designed as a place for relaxing into an exploratory meal.
After again choosing a seat at the bar in front of the kitchen, I was handed a list of alluring cocktails with fun, punny names like the Cold Fashioned and the Spruce Springsteen. I chose to try one called the Alveole — a rum-based lime spritzer sweetened with intriguing "honey with boreal spices." Rustically garnished with fir needles, rosemary and bee pollen, it was a light and lovely concoction with hints of evergreen and just the right amount of sugar. Another cocktail, the Gin and Jam Sauvage, was a gentle balance of gin, curacao, fresh pepper and tangy sweet elderberry jam (that comes on a spoon ready to be mixed in). Both drinks would make ideal summer refreshments out on the restaurant's back terrace. Settling in with these delicious beverages, I got to watch the kitchen crew prepare my duo of shellfish appetizers from the menu: a whelk with grilled leek served in a thick, smoked egg yolk cream and topped with celery leaf ash, and a creamy clam dish served under baked turnips with buckwheat and garnished with chervil and sumac seeds.
The thick layer of egg yolk cream sprinkled with ash on top of the chunks of whelk was not exactly the most attractive thing to see on a plate but the dish was marvelous. The leek was a bit difficult to chew but it's sweet and mild spring-oniony flavor was a great contrast to the tender whelk's subtle brininess. The dusting of ash added a sharp and smoky complexity and a surprising depth of flavor to the dish.
The clam dish was equally interesting but in a completely different way. Plated like a miniature rocky, scrub-covered island adrift in a chowder sea, my instant affection for the tasty dish required no thought at all. However, the interplay of the tangy, lemony sumac and the delicate herbal anise notes of the chervil made for a delicious taste experience that took my brain several bites to process. The juicy and tender clams in their light, chowder-like base and the typically one-dimensional turnip benefitted from these surprising and curious flavors that brought to mind the fresh and earthy flavors of wild-crafted forest herbs and roots. I also tried a wild prawn roll from the specials menu, which was also plated with leeks and cream. Served sushi style in a roll, the prawn meat was clearly of a very high quality but after the truly revelatory flavors of the whelk and clam dishes, it was somewhat bland.
After the small plate appetizers, it was time for the first of the main course items: the farm-raised Cerf de Boileau venison with mushrooms, potatoes and malt cream, garnished with a sprinkling of wild mushroom powder. First of all, the venison — which comes from a 1000-acre red deer farm in Quebec (the largest in North America), where the deer live what sounds like fairly natural lives — was beautiful to look at. The loin cut was perfectly seared and served steaming from the skillet given my seating in front of the kitchen. The somewhat caramelized sautéed potatoes and mushrooms provided a familiar but unassuming background to the tenderness of the lean, high-quality meat and the sweet buttery-ness of the malted cream melting onto it. But what kicked the already tremendous dish into the stratosphere for me was the potent wild mushroom powder (made, at least in part I was told, with chanterelle and king oyster mushrooms). The flavor is a bit difficult to pin down but the ground-up blend reminded me of something along the lines of brewer's yeast, with its yin/yang of saltiness and maltiness. The powder had serious powers of umami and did an amazing job of bringing out the savory gaminess of the venison and balancing it with the other sweeter and creamier elements on the plate. All in all, it was a tremendously satisfying and mouth-watering.
Nonetheless, the most interesting part of my culinary adventure in Montreal was yet to come. My anticipation had built steadily all night for the rare chance to taste one of Manitoba's very unique specials offered that night: seal.
Seal is a protected animal in Canada but indigenous groups (who have relied on seals as a primary source of food for thousands of years) are still permitted to hunt them and a very small portion of the meat is allowed to be sold commercially during the hunting season. According to the chef I spoke to, Manitoba was only one of five restaurants in the entire city that got any of this meat. And from the looks of the filet they cut from, they didn't have much. Like foie gras, the eating of seal meat has many detractors. But given that this particular meat came from an Inuit hunter during the controlled seal-hunt season rather than from the larger and more controversial commercial seal harvest, I felt extremely lucky to try this rare and unique treat.
Served under a bed of julienned celery root, the morsels of dark, almost black, seal meal appeared to peek out as if emerging from an under-iceberg swim. The vitamin-rich meat has slightly gamey, organ-like flavors of iron and a hint of brine. It's also remarkably soft, with no distinct or tough muscle fibers or fat. It's was actually nearly as smooth as PDC's duck in the can. One of the more interesting aspects of the meat is that it feels a little oily but is actually extremely lean due to the fact that seals store almost all their fat along their skin, separate from their muscles as a means of keeping warm in the cold northern oceans. Manitoba's straightforward preparation of the meat without any added flavors (the celery root only added a clean crunch to the dish) spotlighted its qualities and slightly smoky flavor.
Dessert to complete this perfect meal was a silky chocolate and balsam fir ganache, served with an apple and caramel sauce and bits of granola. The creamy fir-needle-infused ganache turned out to be the ideal pairing for the tangy fall flavors of the apple and granola.
While very different in terms of atmosphere and presentation, both Manitoba and Au Pied de Cochon are great examples of how inventive chefs can use local meats and produce to make an array of flavorful dishes you'd be hard-pressed to find anywhere else in the world.
[Au Pied de Cochon, 536 Duluth Est, 514.281.1114, Dinner: Wed-Sun 5:00PM-Midnight]
[Restaurant Manitoba, 271 Rue Saint Zotique Ouest (at Avenue du Parc), 514.270.8000, Dinner: every night 6:00PM-midnight]
(Matt Bierce, 5/23/17)
[Editor's Note: Chef Picard of Au Pied de Cochon also runs an enormously popular restaurant every fall (reservations fill up months in advance) out of a maple syrup-making cabin on a farm in the Quebec countryside called the Cabane á Sucre, or Sugar Shack. The Cabane has inspired a TV show, Un Chef a la Cabane, as well as a cookbook that traces a year of stories from the restaurant and maple sugar making facility and includes a selection of some of the outpost's recipes. The book won the World Gourmand Award for Book of the Year in 2012.]
The non-profit, local food advocacy organization, Strolling of the Heifers has issued its sixth annual Locavore Index, which ranks the 50 states (plus Washington, DC and Puerto Rico) in terms of their commitment to local food. Seven different data sets, reflecting patterns of local food consumption, were researched and compiled in creating the rankings.
Vermont again tops the list, as it has since the first Locavore Index was compiled in 2012. And this is not the result of any bias of Strolling of the Heifers, which is based just north of Brattleboro in East Dummerston (Wyndham County) in the Green Mountain state. According to Orly Munzing, executive director of the organization, "Of course we're proud that Vermont comes in as No. 1. But our real purpose in compiling the Index is to spotlight local food trends throughout the country and to encourage more efforts in every state to spread the benefits of healthy local foods and strong local food systems."
The top ten (in order) for 2017 were Vermont, Maine, Oregon, Montana, New Hampshire, Washington, D.C., Wisconsin, Massachusetts, Hawaii, and Rhode Island. This year, a map of the United States (including Puerto Rico, shown as an island off the coast of Florida) uses dark green to designate the top ten and black to designate the bottom ten with the weaker commitment to healthy local food. Might this compel states at the bottom of the rankings to seek to turn black to green? No surprise from our experience providing directories of CSA farms, farm to table restaurants and farmers markets that seven of the bottom ten are southern states (with Texas ranked lowest). The bottom ten (in order from the bottom up) are Texas, Alabama, Arizona, Nevada, Florida, Oklahoma, Mississippi, Arkansas, Illinois and Georgia.
The seven different data sets used in the ranking are (1) farmers markets per capita (weighted 10%), (2) CSAs per capita (weighted 10%), (3) farm-to-school participation rank (weighted 15%), (4) food hubs per capita (weighted 5%), (5) direct sales by farmers to consumers (weighted 25%), (6) USDA local food grants (such as Know your Farmer, Know your Food grants and Specialty Crop Block grants) per capita (weighted 20%), and (7) hospitals serving local food (weighted 15%). The state of Vermont was ranked #1 in each category except for farm to school participation where it ranked 9th. The state of Rhode Island was ranked #1 in this category.
For 2017, the number of hospitals that have committed to sourcing food locally, relative to each state's population was a new metric. That information came from the organization Health Care Without Harm, which tracks the number of health care facilities that are purchasing and serving local foods through it Healthy Food in Health Care program, along with its sister organization Practice Greenhealth's Healthier Hospitals Food Challenge.
Martin Langeveld, principal researcher and compiler of the Locavore Index, noted that the hospital data for this year's rankings produced strong upward moves for several states. Among them were Washington (up 5 places), Michigan (+8), Nebraska (+6), Ohio (+8), and California (+8). He also indicated that next year, the organization hopes to add an eighth data set for use of local food by colleges and universities. We would suggest that the Sierra Club's green rankings of colleges and universities for food be referenced. (As we reported earlier, Vermont's Sterling College in Craftsbury Common (Orleans County) was ranked number one by the Sierra Club for food.)
For the current year, less weight was given to the data on the dollar volume of direct-to-the-public food sales by farmers because this data from the USDA's Census of Agriculture has not been updated since 2012. According to the group, more weight will be given to this measure when a new Census of Agriculture takes place later in 2017.
While Strolling of the Heifers is best-known for a weekend of events built around an agriculturally-themed parade, featuring well-groomed heifer calves led by future farmers (that takes place this year June 2-4 in Brattleboro), the group has focused its year-round programs on economic development work in the farm and food sectors, with the specific goal of creating jobs by working to foster small business entrepreneurship.
Need a pick-me-up? Check out the You Tube video created by Caleb Clark of the 2015 Strolling of the Heifers parade.
(Frank W. Barrie, 5/19/17)

The Netflix documentary series Chef's Table, created by David Gelb (director of Jiro Dreams of Sushi, the 2011 documentary film about 85 year old Jiro Ono, considered by many to be the world's greatest sushi chef), is now in its third season. Each episode of the globetrotting show has focused on a single world-renowned chef, including chefs from Italy, Argentina, Australia, Sweden, Brazil, Mexico, Slovenia, Thailand, South Korea, Russian, Germany, Peru and six from the United States. In 2015, it won the award for Best Episodic Series (for its first season) from the International Documentary Association.
The second episode focused on arguably the second most famous farm-to-table chef in the U.S. (after Alice Waters): Dan Barber, who is the executive chef and owner of Manhattan's Blue Hill in Greenwich Village and its sister eatery, Blue Hill at Stone Barns in Pocantico Hills (Westchester County, NY). The literary-minded Barber, who is the author of The Third Plate, Field Notes on the Future of Food (The Penguin Press, New York, NY, 2016) has also garnered much praise for this thoughtful, memoir-like book that sought to define the meaning of ethical and delicious eating.
But it is Dan Barber's two restaurants, famous for astoundingly fresh flavors and innovative preparations on their "grazing, rooting, and pecking" tasting menus of seasonally sourced foods, which likely prompted The Chef's Table creator to choose Barber for the second episode. With a raft of glowing reviews and coveted spots on lists like the The World's 50 Best Restaurants, the restaurants are destinations for lovers of fine food, and the Chef's Table episode on Dan Barber (a short hour's worth of filmmaking that is deeply engaging and satisfying), is a must-see for omnivores mindful of  the food on their plate.
The show portrays Dan Barber as a restless renaissance man, questioning everything on his way to reconnecting farms to forks and building a new American culinary tradition some have called revolutionary. It follows Barber's obsessions with food, farming and inventive cooking — and the life experiences that birthed them — and is filled with candid footage from his work life, personal life and interviews with people who've watched his star rise. The result is a surprisingly intimate portrait of his life, his way of thinking about food that will heal the land and taste good, and, most of all, the determination needed to do all that he has done to become the voice of the farm-to-table movement (as expressed by food critic Ruth Reichl on the show). As the episode weaves together anecdotes of his early life, his culinary background, the operations at his restaurants and his work with farmers, a surprisingly complicated picture of Barber's life and personality emerges.
The viewer gets to see Barber's energetic and groundbreaking approaches to food and farming behind-the-scenes. On display is the dedication and disciplined commitment of one of the farm-to-table movement's standard-bearers in the kitchen and in the fields, idealistically pushing the boundaries of American cuisine and its relationship to farming. On this level, he is an unqualified success. But, as the show makes clear, the life of a creative pioneer is not always smooth sailing.
Barber's career has been shaped and propelled by struggle and personal losses. His mother died of cancer when he was only four years old. This hard loss cast a shadow over his life. As we see his childhood photos and hear his brother describe his love for simple work and learning (and even in his restless manner as an adult), one gets the impression of a young man slightly lost and longing for something. From his childhood, the show fast-forwards to after college, when, during an apprenticeship with La Brea Bakery's Nancy Silverton, Barber was fired for forgetting to add salt to the dough for an 1,800-loaf order (which ruined it all). Later in the show we learn how he almost burned a building down while running an illegal catering kitchen in a Chinatown basement in NYC after returning from a stint working at Maison Rostang in Paris. Barber's struggles pushed him to do better. As he explains in his characteristically self-aware manner, "Failure is very important; It introduces you to an idea that you don't ever want to return to."
It was with these life lessons behind him that, in 2000, Barber and his brother David (whose business expertise was especially noted in The Third Plate), founded Blue Hill as a simple bistro in the NYU student-dominated Greenwich Village neighborhood. Just opening a restaurant in Manhattan and keeping it open is a success. But for someone like Dan Barber who's always looking for new things and new ways to change the world, a simple eatery wouldn't be enough.
The watershed moment for Barber came on a day in 2002. After returning to Blue Hill from a trip to the farmers' market to find fresh asparagus, he discovered that someone at the restaurant had accidentally ordered a huge supply of the vegetable. Surrounded by stacks of boxes of asparagus in his walk-in, Barber says that he just lost it. After getting over his frustration, he decided to make the figurative lemonade by trying something crazy.
For that night's service, he went all in on asparagus and decided to incorporate it into every dish — including an asparagus ice cream. The idea was meant to be something of a one-off joke but, as fate would have it, LA Times food critic Jonathan Gold happened to stop in to the restaurant that night. Barber was horrified. But the joke turned out to be a bold, and lucky, stroke of genius. Gold's subsequent review praised the inventive meal that put the spotlight on a vegetable at its peak season. The review put Barber on the culinary map and the rest is history.
Since that day, he's relied on that same inventive intensity to push his two restaurants to constantly challenge the conventional ways dishes and their ingredients are prepared and presented. The series of fascinatingly plated creations from his restaurants, beautifully filmed, demonstrate the amazing results and include imaginative dishes with evocative and original names, like tobacco-wrapped eggplant on fire, mushrooms cooked in compost and red pepper egg with everything the chicken eats.
But the elegant simplicity of his ingredient-focused dining is, of course, only part of Barber's goal. His sights are set on developing a truly American cuisine that's rooted in regional farm foods. This holistic vision to transform agriculture and develop a diverse and sustainable regional farm economy, driven by health and flavor, undergirds the creation of Barber's culinary wonders because he knows that great meals can only come from great farms. As Reichl notes, "If you don't have good ingredients, you can't make good food — it doesn't matter how good your technique is." And Barber has his own farm to experiment and learn on.
The fertility of the Barber farm had suffered from years of neglect. Livestock was reintroduced to rebuild the farm ecosystem, and the culinary possibilities unfolded. The manure of dairy cows at pasture restored nutrients to the fields that had only been hayed for years. Chickens helped to spread out and break down the manure, and pigs, to root at the forest edge, added to the farm's diversity. Finally, they started raising veal calves (free roaming and kept on their mothers' milk) which inspired Barber's veal tacos with kohlrabi and coriander. Barber soon realized that the ultimate goal was improving the whole system; because when you improve the soil, you improve the grass, which improves the flavor of the milk and the meat, which in turn can lead to great meals. As Michael Pollan says, you are what you eat eats, too.
Barber brings this same holistic and inventive spirit to his partnerships with other farmers. For example, he buys rye from organic farmer Klass Martens' Lakeview Organic Grain in upstate New York's Penn Yan (in the Finger Lakes region) for his breads. In the not too distant past, Martens would routinely turn it under as a cover crop to improve the soils and take it as an economic loss. But Barber believes that if we truly care about healthy food and great flavors, farmers should have an economic incentive to replenish their soils. He's made a point to incorporate the cover crop into his cooking and he hopes other chefs follow his lead.
In another segment on the show, we meet Mike Mazourek, a plant breeder at Cornell, who's been working with Barber to grow new varieties of foods specifically for their culinary applications, including a red pepper with ten times the normal pigmentation (which Barber feeds to his chickens to produce unbelievably red eggs), and a miniature butternut squash with heightened flavors. In an aside that shows how astonishingly far removed farming had gotten from the very concept of cuisine, Barber relates how Mazourek remarked to him that "no one's ever asked me to breed for flavor before."
But nowhere is Barber's work to connect the farm to the table more evident than at the operations of Blue Hill at Stone Barns, where the daily collaboration between chefs and growers, field and plate is as intimate as it gets. The menu at Stone Barns is fully seasonal, based on what's ready from the forests (maple syrup, foraged greens and mushrooms), the fields and greenhouse (greens, vegetables, fruits and roots), the pastures (eggs, chickens, pigs, lambs) and the cellar (pickled and cured goods).
This ever-changing larder diversity is the result of a truly complete farm ecosystem. Having it on hand gives his staff a creative challenge that ensures no two meals are ever exactly the same. Barber explains that the utter purity of the concept based on serving things at their very peak often leaves diners amazed. Tasting peas or carrots, better than any they've ever had before, routinely provides a ha moments — flashes of real and intense flavors from foods once thought ordinary and even bland. And Barber believes those moments are teachable. Once people's eyes are opened to the possibilities of fresh farm flavors, it's natural to want to learn why they'd never experienced them before and begin to wonder what other assumptions they may have wrong. "When you start questioning things, you very quickly get to ethics and responsibilities to the planet."
More than just wowing taste buds, Barber believes showing people this connection is as much an ethical as it is a culinary act. The role of his menu is to "put the pieces back together" for people because, as he sees it, the place where agriculture, the economy, the environment and society can all truly reconnect is on a plate of food. With a business as holistic and a vision as grand as Barber's, you begin to see why he puts so much pressure on himself, why he still puts in long hours in the kitchen and why he brings every ounce of creativity he can muster to each and every one of his dishes. Thriving on the excitement that comes from innovative risk, Dan Barber's words, summing up his passion, reverberate, If you're not about to fail, you're not really cooking — you're not really caring.
(Matt Bierce, 5/8/17)
[Editor's Note (FWB): Dan Barber also recently penned a thoughtful book review of Gary Taubes's The Case Against Sugar, published on the front page of the Book Review section of the New York Times (1/2/17), which has focused attention on a major cause for ill-health in America.]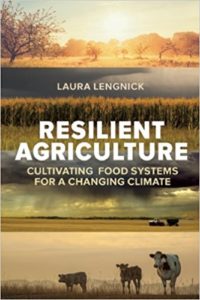 New demands from a dynamic global economy, continued decline in the quality and availability of natural resources, and the unprecedented challenges of climate change are just beginning to take their toll on the U.S. food system. That's the starting point of Laura Lengnick's book Resilient Agriculture, Cultivating Food Systems For A Changing Climate (New Society Publishers, Gabriola Island, British Columbia, Canada, 2015), which she researched and wrote in what seem now like the halcyon days of 2013-14, when the Obama administration's responses to the challenges of climate change had begun to build some momentum, however slow. Now, with the U.S. government taken over by the corporate interests who profit from All Things Unsustainable – to the point of completely denying the irrefutable man-made contributions to global warming – her book takes on more urgency than ever.
Ironically, it argues that we can change our farming ways without governmental assistance, an approach that seemed amusingly maverick until Jan. 20. Now it's absolutely vital if we want to continue to eat well even as the waters rise.
Lengnick visited 25 farmers across the United States, choosing those who had been in that business for at least twenty years, noting that many of them were fourth- or fifth-generation families working the soil.
The Great Plains, for example, is a major source of feed grains and cattle, but higher temperatures and greater rainfall has challenged third-generation Kansas farmer Gail Fuller to move to a no-till approach in order to reduce erosion (and save on fuel costs). He also stopped raising livestock – it was thought that cows "were too destructive to soils and the damage they caused by trampling farm ground couldn't be fixed without tillage," as he explained. But his erosion continued. He blamed that on his focus on corn and soybean production, so he added cover crops, increased crop rotation, and brought back the cattle, with the goal, as Lengnick explains, of "keeping a living root in the ground at all times."
As increased flooding and temperature extremes continue to exact a toll, Fuller relies on a cover-crop cocktail that "keeps the system alive. It keeps the microbial community fat, the earthworms fat." A sidebar offers a USDA-developed Periodic Table of Cover Crops showing the mix of broadleaf, grass, and legumes that can be developed to suit a particular climate, aiming both for the best in-ground diversity as well as a response to herbicide-resistant weeds.
Diversifying crop cover yielded an unexpected result for Tom Trantham, a South Carolina dairy farmer. He has the dubious distinction of being the only remaining milk producer in his county, so bad were the economic vicissitudes of the 1980s. His own turnaround came in 1987, when "One sunny April morning that year, his cows broke through a fence to graze on a mix of ryegrass, clover, and fescue that Tom had left standing because he couldn't afford … to plant a corn crop." His milk harvest that night went up two pounds per cow, and he was inspired to switch his 90-head farm from feed- to pasture-based. His system "is the successive planting of short-lived, seasonally adapted annual crops," that call for "five to seven no-till plantings a year."
Although temperature extremes and catastrophic weather events also plague the northeast, the climate in that area has been volatile even before climate change exacerbated things. Even so, the challenge for Jim and Adele Hayes of Schoharie's Sap Bush Hollow Farm has been to accommodate the increase of dry spells by leasing more land for the livestock – they specialize in sheep, but also raise beef, poultry, and pigs – that they pasture. But their biggest recent problem came with two consecutive hurricanes in 2011 that washed away bridges and knocked out power. They were able to get through with the reserves of feed and generator-powering fuel they had on hand, but have since worked to add solar power and a reserve battery system.
Although the case histories are the heart of the book, Lengnick leads us into them with an illuminating history of the cultivation of plants and animals to help contextualize the stories, further illuminated by economic history. Thus, we can see how increased mechanization and single-crop farming drove profits higher even as it consolidated the industry, marginalizing the small farmers who once were the industry mainstays.
But the unsustainable practices of the corporate giants leave them ill-prepared to deal with drastic changes in weather. Smaller, savvy farmers are better equipped to roll with the punches, provided they're able to see the ramifications of what's ahead. Resilient Agriculture makes no pie-in-the-sky promises, but offers warts-and-all case histories – each of which offers a template for sustainable growth.
Lengnick, herself a farmer, spent a decade leading the program in sustainable agriculture at North Carolina's Warren Wilson College; she also contributed to the third National Climate Assessment as lead author of the USDA report Climate Change and Agriculture in the United States. So she brings a feet-on-the-ground experience to the eminently readable book, rendering even the wealth of technical information in accessible form.
Whether you're a hobbyist farmer or one who's struggling to make a living off of the land, Resilient Agriculture is a necessity – and it's a valuable resource to anyone who wishes to eat more responsibly as well. It will help lead us through the sky-darkening days ahead.
(B.A. Nilsson, 5/1/17)
[Editor's Note: Dr. Laura Lengnick was the keynote speaker at a conference focused on Climate Change and Its Impact on Farming in Central New York, held last fall at the Farmers' Museum in Cooperstown (Otsego County, NY). B.A. Nilsson, who attended the conference (which was the third annual conference in the museum's Celebration of Our Agricultural Community series of conferences) noted in his account, Food and Farm Conference Confronts Challenges Posed by Climate Change (11/11/16), the strategic approaches to managing climate risk articulated by Dr. Lengnick: resistance, resilience, and transformation. Her message was one of hope emphasizing that "we've spent the last forty years building a foundation of ecologically sound sustainable agriculture, tying it in with local economies." FWB]