After crossing the new and visually striking Tappan Zee Bridge, officially named the Gov. Mario M. Cuomo Bridge, over the Hudson River, this highway traveler decided to exit the NYS Thruway at the first exit after the bridge, Exit 10 for Nyack in Rockland County. Relying carefully on the highway signing for Nyack, the zigzagging twists and turns to maneuver around the Thruway and exit ramps eventually led to the main street of this historic river town.
What prompted this extra mileage on a trip home to Albany in upstate New York from New York City was the desire to avoid a rest area stop for a hearty and healthy (and organic) breakfast at True Food on Nyack's Main Street that runs down to the Hudson's western river bank. True Food's motto, Serving Real Food, Made by Real People, was a magnet for this traveler.
Breakfast at this organic restaurant proved to be Exhibit 1 in demonstrating True Food's guiding principle that preparing food is a labor of love and that health, beauty and art can be served on a plate. Its owner/chef Pamela Schulz has described her cooking style, as organic home-cooking, and my Deluxe Breakfast Burrito with two organic eggs, scrambled, Cabot cheddar cheese, organic potatoes, organic avocado and organic bacon was an energizing freshly-prepared meal.
Complimenting the delicious breakfast burrito was a jolt of caffeine from a delicious cup of flavorful coffee made with organic and fair traded coffee beans from Larry's Coffee. 100% of Larry's Coffee is fair trade, shade grown, and organic. Plus on its website, Larry's Coffee notes that its green-o-vated facilities use passive solar construction, active solar systems, radiant floors, zoned heating, composting, and rainwater harvesting to minimize our impact on this awesome planet.
A big wow for True Food's breakfast burrito and Larry's Coffee is in order. WOW!
After this quick hop off the NYS Thruway in mid January, a destination trip to Nyack is on the horizon for the spring, with another meal at True Food and a visit to the Edward Hopper House (hours: Weds-Sun 12:00PM-5:00PM), the birthplace of the famous American painter who spent the first 28 years of his life in Nyack. From his bedroom window, the brochure for the historic home notes that a visitor can witness firsthand the views of Nyack and the Hudson River that so inspired the artist: a terrific way, for sure, to spend an afternoon in the NYC metro area. [True Food, 166 Main Street, 845.480.5710, Breakfast, Lunch & Dinner (Eat-In & Carry-Out): Mon-Sat 8:00AM-8:00PM, Sun 8:30AM-8:00PM]
(Frank W. Barrie, 1/19/18)

We have long admired and supported the Cornucopia Institute, which advocates for sustainable and organic agriculture. The non-profit organization's research and investigations on agricultural and food issues provides needed information and guidance to family farmers, consumers and other stakeholders in the good food movement. Backing ecologically produced local, organic and authentic food, the Cornucopia Institute has demonstrated a doggedness in its support for family-scale farming.
Last week we posted a recipe for Spinach and Smoked Chicken Gratin from Tracey Medeiros's new cookbook,  The Vermont Non-GMO Cookbook, 125 Organic and Farm-to-Fork Recipes from the Green Mountain State (Skyhorse Publishing, New York, NY 2017). The various ingredients, purchased at the Honest Weight Food Co-op in Albany, New York to prepare the tasty dish, were carefully noted including the two Smart Chicken organic chicken breasts.
Coincidentally, a day or two after posting the recipe, we received a press release from the Cornucopia Institute concerning widespread fraudulent activity on factory farms producing organic meat, milk and eggs in 14 different facilities, including Smart Chicken in Tecumseh, Nebraska.
Noting that one picture is worth a thousand words, the Cornucopia Institute also shared a photo gallery of aerial flyovers of Smart Chicken's facility in Nebraska. And it included a link to its formal complaint against the Certifier who approved the Smart Chicken factory farm operation (consisting of 40 broiler houses with its half million birds) as meeting organic standards. In this instance, the Iowa Department of Agriculture served as the Certifier of Smart Chicken's status as an organic producer.
This timely information from Cornucopia prompted a follow-up visit to the meat department at the Honest Weight Food Co-op to determine what other organic chicken might have been available for purchase instead of Smart Chicken's factory farm chicken. A sign in the meat department noted that All of our poultry is raised humanely, without antibiotics or hormones and allowed to roam freely (emphasis added), reassuring if accurate.
In addition to the Smart Chicken skinless chicken breasts (a pricey $12.99 per pound) in the refrigerator case, other possible options were Misty Knoll Farms chicken breasts with skin ($9.99 per pound), and Freebird skinless chicken breasts (at the least expensive $6.99 per pound). Based on price per pound, the Freebird brand chicken was the cheapest.
Given the Cornucopia Institute's investigation, it makes good sense for the consumer to choose the Freebird brand instead of the Smart Chicken and save on the significant $6.00 per pound pricing differential while doing so! Another option, more appealing to this good food movement advocate, was the whole bird ($5.29 per pound) from the family-scale farm, Feather Brook Farm in Fort Plain (Montgomery County, NY). However, Feather Brook Farm has no presence on the internet to confirm its agricultural practices. Nonetheless, why not consider purchasing a whole bird raised by a small family farm you know and trust? In a few minutes time, the bird's breasts could be separated for use in the tasty Smoked Chicken Gratin recipe. And the consumer could also cook up a delicious chicken soup with the rest of the bird! Why not slow down a tad, and enjoy better food while supporting, in Cornucopia Institute's terminology, the authentic good food movement.
In season, this shareholder in a CSA (Community Supported Agriculture) farm is able to purchase pastured chicken from the family-scale Roxbury Farm in Kinderhook (Columbia County, NY). And another alternative is to use Eatwild's  directory of more than 1400 pasture based farms in the United States and Canada (producing products including chicken, turkey, beef, pork & lamb) and which raise their livestock on pasture from birth to market and actively promote the welfare of their animals and the health of their land.
Appreciation to the Cornucopia Institute for prompting this re-examining of the way to know where your chicken comes from. Consumers, concerned about supporting the good food movement and family-scale farms, should be aware that the USDA certified organic label is often insufficient for meeting that personal value.
(Frank W. Barrie, 1/9/17)

[Editor's Note (FWB): We previously posted an appreciative review of cookbook writer Tracey Medeiros's The Vermont Farm Table Cookbook, 150 Home-Grown Recipes from the Green Mountain State (The Countryman Press, Woodstock, VT, Distributed by W.W. Norton & Co., New York, NY, 2013), which our reviewer noted was a collection of 150 carefully curated recipes, featuring a wide range of styles, ingredients, and influences, from some of the best farmers, restauranteurs, chefs, and purveyors in Vermont. So we were pleased to receive a copy of Medeiros's just published follow-up cookbook, The Vermont Non-GMO Cookbook, 125 Organic and Farm-to-Fork Recipes from the Green Mountain State (Skyhorse Publishing, New York, NY 2017). And she generously gave us permission to share a recipe from her latest cookbook.
Our graphic designer, Ed Stevens of Brownstone Graphics, who is a fine home-cook, had the pleasure of choosing a recipe to share with our readers. He chose a recipe that proved somewhat challenging, since Ed decided to learn how to smoke chicken, an ingredient needed to prepare Cedar Cicle Farm's Spinach and Smoked Chicken Gratin, one of the 125 recipes featured in the new cookbook from Tracey. Below, Ed describes the process of smoking chicken in his write-up of the meal he prepared for his family. Other than the smoking process (which took Ed 2.5 hours), Alison Baker, former kitchen manager and chef at Cedar Circle Farm & Education Center, notes that it is an easy and delicious recipe that can be mixed in a single dish and baked up hot to serve alongside tangy winter greens for an easy supper.]
While thumbing through the hefty just published cookbook, The Vermont Non-GMO Cookbook, 125 Organic and Farm-to-Fork Recipes from the Green Mountain State (Skyhorse Publishing, New York, NY 2017), I was resolved to find something hearty and interesting to make for my entire family, a teenage boy and his younger brother included. The cookbook is expansive and hits all the marks from breakfast recipes to sandwiches, soups, vegetables, entrees, drinks, desserts and more. Eighty-four Vermont farms, producers and eateries are the sources for the appealing recipes. The photography in the book is very well done (mostly by Oliver Parini, but also from ten other photographers) and motivates the home cook to test his culinary skills and match the depicted dishes.
It wasn't long before I decided to prepare the recipe for Spinach and Smoked Chicken Gratin from the Cedar Circle Farm & Education Center, which sits along the Connecticut River in East Thetford (Orange County), Vermont despite my prior lack of experience in smoking poultry. But enduring frigid, single digit temperatures in the final week of December 2017 in the Albany area of upstate New York, a dinner for my family with smoked chicken prepared over a hot charcoal grill, spinach and melted cheddar cheese seemed perfect.
Ingredients
1 tablespoon olive oil
1 yellow onion, peeled and chopped
2 garlic cloves, peeled and thinly sliced
5 cups loosely packed baby spinach
1 cup sliced smoked chicken
1 cup sour cream or creme fraiche
1 teaspoon fine sea salt
1/2 teaspoon freshly ground black pepper
3 large russet potatoes, peeled and sliced into 1/8 inch-thick circles
2/3 cup half-and-half
1/2 cup shredded cheddar cheese
Preheat the oven to 375 degrees Fahrenheit. Lightly grease an 8-by-11-inch baking dish. Set aside.
Heat the oil in a large skillet over medium heat. Add the onion and cook, stirring occasionally until soft and translucent, about 10 minutes. Add the garlic and cook, stirring frequently, for 1 minute. Transfer to a large bowl and mix in the spinach and smoked chicken until well combined. Stir in the sour cream, salt and pepper, mixing until well combined.
Arrange a layer of the potatoes evenly on the bottom of the greased baking dish, overlapping the slices. Spread some of the spinach mixture over the top. Continue layering the potatoes and spinach mixture, ending with the spinach mixture. Carefully pour the half-and-half over the spinach mixture; it should just rise up the sides but not cover the potatoes. Sprinkle the cheese over the top. Bake, uncovered, until golden brown and bubbly, about 35 minutes. Remove the oven and allow to rest for 10 minutes before serving.
I shopped for the necessary ingredients in the produce, dairy and meat departments of the Honest Weight Food Co-Op in Albany. With fresh spinach unavailable in the deep freeze of winter, I opted for frozen organic spinach from Earthbound Farms, sour cream and half and half from Byrne Dairy in Lafayette (Onondaga County), NY, and cheddar cheese from Maple Hill Creamery in Kinderhook (Columbia County), NY. I used organic Smart Chicken chicken breast.
I had to learn how to smoke the chicken in my Weber charcoal grill. This meant going into the back of my shed to uncover the grill, packed up for the winter. Thankfully, I still had an unused bag of charcoal briquettes in late December and prepared the grill for indirect heating/cooking (not cooking directly over the briquettes) and fired it up. Although chilly outside, the smell of the charcoal smoke made it feel a bit warmer out. Then I soaked some mesquite hickory wood chips in some water for about 20 minutes. Before adding the chicken, I added the water soaked chips to the hot coals and began the smoking process. I added the chicken breast to the indirect heat section of the grill, covered it, and in 2.5 hours the internal temperature of the chicken reached 165 degrees. I set aside the chicken and began to assemble the other ingredients.
The onion cooked up nice in a cast iron skillet as did the garlic. I added that to the frozen spinach, sour cream and salt and pepper. The chicken was sliced and added to the mixture. The potatoes were cut uniformly at 1/8″ and I layered as instructed with the potato slices on the bottom, the mixture and repeat. I was able to create 3 layers in my cooking dish. I finished off the top with the half and half and then the cheddar cheese.
After 35 minutes at 375 degrees I took out the dish, but found that the upper layer of potatoes hadn't completely cooked. I put the dish back in for another 20 minutes, let it stand for 10 minutes and served it. Overall, we found that it was a unique dish with awesome flavors. The flavor of the smoked chicken gave the dish a very rustic, outdoorsy feel, and the sharp cheddar cheese blended nicely with the spinach and potatoes. But when I make this again, I will cut the potatoes a bit thinner for a crisper texture. A delicious dish that prompted second servings, and leftovers will be thoroughly enjoyed for lunch.
The process of preparing this meal took some time given the smoking of the chicken, but it was rewarding and also educational. It will be a fun decision to select another farm-to-fork recipe to prepare for a home-cooked family dinner from Tracey Medeiros's new cookbook.
(Ed Stevens, 1/3/18)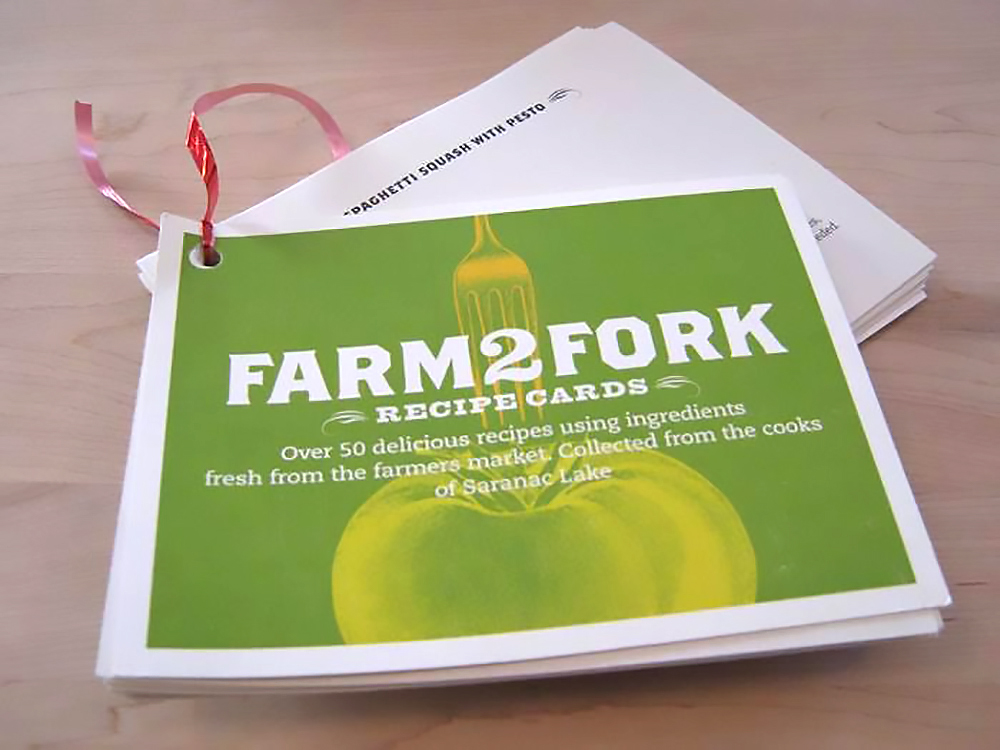 As 2017 winds down, we're nearing the 8th anniversary of this website and we remain hopeful that more of our users and readers in the new year will take the step (1) to participate in  a CSA (Community Supported Agriculture) farm or (2) commit to shopping for their food at a farmers market with the goal of developing a relationship with a particular farm or farms committed to agricultural methods that are good for the land and the economic vitality of a particular local community.
Our mission statement spotlights these concise words of the Kentucky farmer and writer, Wendell Berry, Every time you make a decision about food, you are farming by proxy. And we share Berry's praise for people who have not given proxies to the corporations to produce and provide all of their food. Joining a CSA farm or developing a relationship and familiarity with a particular farm that sets up a stand at a farmers market are two excellent ways to join the growing good food movement.
And participating as a member of a CSA farm or by weekly shopping at a particular farmers market can also result in a feeling of belonging to a community. Moreover, to be able to pinpoint on a map where much of your food comes from provides a rootedness that too few Americans in our modern society of consumers can experience.
A Christmas gift received last week, which prompted this pondering, demonstrates the community building aspect of shopping regularly at a particular farmers market. A collection of loved recipes from really good home cooks in the Saranac Lake, New York community, who give thanks to the farmers of the Saranac Lake Village Farmers Market, were put together by the Adirondack Green Circle for a Farm 2 Fork Festival in the mountain town in upstate New York's Adirondacks. Printed on sturdy index cards, they fit easily in a recipe box or an index file card box (the possibilities for something unique to hold the cards can be found on an Etsy page that has a surprising range of options).
This project of the Adirondack Green Circle can be an inspiration for other local food communities, rooted in a farmers market or a CSA farm. Nourish the body with good food and wonderful recipes and build community while doing so!
(Frank W. Barrie, 12/29/17)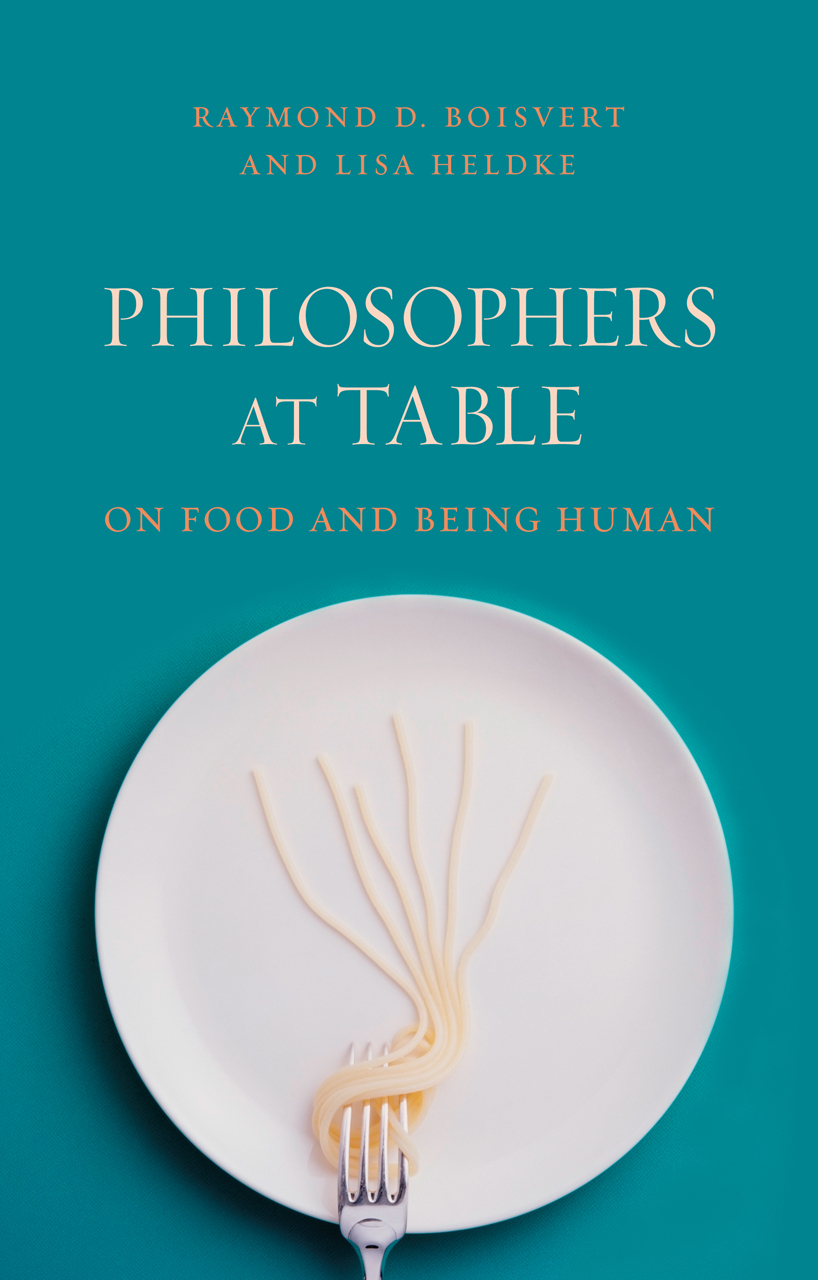 I'll admit to skipping over the philosophy section when browsing bookstores. On the book buffet, philosophy sits there next to seitan or black-eyed peas – virtuous, yes, but surrounded by more enticing, tastier options. But Philosophers at Table, On Food and Being Human (Reaktion Books, London, UK, 2016) by two American professors of Philosophy, Raymond D. Boisvert of Siena College in the Capital Region of upstate New York and Lisa Heldke of Gustavus Adolphus College in St Peter, Minnesota is a welcome surprise.
To continue the buffet metaphor, this book is kale salad with quinoa, sweet potatoes, and pepitas — bright and packed with ideas but readable and not densely written. The authors set out to challenge the common separation of soul and body, a central theme of modernity with roots in the Enlightenment. It's a big project in a small book packed with sparkling prose and new ideas.
After explaining why food matters as a point of philosophical inquiry, the professors go on to explain why reading philosophy matters. They draw the unexpected comparison of philosophy to plumbing. Like plumbing, philosophy is a system of ideas that enable our world to work:
Philosophical plumbing shapes the ways we encounter and interrogate our world. It circumscribes what we count as valid and invalid questions, but often goes unnoticed…. It shapes the very questions we are able to ask and virtually guarantees the problems we will encounter.
In the authors' view, the plumbing of categorical thinking is faulty and needs to be re-examined and repaired. Once food is placed in the center, as a legitimate object of inquiry, new insights flow freely.
We begin to see how either/or thinking has created false dichotomies that alienate us from our bodies, our communities, and the natural world:
Thinking about inquiry via tasting (emphasis added) shifts our attention from the (disembodied) mind or even the (utterly embodied) brain as the seat of all knowing. It invites us to experience our bodies as inquiring, investigating, analyzing entities.
In other words, we are not purely rational beings, viewing the world through a plate glass window. We are complex biological creatures who experience the world through all of our senses.
The book is structured like a seminar for smart undergraduates, with chapters on ethics, aesthetics, epistemology, and metaphysics. There is so much richness here. John Dewey, Kant, Hegel, Descartes, Rousseau, Aristotle, Derrida, and Homer, along with many others, are introduced and provide pathways to further study.
I was especially drawn to the chapter, Hospitality is Ethics, which begins simply enough with the dinner party conundrum:
Is it the responsibility of the host to accommodate eating preferences of guests or should the guest be willing to eat what's served to them?
Moving on from that fundamental question, the meaning of guest and host is explored in terms of soil and farming, assimilation and diversity. Eventually we come to Derrida's more complicated view of ethics:
Hospitality is ethics. Hospitality as a virtue urges us to combat complacency. It motivates us to seek connections and, yes, entanglements. The Homeric emphasis on gift exchange identifies one important move in mutual entanglement. Guests themselves are like gifts. They bring something new and valuable by their very presence. So too do they bring complications, perhaps discomfort, and certainly the need for patience….Both guest and host become indebted to each other.
We live in complicated times and this book provides useful and hopeful context for finding a new path forward. By accepting nourishment as a central aspect of our humanity, we see the value of both the farmer and the communal table in breaking down barriers between people and in allowing us to understand ourselves in a more integrated way.
By exposing the creaking plumbing of categorical thinking that undergirds many of our simplistic either/or notions, Boisvert and Heldke help us realize that self-sufficiency is insufficient when it comes to rebuilding community, reintegrating agriculture into culture, and our species into nature. A philosophy that starts with food may just be the way to break down the real and perceived barriers that we have erected between our mind and body, between ideas and between each other, with the overlapping and interconnection of people and ideas demonstrated.
Philosophers at table do not stand apart from the world in the words of Boisvert and Heldke, instead, they are engaged participants whose interactions are naturally thankful and thoughtful. And the ultimate question the professors ask, "How are we needy beings to eat?" leads to an answer, much in harmony with the rich analysis of Wendell Berry's critique of industrial agriculture: hospitably, with the full knowledge that our lives quite literally rest upon the lives of myriad others. Hunger, and the need to satisfy it, encourage thoughtful planning, careful husbandry and concern for consequences.
(Laura Shore, 12/22/17)