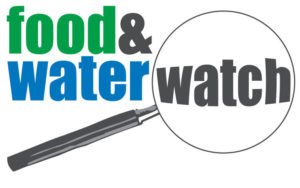 Pending mega-mergers between (1) Monsanto-Bayer, (2) Dow-DuPont & (3) Syngenta-ChemChina represent "shocking consolidation in the biotech seed and agrochemical industry" in the words of Wenonah Hauter, the Executive Director of the Food and Water Watch. Along with eight other groups (Sierra Club, SumofUs, Pesticide Action Network, Friends of the Earth, Center for Food Safety, Organic Seed Alliance, Rural Advancement Foundation International and Clif Bar Family Foundation/Seed Matters, Food and Water Watch has submitted petitions signed by 708,000 people urging the U.S. Department of Justice and elected officials to block these mergers which would further consolidate the market for seed and agricultural chemicals.
In the words of Alexander Rony of the Sierra Club, the Monsanto-Bayer merger would result in one corporation controlling "both the seed and pesticide markets- it's the fox guarding the hen house."  Andrew Kimbrell, Executive Director of Center for Food Safety sums up the danger: "The continuing consolidation of seed and pesticide companies essentially creates a monopoly of toxicity in control of the world's seed market and food supply."
A hearing has been held before the U.S. Senate Judiciary Committee on the Consolidation and Competition in the U.S. Seed and Agrochemical Industry. Five of the nine witnesses who testified before the Committee are representatives of these mega corporations seeking further consolidation of the market for seeds and agricultural chemicals: James C. Collins, Jr., Executive Vice President, Agriculture Division of DuPont; Tim Hassinger, President and CEO of Dow Agro Sciences, Erik Fyrwald of Syngenta International, Jim Blome, President & CEO of  of Bayer CropScience North America, Robb Fraley, Executive Vice President and Chief Technology Officer of Monsanto.
Click here to obtain contact information for your Senator
and voice your opinion. The 18 members of the Senate Judiciary Committee: (
Republican majority
) Orrin G. Hatch (UT), Jeff Sessions (AL), Lindsey Graham (SC), John Cornyn (TX), Michael Lee (UT), Ted Cruz (TX), Jeff Flake (AZ), David Vitter (LA), David Perdue (GA), Thom Tillis (NC); (
Democratic minority
) Dianne Feinstein (CA), Charles Schumer (NY), Dick Durbin (IL), Sheldon Whitehouse (RI), Amy Klobuchar (MN), Al Franken (MN), Christopher A. Coons (DE), Richard Blumenthal (CT).
(Frank W. Barrie 9/20/16, post updated on 9/21/16 with testimony downloadable from the U.S. Senate Judiciary Committee's website by clicking on the link)
Mary's Restaurant, located at the Inn at Baldwin Creek in Bristol, Vermont (Addison County) features an eye-catching blurb of approval on its website from Vermont Magazine: "A visit to Vermont and missing Mary's is like visiting Paris and missing the Eiffel Tower. . ." A proud farm-to-table restaurant since 1983, Mary's Restaurant sources its food from its own on-site farm as well as other small, local farms.
One of the founding members in the mid-90s of the Vermont Fresh Network, this praiseworthy farm-to-table restaurant is also a proud member of Slow Food Vermont and represented Vermont chefs at Slow Food's Terra Madre conference in Turin, Italy in 2006 and 2010. In 2013, Mary's Restaurant was awarded the coveted Slow Food Snail of Approval designation.
Our contributor, Lucas Knapp, had the pleasure of enjoying a late summer pig roast at the Red Barn at Mary's Restaurant and shared his good fortune to be "a foodie in the Green Mountain State at this bountiful time of year" with his review of this special "happening." On its website, Mary's Restaurant has a tab for "Happenings" and upcoming events include Mad River Distillers Cocktail Dinner on Oct. 15 (a four course dinner co-hosted with Neil Goldberg, Mad River Distillers Burlington Tasting Room Manager with each course featuring a different Mad River cocktail) and Pie Cooking Class With Anne Collins, a baker and cookbook author, on Nov. 5.
(FWB)
Here's Lucas Knapp's spirit-raising review of the pig roast:
The Barn at the the Colonial-style Inn at Baldwin Creek, home to Mary's Restaurant, was the perfect location for a farm-to-table buffet featuring a roasted pig from Whistlepig Farm in Shoreham, VT and a complementary whiskey tasting.
And what a delightful pig roast it was!  Pulled pork sandwiches and sparkling house-made sodas greeted us along with the friendly event coordinator, who pointed us toward the barn buffet and bar with a smile.
My partner assisted early-on in the whiskey tasting by enjoying a splash in her soda. She also received a trio of coins for the complementary whiskey cocktails to come, each featuring WhistlePig 10 rye whiskey: Philadelphia Fish House Punch, combining  dark rum, cognac, peach brandy, lemon-oleo-saccharum (oil extracted from citrus peel), black tea, lemon, and pineapple; Burning Down the House, with Mad River Distillers vanilla rum, dark rum, ginger liqueur, lemon, watermelon juice, black tea, and simple syrup; Alexander at Your Service, the bartender's clever take on a Brandy Alexander layering WhistlePig's rye with cognac, crème de cocoa, and vanilla bean-cinnamon infused milk. The drinks were enticing even for a non-whiskey drinker!
Not to be distracted, we made our way to our seats so as to dig into the pulled pork sandwiches stacked high on mini brioche buns and accompanied by a little pickle spear.  The barn was set up for a feast.  One long table ran the length of the left wall, and several round tables lined the right.  In the middle lay a buffet complete with a clambake, featuring local Vermont crawfish from the Vermont Crawfish Co. in Rutland, VT and Wellfleet Shellfish Co.  clams and mussels, a generous platter of grilled sausages and scrumptious mustards, steaming mac n' cheese, buttery cornbread, sweet and salty baked beans, crispy coleslaw, salad with fresh garden greens from Mary's on-site farm, grilled chicken, and, of course, slices of spit-roasted pig.
We savored the pulled pork sandwiches before grabbing fresh plates and piling them up with our choice selections. My favorite were the sausages: a variety of plump, juicy wursts, kielbasas, and other North Country Smokehouse meats piled high, waiting to be dipped into the tangy mustards alongside—one yellow, one purple, both delicious! The dinner smorgasbord was followed by a generous portion of Summer Berry Shortcake, featuring raspberries from Mary's and blueberries from local farmer Ken Thiebauld.
Throughout the evening my partner sampled the drinks, most enjoying the refreshing watermelon of Burning Down the House.  WhistlePig's Steward of the Brand, Larry Swanson, led a game of trivia that left everyone laughing and gave a few folks some fun prizes to take home, not the least of which was a big bottle of maple syrup—Vermont's most famous and delectable sweet treat.
The summers in Vermont are ripe for this sort of shindig. In an area of the Northeast particularly savvy about their local land use, the farm-to-table food movement has been strongly welcomed with the help of places like Mary's, who regularly patronizes small enterprises like Big Basin Farms (owned by former Mary's staff Michelle Boucher and Jason Shepard) and Last Resort Farm. I even had the pleasure of dining across from local food entrepreneur, Francie Caccavo of Olivia's Croutons, and her friends, whose son we had met at The Stampede, a local fundraiser for cystic fibrosis.
Whether it's divine providence or small town coincidence, it's easy to see how tight-knit community provides ample support for the farms lining the country roads. Corn, tomatoes, potatoes, salad greens, peas, and berries parade across brightly colored signs in every town driven through, and Vermont cheeses are something right out of heaven. Check out the extraordinary number of cheesemakers included on the Vermont cheese trail. [Mary's Restaurant, 1868 North 116 Road (just north of intersection with Drake Woods Road), 802.453.2432, Dinner: Weds, Thurs & Sun 5:00PM-8:00PM, Fri & Sat 5:00PM-9:00PM, Brunch: Sun 10:30AM-2:00PM]
(Lucas Knapp 9/16/16)
Sterling College in Craftsbury Common, Vermont, one of only eight federally recognized work colleges, earned an impressive 46.00 out of a possible score of 51 in Sierra Magazine's 2016 Cool Schools ranking in the food category to lead the list of 201 "four-year, degree-granting undergraduate colleges and universities in the United States." The top ten colleges for food include institutions, large and small, in rural and urban areas:
| | | |
| --- | --- | --- |
| Rank | School | 51 (Possible Score) |
| 1 | Sterling College (Craftsbury Common, VT) | 46.00 |
| 2 | California State University, Fullerton | 42.00 |
| 3 | Columbia U (NYC, NY) | 41.97 |
| 4 | Stanford (Palo Alto, CA) | 40.54 |
| 5 | Carnegie Mellon (Pittsburgh, PA) | 40.40 |
| 6 | Chatham Univ (Pittsburgh, PA) | 40.31 |
| 7 | Guilford College (Greensboro, NC) | 39.40 |
| 8 | Brown University (Providence, RI) | 39.12 |
| 9 | Portland State U (Portland, OR) | 38.73 |
| 10 | Unity College (Unity, ME) | 38.60 |
Sierra's "Cool Schools Scoring Key 2016" includes nearly 70 thoughtful and detailed criteria underlying the "scoring basis" and the number of specific points obtainable for each criteria. The possible score of 51 in the food category was based on these criteria: (1) 30 points, food and beverage purchasing policies, with institutions earning 1/3 of available points (10 points) by calculating the percentage of food expenditures that are local and community-based, or are third-party-certified responsible (certified organic, fair trade, etc.) and they also "earn a portion of the remaining 2/3 [20 points] based on that percentage;" (2) 7 points, pre consumer food waste composting; (3) 7 points, post consumer food waste composting; and (4) 7 points, vegan options. Ten points (an increase from seven points in 2015) were allocable to organic garden, with institutions earning "all available points for having one or more programs that allow students to gain experience in organic agriculture and sustainable food systems." However, these points were for a criteria included in the "full ranking" noted below and apparently not explicitly considered in ranking schools in the food category, although there is discretion in the scoring in the "food and beverage purchasing policies" criteria noted above.  Perhaps in determining 20 of those allocable 30 points, food sourced at a school café from a farm or garden on campus resulted in some extra points when such discretion was exercised.
The "Full Ranking" in determining "America's Greenest Universities" was based on all the criteria with a potential score of 1000. Some of the criteria with the most potential points were energy consumption in buildings, 50 points (an increase from 40 points in 2015); support for clean and renewable energy, 45 points; water consumption, 30 points, and storm water management, 30 points.
This year, Sierra also asked schools to detail what, if any, moves they have made to divest their endowments from fossil fuel companies. (Schools that did not complete the fossil fuel divestment question were still eligible to participate.) Institutions earned 10 points for submitting a response on this issue, plus 25 points if the institution had divested from coal-mining corporations, or plus 30 points, if divested from coal-mining corporations and coal dependent utilities, or plus 30 points if divested from coal-mining and tar-sands-mining corporations, or plus 50 points if divested from all fossil fuels.
The ten greenest schools include a diverse array of schools: four large public universities (including two campuses of California's state university system) as well as a specialized college within the State University of New York system and 5 independent schools (two universities and 3 colleges). Only Stanford University was ranked in the top ten in both the food category, detailed above and the full ranking based on all criteria, noted below:
| | | |
| --- | --- | --- |
| Rank | School | 1000 (Possible Score) |
| 1 | College of the Atlantic (Bar Harbor, ME) | 783.41 |
| 2 | State University of New York College of Environmental Science and Forestry (Syracuse, NY) | 735.23 |
| 3 | U C, Irvine (Irvine, Calif) | 734.38 |
| 4 | Colby College (Waterville, ME) | 722.08 |
| 5 | Stanford University (Palo Alto, Calif) | 718.87 |
| 6 | Arizona State University (Tempe, AZ) | 716.83 |
| 7 | Loyola University (Chicago, IL) | 716.14 |
| 8 | U C Davis (Davis, Calif) | 714.50 |
| 9 | Univ of Connecticut (Storrs, CT) | 703.02 |
| 10 | Green Mountain College (Poultney, VT) | 702.99 |
For the 2016 rankings, Sierra timely received a record 201 complete responses from qualified colleges and universities, which do not have to pay to participate. (The United States has more than 2,000 four-year colleges and universities.) Sierra ranks schools on greenness with the "hope" that its annual ranking will "act as a guide for prospective students who want to compare colleges based on the schools' commitment to environmentalism."  Further, Sierra contends that its ranking "also serves to spur productive competition between colleges, raise eco-standards on campus and publicly reward the institutions that work hard to protect the planet."
Dartmouth College ranked number one for college food in Sierra's rankings for 2015, but did not participate or submit a timely response for 2016. Similarly, the University of Washington was included in the top ten schools for college food in 2015, but did not participate or submit a timely response for the current year. This year's deadline for submitting information was March 22, 2016, with any information submitted between March 23, 2015 and March 22, 2016 eligible for scoring.
Sierra collaborates with the Association for the Advancement of Sustainability in Higher Education to gather the raw data for its rankings. The association has created what it calls is STARS Reporting Tool to give colleges and universities a method for tracking and assessing their sustainability programs. Latest reports from colleges and universities are available on-line from the association.
All of the colleges and universities that choose to participate in the annual Sierra rankings deserve praise for demonstrating to their students that they care about environmental sustainability and they "honor their students' idealism by committing to the planet's big issues" in the words of Sierra's Lifestyle Editor, Avital Andrews. If your school has opted out of participating or has never participated, students, alum and concerned citizens should contact the institution's sustainability coordinator or public relations office and ask them to participate. Click here to see if your college and university is among the schools participating.  
(Frank W. Barrie, 9/7/16)

Thirty-one years after the first Farm Aid concert in 1985, this inspirational day of music and praise for the American family farm will be taking place on Saturday, September 17, 2016 at the Jiffy Lube Live amphitheater in Bristow (formerly known as Nissan Pavilion at Stone Ridge), near Manassas, in northern Virginia. The amphitheater can seat 25,0000, with 15,000 on the lawn and 10,000 in reserve seats.
Forty miles west of Washington, DC, this year's concert has an awesome lineup including Willie Nelson, Neil Young, John Mellencamp, Dave Matthews & Tim Reynolds, Alabama Shakes, Sturgill Simpson, Nathaniel Ratliff & the Night Sweats, Jamey Johnson, Margo Price, Lukas Nelson & Promise of the Real, Insects vs. Robots, and Ian Mellencamp.
Since 1985, Farm Aid has raised more than $50 million to help family farmers thrive all over the country as well as energizing the good food movement with an annual concert, a day of music and support for family farms. In addition, at this year's concert, from noon to 5:30PM, the Homegrown Village will be offering "a space for concertgoers to mingle with farmers, engage in hands-on food and farm activities and learn about the ways family farmers are enriching our soil, protecting our water and growing our economy."
The Skills Tent at the Homegrown Village will include workshops and demonstrations including (i) wild-gathered cocktails and medicine: digestive bitters making 101 presented by McNeill Mann from Earth Village Education; (ii) tree-free paper: hemp paper making 101 presented by Elishewa Shalom from Artisan Hemp; (iii) selecting the best: seed saving 101 presented by Paul Blundell from Southern Exposure Seed Exchange; (iv) encouraging good bacteria: fermentation 101 presented by Rachel Armistead from The Sweet Farm; and (v) Farm Aid 2016 seed swap presented by farmer Amy Talarico.
Tickets range in price from $49.50 to $189.50 and to encourage and help more families to enjoy Farm Aid 2016, a 4-pack of lawn tickets for $149 may still be available.
The Wikipedia article on Farm Aid lists all of the concert venues and performers in Farm Aid's illustrious history.
(Frank W. Barrie, 8/24/16)

A federal law preventing individual states, namely Vermont, from requiring labeling of genetically engineered (GMO) foods has been signed by President Obama. Unlike the Vermont state law, now curtailed, this federal law does not require "words" on packages of GMO food noting that the food has been "produced with genetic engineering."
We the People, Your Voice in the White House responded to a petition signed by over 106,000 people asking President Obama to veto what has been called the DARK (Deny Americans the Right to Know) Act by opponents of the now federal law. In its email in response to this petition, We the People noted that President Obama and his Administration "take it seriously" the interest Americans have expressed "in understanding how their food is produced- including whether it was produced using bioengineering . . . ." Nonetheless, frustrating the petitioners, Vermont's reasonable requirement that packages of GMO food should include a label with "words" that the food has been "produced with genetic engineering" has been countermanded.
Instead, companies have been provided with so-called "flexibility" to avoid using "words" on food labels and can choose to use merely "A digital QR (Quick Response) code that customers can scan with their smartphone if they want to learn about bioengineered ingredients." Smaller companies can offer "a phone number of URL on the package that consumers can access for more info."
This federal law, named the National Bioengineered Food Disclosure Law, also directs the Agricultural Marketing Service of the United States Department of Agriculture (USDA) to develop "a national mandatory system for disclosing the presence of bioengineered material." A working group has been established by the USDA "to develop a timeline for rule making and to ensure an open and transparent process for effectively establishing this new program."
We previously reported on the effectiveness of the Vermont labeling law, which had become effective on July 1, 2016. Some large food companies like Kellogg's, Campbell Soup, and General Mills had even decided to use labels that complied with the Vermont law, as noted by gmoinside.org, on all of their products which contain GMO ingredients nationwide albeit unenthusiastically.
The Organic Consumers Association has noted that by preempting the Vermont labeling law, this federal law is "an attack on states' rights and another gift to Monsanto and Big Food." In response,  OCA will be rolling out "a number of targeted campaigns that will expose some of the worst food companies on the planet, and call on them to start producing healthy food, using farming practices that heal the Earth, not poison it."
(Frank W. Barrie, 8/19/16)