Grazin' Hudson on Warren Street, the lively main street in downtown Hudson (Columbia County), New York, is grilling up what is hands-down the very best burgers money can buy. This small diner in New York's Hudson Valley should be a destination for anyone hungering for a flavorful, juicy and tender beef burger.
A mindful eater would have to agree with the conclusions of a recent new study issued by the World Resources Institute, which spotlighted the drastic changes needed in the next few decades in order to feed billions more people without inciting a climate catastrophe, as reported by Brad Plumer in Can We Grow More Food on Less Land? We Must (New York Times, 12/6/18). Reporter Plumer notes that in the past, researchers have suggested that the key to a sustainable agriculture system is to persuade consumers to eat far less meat and waste far less of the food that's already grown.
This new study also emphasizes that there must be a focus on a major shift in farming practices worldwide. One example of needed change emphasizes that the best-managed grazing lands can produce four times as much beef per acre as poorly managed lands and could help satisfy rising meat demand while lessening the need to clear broad swaths of rain forest, now under threat, in Brazil.
Dan and Susan Gibson, the owners of Grazin' Hudson, deserve praise, for their Grazin' Angus Acres, a 500 acre farm in Ghent (Columbia County), New York, the source for the beef used in their family's Grazin' Hudson diner. Their nearby farm employs a holistic, synergistic, rotational grazing system combined with numerous eggs mobiles to produce great tasting and healthy animal proteins while also restoring the land as noted in Our Story on the Grazin' Hudson's website. They trumpet their laudable standing as the first completely Animal Welfare Approved restaurant in the world.
On a wintry day, unexpectedly snowless in upstate New York, this occasional meat eater, who maintains a mostly vegetarian diet, decided to indulge in Grazin' Hudson's basic burger, The Grazin', noted on the menu as the original, lightly seasoned 6 OZ. burger with fresh greens & tomato (when available). Other options included The Uncle Dude, chipotle mayo, organic cheese, Grazin' Angus Acres bacon, jalapeño relish & fresh greens and The Cowboy, country ham, over easy egg, organic cheese.
These creative and indulgent examples of added ingredients to a burger motivated this diner to customize his basic burger with one of the Customize Your Burger options, Ardith Mae Goat Cheese, which made the basic burger an extra delicious cheeseburger. Ardith Mae Farm is a small Animal Welfare Approved goat dairy in Stuyvesant (Columbia County), New York, which is renowned locally for its fresh chèvre. With the help of Columbia Land Conservancy's Match Program for farmers and land owners, Ardith Mae Goat Cheese made a home about five years ago for its goats at Monkshood Nursery where there was an empty barn and in the words of Todd & Shereen Wilcox (the cheesemakers), big, beautiful pastures just screaming for some animals. 
How satisfying was my Grazin' basic burger topped with Ardith Mae Goat Cheese on a top-notch organic bun, custom made by Hawthorne Valley Farm Store bakery? Deliciously tender and juicy, even when served at the requested medium well which on the diner's menu noted it would be pink center. In contrast, rare was noted as red throughout; medium rare, rare center; medium, pink throughout; and well done, no pink.
No surprise that even the bun was light, tender, and perfect. And the extraordinary mindfulness of the sourcing of ingredients for Grazin' Hudson burgers is also reflected in Hawthorne Valley Farm Store bakery's certified organic standard: all of the bakery's flours, grains, nuts, seeds and fruits used are organically or Biodynamically®-grown and for added freshness, the bakery grinds and sifts the wheat and rye on-site.
In short, Grazin' Hudson is cooking up THE BEST burger money can buy.
(For vegetarians, Grazin' offers The Veggie burger, made with its own blend of white beans, beets, carrots, onion and cashews topped with buttermilk aioli.)
Grazin', 717 Warren Street, 518.822.9323, Lunch & Dinner: Mon-Thurs 12:00PM-8:00PM, Fri 12:00PM-9:30PM; Brunch, Lunch & Dinner: Sat 9:00AM-9:30PM (brunch until noon); Brunch: Sun 9:00AM-6:00PM, www.grazindiner.com
(Frank W. Barrie, 1/5/19)


Reckoning with the calendar becoming 2019, this Class of 1972 college graduate thought it was clever to e-mail some greetings for the new year with "Best wishes for 2019, Ouch!" A good and intelligent friend set me straight on that superficial wit. He wrote: NOT Ouch, but Onward!
And Onward! it is for www.knowwhereyourfoodcomesfrom.com in 2019 and our mission of getting more people to really know where there food is coming from by becoming a farm share member of a Community Supported Agriculture (CSA) family-scale organic farm near home. If you cannot grow your own organic food, nothing comes closer to ensuring good food for your household than participating in a farm share in a CSA farm that is committed to organic agricultural practices.
This moment of staying positive and helping the good food movement to advance forward is strongly rooted in the work of farm preservation organizations, notably American Farmland Trust, which recently spotlighted the alarming news that America's farmland is disappearing at the rate of three acres every single minute. Its report, Farms Under Threat, notes that 31 million acres of farmland were lost between 1992 and 2012, nearly twice as much as previous datasets have shown.
But on this first day of 2019, there is good news to share about an innovative program to preserve family scale farming in New York State, which can become a model across the U.S. and Canada.
Coordinated by American Farmland Trust, in partnership with the State of New York, agricultural organizations, land trusts, and others, Farmland for a New Generation New York includes easy to use listings of land available for farming in New York. The Find A Farm page currently includes information on 120 available farms and farmland across the state organized geographically, which also may be filtered by applying various factors such as total acres, infrastructure & equipment, crops permitted, livestock permitted, and tenure arrangement.
Farmland for a New Generation New York also has a Find a Farmer page which currently lists over 200 new generation farmers searching for farmland. This list of farmers can be filtered by factors such as desired acreage, primary crops, livestock, tenure options desired and infrastructure and equipment.
And there are also clear directions on how to Create A Profile for landowners to create Farm Profiles and land seekers to create Farmer Profiles.
Onward! And hats off to American Farmland Trust for sparking this innovative program to connect farmland and the next generation of farmers.
(Frank W. Barrie, 1/1/19)

For nearly a dozen years, a full vegetable farm share from Roxbury Farm in Kinderhook (Columbia County), New York has meant 24 weeks of biodynamic veggies during the season, running from early June to mid November. Next year, in 2019, the full vegetable share at a cost of $630.00 means for approximately $25.00 each week, the bounty from a local, small farm will again be at the center of a healthy diet.
In addition, the option of getting veggies from the farm until February (a winter share) was always taken too because three boxes of 30 pounds of organic root and storage crops including potatoes, sweet potatoes, celeriac, watermelon radish, carrots, onions, parsnips, cabbage, rutabaga, winter squash and, of course, beets was an offer too good to resist. In 2019, the cost will be $130.00 or a little more than a dollar per pound for organic veggies, to be delivered the first week of December, January, and February. A great deal.
But what to do with all those beets, which make up a substantial part of the winter boxes of veggies? I was familiar with using applesauce as a sweetener, instead of sugar, in baked goods and a fellow farm share member mentioned that mashed cooked beets could be used like applesauce to sweeten up baked goods instead of sugar or some other sweetener. Hmmm. Chocolate cake made with mashed red beets as the sweetener, she said, was a possibility.
What about apple cakelets? A couple months ago, perusing the King Arthur Flour website, the Nordic Ware Apple Cakelet Pan (Made in America, Family Owned) caught my eye. How nifty to bake a little cakes in the shape of a small apple, by using this magical pan, fourteen halves or seven 3-D cakes at one swoop!
Unused so far, wouldn't this be a fine time to try out the pan and substitute mashed beets for the 1/2 cup brown sugar called for in the recipe, included with the pan for Apple Cakelets. Apples, interestingly, were not a specified ingredient in the recipe, only the 1/2 cup of applesauce. And for some reason, my brain saw "applesauce" and I thought "use up some mashed red beets too."
Five tablespoons of butter meant the applesauce was not a substitute for "fat" or "oil" but was for the apple flavor. Red beets would serve to add sweetness and also to add color at this green and red time of year, and aren't apples RED? With a dozen roasted beets chilling in the fridge, it was time to give it a whirl or, more exactly, mash and use up some of those beets from my farm share.
Apple Cakelets
1 and 1/2 cup Morgan Mills organic sweet brown rice flour
1 teaspoon baking powder
1/2 teaspoon baking soda
1/2 teaspoon ground cinnamon
1/2 teaspoon ground allspice
1 egg
1/2 cup mashed red beets
1/3 cup melted butter (2.5 ounces or 5 tablespoons)
1/2 cup applesauce
3/8 cup water
dash ground nutmeg
dash salt
Preheat oven to 375 degrees.
Prepare pan with oil. (I rubbed organic sunflower seed oil into the apple shaped compartments.)
Stir together flour, baking powder, baking soda, spices and salt. I used a microplane to grind a nutmeg and allspice. (Allspice earned its name because it has a flavor like that of several spices combined and as noted by Spiceography, allspice tastes like a mixture of nutmeg, cloves, cinnamon and black pepper and boasts more health benefits than cloves.)
The recipe which came with the pan specified "gluten-free" flour. Although, I typically use whole grains locally grown and gluten free is not a guiding light, brown rice flour is rich and nutty tasting and is useful for making cakes, muffins and breads according to the National Co+Op Grocers' All About Flour brochure on Flour. (The brochures are available at my hometown food co-op, Honest Weight Food Co-op in Albany, NY.) I considered using oat flour, which is also gluten free, but decided to use the organic sweet brown rice flour available at the Honest Weight.
In another bowl, whisk together the melted butter and the mashed beets and continuing stirring while adding the applesauce, egg, and water.
Slowly add flour mixture until all ingredients are combined.
Pour the batter evenly into the apple shaped compartments but not to the brim to avoid overflowing. (I had a small amount of batter left to bake up one muffin in a separate pan.)
Bake 15 minutes or until a toothpick inserted into center of cakes comes out clean.
Let cakelets cool for 10 minutes and unmold.
(Frank W. Barrie, 12/24/18)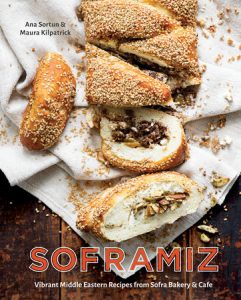 Chef Ana Sortun graduated from La Varenne in Paris, but her interest in Middle Eastern food has taken her beyond that classical French foundation. She opened her first restaurant, Oleana, in Cambridge, Mass., in 2001; she now also owns Sarma, a Turkish-style tavern, and Sofra Bakery & Café, all in the same general area. And it doesn't hurt that her husband, Chris Kurth, owns and operates nearby Siena Farms.
She won the James Beard Foundation's "Best Chef: Northeast" designation in 2005, even as she was working on her first cookbook, Spice: Flavors of the Eastern Mediterranean. Her latest book is Soframiz: Vibrant Middle Eastern Recipes from Sofra Bakery & Café (Ten Speed Press, Berkeley, California, 2016), co-written with Maura Kilpatrick, a longtime cooking partner who specializes in pastry.
We learn from the start that sofra encompasses everything you prepare for the table: food, place settings, glassware, décor, linens. (The literal translation from Turkish is table, allying it with an old-fashioned English sense of the term.) Soframiz means our sofra, which is as welcoming a title as you could wish.
It's a handsome book with a hundred recipes, but be warned that these recipes aren't always easy. Nor should they be. We confuse cooking with convenience, and we lack the tradition of handing down recipes and techniques across generations. Which means that scratch cooking usually means learning it from scratch. Fortunately, the procedures herein are laid out in careful detail, with choice photographs by Kristin Teig to illustrate the more complicated steps.
Take the recipe for Cheese Borek with Nigella Seeds. It's a seemingly simple pastry, but wait. It's made with several layers of yufka dough, which is almost as thin as phyllo pastry. Sortun confesses to using store-bought yufka because she doesn't find that the yufka recipes in the book can be rolled thin enough – but there are two such recipes to choose from. She recommends the one that's enriched with milk and egg.
I don't find this to be complicated: It's thorough. It invites experimentation, which is how you learn the techniques of cooking.
Once you have the dough ready, it's cut to fit a baking dish and layered therein, each layer brushed with a yogurt-and-egg mixture. Eight layers in all, with a sprinkling of grated mozzarella in the middle. The dish is topped with nigella seeds before going into the oven.
The Essential Ingredients section at the back of the book tells us that they look a lot like black sesame seeds, but they are not related. But they have a unique, peppery flavor that makes them worth having on hand.
I suggest that you read the book's chatty introduction first, then skip to Essential Ingredients and take in those 15 pages. (The essay on olive oil alone is worth it.) Then make your way through the recipe sections. There are eight: Breakfast, Meze, Flatbreads, Savory Pies, Cookies and Confections, Specialty Pastries, Beverages, and Pantry. As the intro to the last-named section puts it, Homemade is happiness, and the Middle Eastern pantry is stocked with sauces, preserves, and condiments to capture the bounty of a season and pack away vivid flavors to have on hand.
The recipes feature a generous array of baked goods, often built around meats – particularly ground or sausage – and vegetables. The Meze section is described as being tapas-like, to make the experience at the table last as long as possible. It's long on salads and other vegetable-based items. One of my favorite crops from my husband's garden are his fall carrots, writes Sortun, explaining that the sugars are more concentrated in them at that time of year. And the recipe for Persian-Style Carrots and Black-Eyed Peas is built around them, a fairly simple sauté that only requires some care in the black-eyed peas prep. It also features a seasoning dubbed Persian Spice, also known as advieh, which enhances both savory and sweet dishes and features nutmeg, coriander, cinnamon, black pepper – and dried rose petals.
(You'll find recipes for that and many other evocative blends in the Pantry section, which covers not only spices but also pickled turnips, pumpkin or rose petal jam, and one of my all-time favorites, toum, a garlic paste that Sortun has modified slightly by sweetening it with milk.)
There's potential for fresh ingredients throughout: Dragon Bean Plaki uses fresh wax beans; Barley and Chickpea salad depends on locally harvest barley (along with parsley, mint, and dill, a threesome that appears frequently); fresh tomatoes are featured in a bulgur-based salad and many other recipes.
And then there's hummus. Sortun hopes the recipes herein inspire you to consider hummus as a blank canvas for many different toppings and prove that hummus is not just a dip for vegetables. You'll be introduced to Warm Buttered Hummus, Spicy Lamb, and Pine Nuts; Walnut Hummus, Pomegranate, and Cilantro; and Buttermilk Hummus with Celery Root and Pumpkin Seeds, but these also point the way to your own hummus recipes.
You'll meet more meat in the Flatbreads section, where lamb and chicken shawarma are described – or a Red Lentil Durum with Pickled Peppers for a veggie version. As next year's garden begins to produce, I have my eye on the Summer Vegetable Lamejum, kind of cross between a soft taco and a pizza, with a topping of roasted eggplant, onions, and tomato flavored with haloumi cheese (a sheep's-milk variety) and pomegranate molasses.
This spirit carries into the Savory Pies, where the familiar Spanakopita is turned into a spiral, where ground lamb is mixed with tomato paste, cumin, and orange zest before being baked inside grape leaves; where manouri cheese (made from the cream-enhanced whey of the feta-making process) is mixed with honey and walnuts before going into a tart shell.
The danger in this book is that it devotes two chapters to sweets. First the cookies. Two difficulties inform the Syrian Shortbreads: first, the prep time. You have to clarify a cup of butter and then refrigerate it for an endless couple of hours. The first mixing stage requires another two hours in the fridge. Then you mix it some more and leave it in the icebox overnight! As if that doesn't tax the patience enough, there's another hour and a half of refrigeration needed as you form the cookies, after all of which the half-hour in the oven seems like nothing. The second difficulty is keeping any of these cookies in the house. It wouldn't be any safer with the Marzipan Cookies with Figs and Walnuts, I suspect, although I haven't had the chance to make them yet. I'll be making the Sesame Cashew Bars first.
The fusion aspect of these recipes is exemplified by the Brown Butter Pecan Pie with Espresso Dates. As Kilpatrick explains, they took an American classic and eased it into the Sofra repertoire by having some fun with ingredients, namely dates. And not just that – the dates are soaked in espresso before they line the bottom of the crust. A Greek custard called bougasta becomes Milk Pie in Kilpatrick's hands, thickened with semolina flour, and with phyllo top and bottom. You can make baklava on your own; here, you're offered recipes for a Milky Walnut-Fig Baklava or a Chocolate Hazelnut version.
I've whisked you towards the back of the book because I know you're going to be hung up at the first recipe section – Breakfast. One of the best spreads in all of Istanbul is a breakfast where the olives, tahini, stuffed flatbreads, egg dishes, vegetables, and cheeses cover the entire table. You can go simple with Shakshuka – baked eggs with spicy tomato sauce. Or you can soft-boil those eggs, roll them in flour and egg wash, and wrap them in kataifi (shredded phyllo), then fry them alongside cubes of feta.
Kohlrabi is picked spring and fall at Siena Farms, and inspired one of the favorite dishes at Sortun's restaurants: Kohlrabi Pancakes with Bacon and Haloumi Cheese. Don't even get close to thinking in terms of diner-fare flapjacks: these are savory wonders. There's an assortment of brioche variants here, all made with a tahini dough. There's even a recipe for Olive Oil Granola with dates and almonds.
As noted earlier, some of the procedures are complicated but none looks especially difficult, especially considering the ease of the prose that describes them. But providing ingredient amounts by weight (as well as by volume) would have been helpful.
Soframiz: Vibrant Middle Eastern Recipes from Sofra Bakery & Café is valuable both as a recipe collection and a kitchen inspiration, opening flavor vistas and describing fresh approaches to cooking techniques. As the book's title suggests, dining is about hospitality, and it's celebrated nicely here.
(B.A. Nilsson, 12/20/19)

In the 1970s, commercial blends of dried herbs, typical of the Provence region of southeast France, became popular and successfully marketed as Herbes de Provence. According to the Wikipedia article on this mixture of spices, Provençal cuisine has traditionally used many herbs which were often characterized collectively as herbes de Provence, but not in specific combinations, and not sold as a mixture.
The commercial blends commonly include rosemary, thyme, oregano, savory and marjoram. The entry in Wikipedia elaborates that homogenized mixtures were formulated by spice wholesalers and for the North American market, lavender leaves were also typically included due to American association of Provence with fields of lavender.
A recent article in Heirloom Gardener (Fall 2018), Homemade Spice Blends by Haley Casey, caught this home cook's eye. With a turkey to roast for Christmas, a recipe for homemade Herbes de Provence seemed a handy way to make a customary main course, flavorful and special for the holiday celebration. And blending organic herbs (including some grown in a backyard garden as well as some from this past season's CSA farm share) into homemade Herbes de Province would also make for appreciated seasonal gifts.
In addition to the six herbs commonly included in the commercial blends as noted above, the recipe in Heirloom Gardener includes basil, mint and fennel seeds. With basil home grown in the backyard garden and also part of a CSA farm share (and dried for use as a seasoning throughout the year), and peppermint also homegrown and dried for tea and use as a seasoning, little question that these two flavorful herbs would be added to my homemade blend.
Fennel seeds were not a familiar seasoning, but on a visit to the herbs and spices section of the bulk foods department of my hometown Honest Weight Food Co-op, it took only a sniff of the container of fennel seeds and its fragrant licorice-like aroma to decide to include the spice in the home crafted mixture.
Heirloom Gardener's Haley Casey notes in her article that the suggested blend of herbs is often adjusted based on household preference, so the precision of the measurements or the addition of some tarragon or sage is up to you.
Classic Herbes de Provence (adapted from a recipe by Dana Goldstein and included in the Fall 2018 issue of Heirloom Gardener)
3 tablespoons thyme
2 tablespoons basil
2 tablespoons savory
2 tablespoons oregano
2 tablespoons marjoram
2 tablespoons rosemary
1 tablespoon fennel seeds
1 tablespoon lavender
1 tablespoon mint
Thoroughly combine ingredients.
Yields about 1 cup.
The two tablespoons of basil I used in the recipe were a blend of basil grown organically in my backyard and from my CSA farm share from Roxbury Farm in Kinderhook (Columbia County), NY which I dried for use throughout the year. The peppermint was also home grown and similarly dried for use as tea and as an herb. (Last year, we shared our method of drying herbs by using an oven at 170 degrees for a couple of hours.) Other organic herbs were purchased at the Honest Weight Food Co-op, with its remarkable 1000 bins of bulk foods and a large herbs and spices section. Although the co-op offers Herbes de Provence as a blend of herbs ($24.40/lb), the herbs are conventionally grown and with more thyme and rosemary than the blend of herbs in this recipe. I was pleased to be able to purchase the individual organic herbs at the co-op to make my own blend.
I filled four spice bags, with 3 tablespoons of homemade Herbes de Province, for holiday gifts. The leftover I stored in a small glass jar.
Regency Naturals Spice Bags, made of 100% cotton, available at The Cook's Resource, Different Drummer's Kitchen Co. in my hometown of Albany, NY were handy to use.
(Frank W. Barrie, 12/14/18)